8:15 am
Good Morning!
SPX futures rose to 3968.50 this morning on light trading as it bounces between the 100-day Moving Average at 3908.97 and the mid-Cycle resistance at 4036.48.   Today is day 271 of the Master Cycle and the chances of a new high are rapidly diminishing.  However, the shortened Thanksgiving week is very lightly traded, so there is the opportunity to push higher without much resistance.  Friday is the last opportunity for a new high, but it also qualifies as a potential reversal day, as well.
ZeroHedge reports, " After trading in the red for much of the overnight session, US futures inched higher shortly after the European open after a volatile session in Asia marked by rising Covid cases in China, while a Fed president turned dovish and showed openness to slowing the path of rate hikes. Futures on the S&P 500 traded near session highs, up 0.4% to 3,972 by 8:00 a.m. in New York, while Nasdaq 100 futures gained 0.1% after struggling for direction. "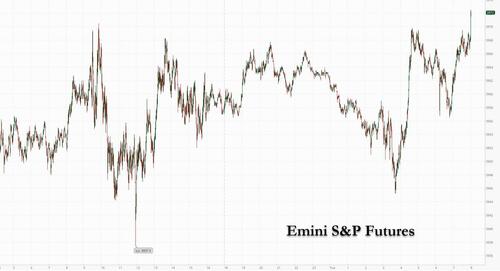 VIX futures made a marginal new low at 22.23 this morning.  Although this decline does not qualify as a Master Cycle low, the Cycles Model suggests a possible end to this decline on Friday.
ZeroHedge comments, "Exuberant VIX is back
VIX is discounting the Thanksgiving turkey already…The short term VIX inverted vs SPX gap is getting rather wide. People continue sucking fear out of this market.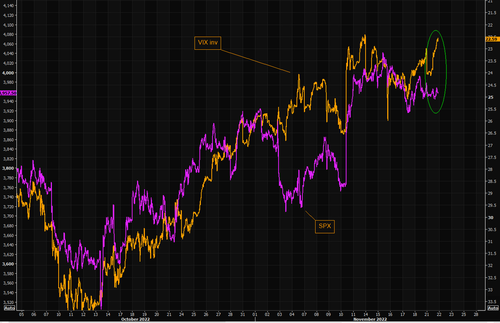 TNX continues to consolidate near the November 16 low (day 260).  While that low was timely, we are in a season that's prone to short-term intervention.  There is a potential for a possible deeper low by Friday.  It's probably best to go and relax over the holiday and come back ready for the fray to resume next week.
ZeroHedge reports, "After today's mediocre sales of $42 billion in 2Y paper, moments ago the US Treasury completed the second auction of the day (courtesy of the week's abbreviated schedule) when it sold $43 billion in 5Y notes in another average auction.
The high yield of 3.974% was the second consecutive decline after peaking at 4.228% in September. It also tailed the When Issued by a modest 0.7bps (vs a 1.8bps stop through last month). This was the 6th 5Y auction tail in the past 8 auctions.
The bid to cover of 2.39 came in below last month's 2.48 but was above the 6-auction average of 2.37.
The internals were also fine, with Indirects taking down 66.2%, down from 68.0% last month, and above the 62.4% recent average; and with Directs awarded 18.7%, Dealers were left holing 15.1%, the lowest since February.
Overall, a mediocre, tailing auction but with stronger than expected internals. And with that we now look to tomorrow's last for the week sale of 7Y paper ahead of the holiday."
USD futures pulled back to 107.17, then bounced.  Today is day 260 of the Master Cycle, suggesting there may be room for one more low by the end of the week.  The 7-year treasury auction today may have a pivotal effect on the USD.