1:23 pm
I finally figured that the problem with my charts originated at Google.  However, the new search engine doesn't work the same.  It will take some getting used to.  As you can see, the SPX is on a chart sell signal.  The VIX supports the SPX sell signal, while the NYSE Hi-Lo Index opened at 13.00 and rose to 76.00.  We may get a better reading after the close.
7:53 am
Good Morning!
My webmaster is tring to find why my charts are being blocked at WordPress.  I hope to have an answer later today.
SPX futures have turned negative this morning after testing the underside of the Ending Diagonal trendline overnight.  We have a sell signal hat is confirmed by the trendline and VIX, but not the NYSE Hi-Lo Index, which closed at 52.00 after ramping to 103.00 earlier in the day.   The 50-day Moving Average is at 4421.93.
Tomorrow's options expiration is weighted toward calls at 4500.00 and above, while puts dominate at 4450.00 and below.  Tomorrow's options expiration is not heavily populated, as if speculators are taking a "wait and see" attitude.  Friday's (monthly) options expiration is an enigma, with equal weighting of puts and calls all the way down to 4350.00.
ZeroHedge reports, "Having come dangerously close to dropping 6 days in a row, the longest streak since Feb 2020, US stock-index futures and European stocks hugged the unchanged line on Tuesday after rebounding furiously in the last hour of trading on Monday ahead of key CPI data that is expected to show a fourth month of U.S. inflation at 5% or more, and which will shape investor expectations about the likely timing of the Fed taper. S&P 500 E-minis were up 2 points, or 0.04%, at 07:15 am ET. Dow E-minis were up 10 points, or 0.03%, while Nasdaq 100 E-minis were down 2.75 points, or 0.02%. Treasury yields and the dollar were steady."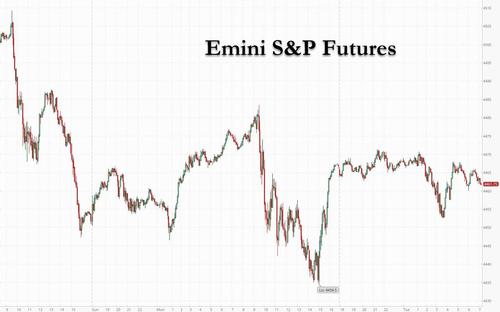 At 8:37 ZeroHedge observes, "As anxiety over the timing of the taper (not the if but the when) rise, all eyes are anchored on this morning's CPI (which was expected to rise MoM again but drop marginally on a YoY basis). Both headline (+0.3% MoM vs +0.4% MoM exp) and core (+0.1% MoM vs +0.3% MoM exp) CPI printed below expectations but on a YoY basis headline CPI rose 5.3% – as expected.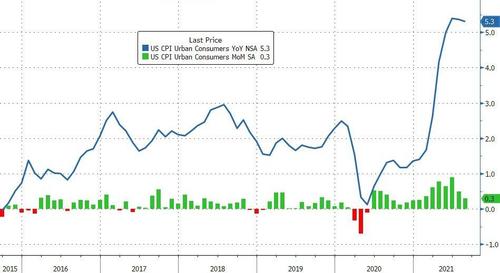 Source: Bloomberg
That is the 15th straight monthly rise in consumer prices and the fourth straight month above 5% on a YoY basis. On a side note, this is the first time MoM CPI printed below expectations since November 2020.
Core CPI slowed from +4.3% YoY to +4.0% YoY (well below the +4.2% YoY exp)…"
I must rescue a dame in distress (my daughter) this morning.  I hope my webmaster will find a solution to m problem.