12:50pm
SPX has dropped to 4453.63, a new low nad beneath the trendline at 4463.58.  This is a chart sell signal, having broken the Ending Diagonal formation to the downside. The 50-daqy Moving Average is at 4421.45 and is the next support level.  Most chartists use the 50-day Mofving Average as their sell signal.  I suggest that the accumulation of indicators tell us we may not wish to wait that long.
VIX is at 20.02, above the mid-Cycle support at 19.836 and on a confirmed buy signal.  Most chartists us the number 25.00 as their buy/sell signal.  There is an inverted Head & Shoulders neckline at 24.74, so be sure to be long above that number.
The NYS HiLo Index opened at 50.00 and rose to 91.00.  It appears that smaller companies are attracting speculators who feel they have a chance for a profit here.  Of course, the Hi-Lo closing number is what counts and, since there is a lag in the counting system, we won't know the final number until tomorrow.
I am researching the source of my inability to show certain charts.  The problem seems to lie with WordPress.  I may have to change platforms.
8:00 am
Good Morning!
I wish to report a troubling situation with WordPress.  It refuses to allow any images of SPX to be presented.  I will use the DJIA as a model despite the fact that there are some differences.  For example, the DJIA topped out on August 16, while the SPX topped on September 2.  It still makes sense, since the point of origin for this Cycle in the Dow  was January 14, 2000, while the point of origin for the SPX was March 23, 2000.  Here we see the all-time highs within just a few weeks of each other.  The NDX ATH was on September 7, 2021.
In any event, we see the DJIA futures in a probable retracement bounce to its 50-day Moving Average at 34992.42.  SPX futures, still dominated by the unwind from options expiration is likely to bounce back to 4500.00 as the short positions are unwound.  Short-term resistance is at 4511.09 as a possible alternate resistance.
ZeroHedge reports, "World stocks ground higher with US futures and European stocks all in the green after a slow start of the week in Asia, amid concerns over accelerating inflation as well as tax and regulatory pressures on the world's biggest companies. After five straight day of declines in US stocks, as concerns over the delta variant and tapering of the stimulus cooled risk appetite, and which led Wall Street indexes to lose between 1.6% to 2.2% last week as a surge in August producer prices and a sharp drop in jobless claims spurred fears the Federal Reserve could start unwinding stimulus as soon November, futures on major U.S. equity indexes all rose on Monday as traders await tomorrow's CPI data. S&P 500 E-minis were up 23.50 points, or 0.53% at 730 am ET, Dow E-minis were up 200 points, or 0.58%, while Nasdaq 100 E-minis were up 78.25 points, or 0.51%. Industrial metals rose, with aluminum reaching $3,000 a ton in London for the first time in 13 years amid supply disruptions."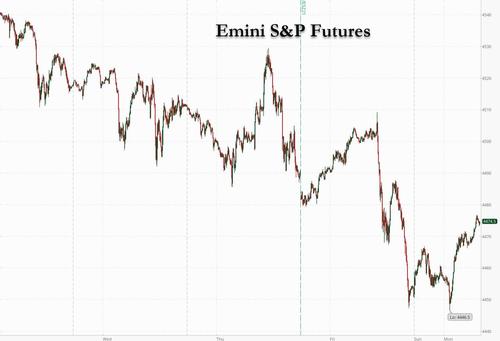 VIX futures declined to 19.10 this morning.  There is critical support at 17.88, just above the 50-day Moving Average.  However, the Wave structure may not allow that deep a correction.  We will know shortly.
TNX is another chart that has been cut off by WordPress last Friday.  The Cycles Model suggests a week-long decline into its probable Master Cycle low.