8:10 am
Good Morning!
NDX futures are flat this morning as small cap stocks take up the slack.  Yesterday's trending strength was to the downside, suggesting a new trend.
Today's op-ex shows Maximum Pain at 14325.00.  Long gamma is above 14350.00, while short gamma is at 14300.00.
ZeroHedge notes, "NASDAQ – much needed
Not what the late chasers planned, but NASDAQ's latest mini move lower is more than a needed pause move. We could easily see it move to 14100 (first support) and still trade above the 21 day moving average. Note that the 50 day is down at 13500.
Source: Refinitiv
Watching NASDAQ stress
In mid May we had VXN moving higher while VIX was "dormant". We are seeing a similar thing occur now. Is this time different?"
ZeroHedge notes further, "Last night we said that the tech/small cap "reversal" had arrived amid a clear rotation signal out of the frAIng pan and into the small-cap fire, signaled by record call buying in the Russell ETF, the IWM.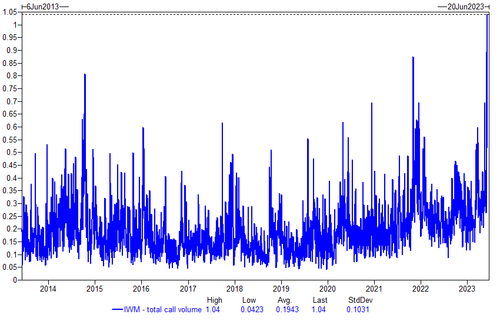 We concluded that "while the S&P may continue to go nowhere (and especially the equal-weighted S&P), prepare for a violent reverse rotation below the surface as the historic outperformance in tech, and crushing underperformance in small caps, is set go in the other direction."
SPX futures ae testing the first level of support at 14250.00.  Beneath that is still an aggressive sell signal, but with two confirmations.  The uptrend is broken at 4150.00, creating a confirmed sell signal.
Today's op-ex shows the 4270.00 and 4275.00 strikes hotly contested, with a waning long gamma beginning at 4280.00 and short gamma starting at 4250.00.
ZeroHedge reports, "For the third day in a row, futures have gone nowhere in the overnight session, and are flat as a pancake with yields also barely changed and holding on to their sharp move higher from the previous day when they surged 14bps; the USD was down, commodities are mixed with oil outperforming again, and crypto and gold staged a modest rebound. At 8:00am ET, emini S&P futures were unchanged at 4,275 while Nasdaq futs were just fractionally in the green after the index yesterday posted its worst decline since April; concern that central banks will keep driving interest rates higher sent tech stocks in Europe to one of the worst performances among industries, with ASML Holding NV as the biggest drag on the Stoxx 600."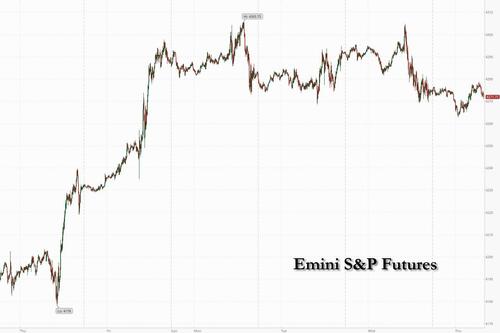 VIX futures are consolidating as the Master Cycle becomes more stretched after 271 days in the current Master Cycle.  It is possible that the VIX has been used in a "tail wags the dog" operation to keep equities high.  However, it is meeting diminishing results.
In next wednesday's op-ex, short gama has disappeared altogether, with long gamma beginning at 14.00!  The options market shows that expectations have changed.
ZeroHedge comments, "Has VIX become immune?
VXN reacted to the move lower in NASDAQ yesterday, but VIX remains dormant. Haven't seen NASDAQ move this much and VIX not pay attention at all…
Source: Refinitiv
Complacency is here
Regular readers of TME are familiar with the VIX 2/8 months futures spread. Basically, in terms of stress people grab shorter term maturities as main hedges, and the spread moves higher. The inverse occurs when markets become complacent. We have just entered complacency when it comes to pricing VIX.
TNX has probed to 38.21 this morning, then pulled back.  Trending strength reappears this weekend, so it is difficult to say whether TNX may break out before the weekend, but it will break out.  The Cycles Model suggests rates may continue to rise through the first week of July.
ZeroHedge remarks, "One month after we saw the second biggest surge in credit card debt (which took place just as it appears US consumers had hit the brakes on credit-fueled spending), coupled with a sharp slowdown in student and auto loans, the latest consumer credit data just released by the Fed reveals… more of the same.
In the month of April, total consumer credit rose by $23.1 billion to a new record high $4.860 trillion, up 6.8% Y/Y."