8:25 am
Good Morning!
NDX futures continue to consolidate beneath the Monday high.  The Cycles Model suggests trending strength may revive over the weekend.  Wednesday's trending strength day produced a loss, suggesting further losses to come.
Today's op-ex shows Max Pain at 14475.00.  Long gamma may start at 14500.00 while short gamma begins at 14450.00.
ZeroHedge remarks, "Since October 2022, the stock market has traded consistently higher as earnings improved. With the first quarter earnings season behind us and the second quarter approaching, will earnings improve further? In 2021 and 2022, we wrote several articles discussing why analysts' estimates were overly optimistic. As we head further into 2023, are analysts again becoming overly optimistic?
According to FactSet, with the vast majority reporting:
"78% have reported actual EPS above the mean EPS estimate, which is above the 10-year average of 73%. It is also the highest percentage of S&P 500 companies reporting a positive EPS surprise since Q3 2021 (82%). In aggregate, earnings have exceeded estimates by 6.5%, which is above the 10-year average of 6.4%. It is also the highest surprise percentage reported by S&P 500 companies since Q4 2021 (8.1%)."
SPX futures continue to consolidate beneath the 4300.00 resistance level.  There is a chance of a brief breakout today as today is the end of a 17.2-month Cycle.  A reversal beneath the upper trendline at 4250.00 may produce an aggressive sell signal.
Today's op-ex shows Max Pain at 4285.00.  Long gamma begins at 4300.00 while short gamma starts at 4250.00.
ZeroHedge reports, "After the S&P closed in a bull market from its October 2022 lows yesterday, futs were again paralyzed, their 4th consecutive session with virtually no changes in the overnight session. As of 8:00am ET, S&P futures were up 1 point or less than 0.05% to 4,300 while Nasdaq futures were also modestly in the green; bond yields are 2-4bp higher this morning, most markedly at the short end. The Bloomberg dollar index is strengthening while oil prices are edging higher after yesterday's drop. Gold prices are little changed, while iron ore continues its weekly ascent."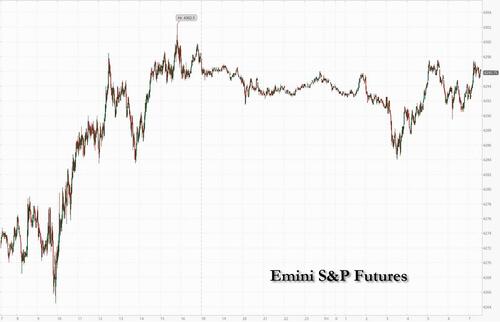 VIX futures are flat, after extending the Master Cycle to day to day 272 yesterday.  A dramatic turn may be imminent, as trending strength comes back this weekend.
The Wednesday, June 14 op-ex shows long gamma starting at 18.00, although calls are being bought down to 12.00.
ZeroHedge remarks, "VVIX – enough is enough
VVX showing signs of life, while the VIX has continued the implosion. Watch the gap between these closely.
Source: Refinitiv
Complacency alert
One of our favorite "under the hood" measures of VIX, the VIX 2/8 months spread, has started flashing complacency. Previous moves lower in the spread like the one we have seen recently has led to the SPX reversing."
TNX may be finding support at the mid-Cycle support at 36.84 as it consolidates this morning.  Trending strength may be staging a comeback this weekend, setting the stage for a breakout.  The current Master Cycle may have another month to go, indicating the Cycle Top at 41.22 may be a near target.
USD futures is consolidating above yesterday's low.  It may have completed its short-term retracement and may be poised for a continuation of its uptrend.  There may be a week left in the current Master Cycle.