3:40 pm
The GSCI Ag Index appears to be in a correction that may take it down to the 50-day Moving Average at 423.70.  This may be a fake-out, as speculators are accumulating these shares.  The Master Cycle may have been on June 1 at day 256.  However, today is day 260 and a brief decline would fill the bullish pattern more appropriately.
ZeroHedge reports, "Reuters reports money managers boosted their net long position in Chicago Board of Trade (CBOT) corn futures and options last week after slumping to a five-month low. New weather models forecast hot and dry conditions in the Corn Belt to persist through mid-month.
The western half of the US is facing a megadrought while a heat wave last week swept across the West Coast to East Coast by the weekend.
ZeroHedge further comments, "California and Nevada are 100% in drought.
Direct from Drought.gov:
After two water years of dry conditions, both California and Nevada are now 100% in drought. And with dire drought conditions, rapidly decreasing snowpack, and low reservoir levels, concern for wildfire season is growing.
This is a dry spell not seen since the Great Depression and the Dust Bowl days. Because of the drought, Americans very likely will experience a shocking food shortage very soon."
3:32 pm
NDX did make a new retracement high, but nowhere near its target limit of 13841.  The pattern appears complete, or nearly so.   Prepare for a 2-3 week decline.
7:15 am
Good Morning!
While NDX futures remained beneath Friday's close for most of the weekend, it has not ventured down far enough to be considered bearish.  More recently this morning it has been recovering its losses and poses a probability of a new retracement high approaching 13841.00, should Wave [c] need completion.  The Cycles Model poses today as a day of potential strength before the equities fall into the abyss.
SPX futures likewise spent most of the weekend in negative territory but now is approaching breakeven.  Today's proposed period of strength is a concern, as another probe higher may meet the Cycle Top resistance at 4247.20.
ZeroHedge reports, "US equity futures rebounded from a mild dip in the overnight session, rising back to just shy of all time high at 4,228 as of 7:45 am on Monday, shaking off Yellen's Sunday comments that the US Tsy Secretary welcomes higher rates (i.e., inflation) which would be "good for the Fed and US society."  World shares were range bound on Monday as markets digested Friday's disappointing yet "Goldilock" jobs report and a global tax deal between the G7 group of countries, while also looking ahead to critical CPI data due Thursday. The dollar was steady while the 10-year rate added two basis points after Janet Yellen said on Sunday a slightly higher interest-rate environment would be "a plus" for society. WTI slipped after rising to $70 per barrel as short-term demand worries continued."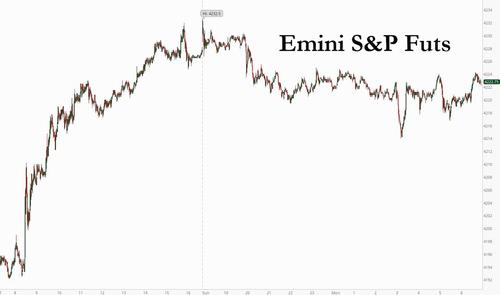 VIX futures spiked to a weekend high of 17.32 before easing back, but remaining above the trendline.  Having made its Master Cycle low last Tuesday, it may be poised for a strong move higher in the immediate future.
USD futures are making new highs, topping at 90.63 over the weekend.  It appears to be on a buy signal and the Cycles Model suggests a gain in strength as the week progresses.
TNX may have a faulty data feed this morning.  While the chart shows it has risen to 15.81, the price indicator shows a decline to 16.23!  Today is day 251 of the Master Cycle.  While it is possible to make and new low, it is more likely that a new high may be made in the next week or so.