8:30 am
Good Morning!
NDX futures are testing Friday's high, primarily as a result of a positive options expiration.  Additional shares were bought over the weekend to "true up" Friday afternoon's maturing options.  Those same shares are likely to be sold after the open to provide liquidity for settlement.  What is noteworthy is that the Cycles Model turns negative this week, with strength.
ZeroHedge observes, "We have been harping on Cathie Wood's apparent "strategy" of selling liquid tech names in order to rotate into smaller, more "speculative" names, in her ARK ETFs for the better part of 2021.
While she has been able to ride out the "volatility" in the NASDAQ (read: the NASDAQ is literally only about 5% off highs) using this strategy so far, people in the mainstream media are starting to notice her allocation decisions and are keeping a close eye ARK's trades.
Wood's strategy has held up so far. Despite selling some of her largest holdings, ARK "no longer holds a stake bigger than 20% in any stock," Bloomberg reported this week. The firm's largest holding, formerly 21.3% in Compugen, is now down to 17.2%."
SPX futures are up to 4175.00 this morning, also testing Friday's high.  What appears to b a move to new highs is merely an "adjustment" to the positive options expiration on Friday.
ZeroHedge reports, "Now that the inflation narrative has been crippled with Bloomberg picking up on what we said last week about China's tumbling credit impulse…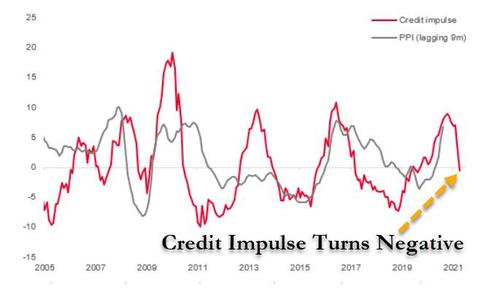 … and the deflationary consequences thereof, while an acceleration of China's crackdown on commodities speculation weighed on raw-material prices with steel dropping more than 5% and iron ore tumbling by close to the daily limit, stocks are again free to roam about the stratosphere as the risk of runaway prices is fading and S&P futures rose to 2-week highs on Monday as higher oil prices lifted energy stocks ahead of key inflation readings later this week when the personal consumption data is released on Thursday, the Fed's preferred inflation measure. At 7:30 a.m. ET, Dow e-minis were up 118 points, or 0.%, S&P 500 e-minis were up 21 points, or 0.51%, and Nasdaq 100 e-minis were up 87.5 points, or 0.65%.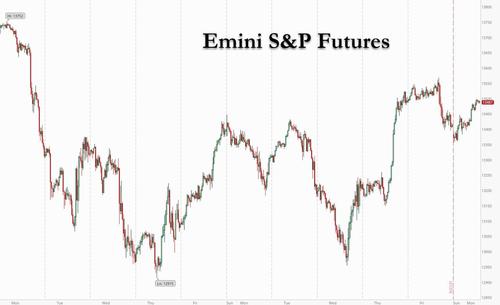 After falling as much as 4.3% from its May 7 record high, the S&P 500 is now only 2% off that level as investors picked up technology stocks that were beaten down the most. Risk sentiment also improved as cryptocurrencies rebounded from a weekend rout fueled by further signs of a gathering Chinese crackdown on the emerging sector. The dollar and Treasuries were steady. Implied volatility for major global indexes remains subdued, suggesting investors aren't pricing in a surprise from the Fed in the next six months."
VIX futures are consolidating inside Friday's trading range.  VIX goes into its Master Cycle completion on or around June 1.  In the meantime, it is gathering strength for a significant new high by that date.
TNX pulsed down to 16.08, but bounced back to Intermediate-term support at 16.15.  This may complete a 40% retracement of its first impulse off the Master Cycle low.   The Cycles Model implies that TNX may complete its Wave 5 at or near 19.71 on or around June 2.
ZeroHedge reports, "Back in 2019, we published a post in The Institutional Risk Analyst called "Nationalizing the Federal Funds Market," that talked about the increasingly overt actions of the Federal Open Market Committee in the market for short-term funding.
Then as now, we view the actions of the FOMC as slowly destroying the private money markets in the US and preparing to very visibly push the big banks out of the transmission chain of monetary policy.

USD futures tested, but have not exceeded Friday's (potential) Master Cycle low.  If so, we may see USD rally through the July 4 holiday.
ZeroHedge remarks, "Days ago, we wrote that the Citi U.S. Economic Surprise Index was "about to turn red" for the first time since last June.
As of Thursday, the index – which measures the degree to which economic data is either beating or missing economists' expectations – went red. The last time this happened was right around the time when lockdowns were ending in June 2020."