7:30 am
Good Morning!
NDX futures rose to 14991.80 over the weekend session.  The retracement may be over, or nearly so, and the decline through the neckline near 14450.00 may be imminent.  Today is day 258 of the Master Cycle.  Friday's low on day 255 does not qualify as the Master Cycle low because it is not deeper than the low of 4665.31 on the 18th.  That leaves the market to make a possible new high (15200.00 – 15300.00) or low beneath the neckline this week.   Normally, the week of Labor Day is positive.  However, investors are no longer positive.
In today's op-ex Maximum investor pain is at 14950.00.  Long gamma starts at 14975.00 while short gamma begins at 14900.00, leaving a narrow neutral zone.
ZeroHedge remarks, "Last Thursday, when he reiterated his reasons to remain skeptical – and bearish – on this market, Goldman's flow guru Scott Rubner highlighted various technical, micro and macro considerations, and when responding to the top client question, namely "why did the most important stock in the world (NVDA) absolutely crush earnings and close up "only" 10bps on the day w/ a ~400bps reversal in NDX futures?", his response was that "there is a supply and demand mismatch and those dip buyers are already "very full". The US equity market has been trading, "Escalator up, "Elevator down " behavior."
SPX futures rose to 4418.20 thus far this morning with a possible retest of the 50-day Moving Average at 4456.15 this morning.  As mentioned earlier, today is day 258 in the current Master Cycle.  It is likely to make a high at or above the 50-day Moving Average or a new low beneath the neckline this week.
Today's op-ex shows Max Pain at 4405.00,, sitting uneasily above short gamma, beginning at 4375.00.  Long gamma starts at 4425.00.
ZeroHedge reports, "US futures ticked up Monday in a muted session with the UK on holiday, after China unveiled a raft of modest stimulus measures meant to lift its equity market (it worked… for a few hours) and as the market looked set to build on gains made Friday on Powell's cautious Jackson Hole comments on future interest rate moves. S&P futures climbed 0.2% while contracts on the Nasdaq 100 rose 0.3% by 7:42 a.m. ET; stocks also advanced in Europe and in China, where the government announced support for equity markets; however what was the biggest rally in 5 years quickly fizzled as a gain of over 5% in the CSI300 quickly faded to just 1%. Both the S&P 500 and Nasdaq are set for their first monthly decline since February amid concerns that the Fed could keep a hawkish policy outlook given the resilience of the US economy."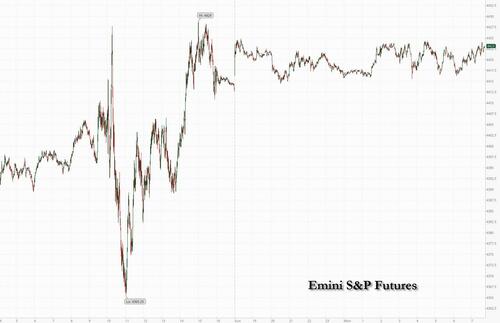 VIX futures consolidated over the weekend inside Friday's trading range.  A retest of the 50-day Moving Average at 14.73 may be in order this week.  Once that takes place, the rally may resume.
Wednesday's op-ex shows Max Pain at 17.00  Short gamma starts at 16.00 but there is little follow-through beneath it.  Long gamma begins at 18.00.
ZeroHedge remarks, "The VVIX puke
VVIX has crashed recently and is trading close to summer lows.
Source: Refinitiv
VIX as well
VIX has moved lower as well, although not as aggressively as the above mentioned indexes. Chart two shows the VIX term structure and the shift lower across the curve (especially the short end of it) compared to August 17, the lowest close for the SPX since late June.
TNX os now testing the Cycle Top support at 41.96.  The neckline at 41.00 may also be tested before the rally resumes.  TNX has about two more weeks of rally left in the current Master Cycle.  The rally may be substantial, as indicated b the Head & Shoulders formation.
ZeroHedge notes, "Rates markets have begun to accept the higher-for-longer mantra from central bankers. But it may soon come undone if economies are nearer to recession than surface data implies.
Central bankers at last week's Jackson Hole symposium did nothing to disabuse the notion that their intention is to keep interest rates elevated for an extended period.
In the US, the real peak SOFR rate has remained over 2% since June. Short-term real yields are also historically elevated, with 2yr TIPS yields close to highs going back to 2004 (outside of their GFC spike)."
USD futures are also consolidating above the channel trendline and 200-day Moving Average.  Today is day 257 in the current Master Cycle.  It may be due to peak early this week.