9:52 am
The Ag Index made an early Master Cycle low on August 15.  It did not make the expected 61.8% retracement at 387.40.  Nonetheless, it is on an aggressive buy signal with the reversal from the cycle Bottom at 396.97.  Consumers already know that food prices are rising at the grocery shelves, but his indicate yet higher prices to come.  The Cycles Model implies rising prices through the end of September as the harvest season is underway.
ZeroHedge observes, "When mainstream economists and politicians cite "improvements" to the inflation problem in the US in recent months, what they are commonly referencing are changes to the Consumer Price Index (CPI).  However, the CPI is not a measure of total inflation, rather, it is a median snapshot of prices at a particular point and time.  True inflation is cumulative – A 10% increase one year and a 5% increase the next year is not a win, it means that you are now paying 15% more on average for everything you buy in the span of only two years.
When CPI falls this does not mean that prices on goods and services are going down, it only indicates that prices are rising slower than they were the month or the year before.
Another misconception about CPI is that it measures the inflation rate accurately for regular consumers on common purchases.  In reality, the CPI represents mean average price rate increase for a vast basket of goods; over 94,000 items and services with over 200 separate categories.  Most of these items and services you will never use or rarely purchase in the span of a year.  In other words, inflation declines in uncommon goods can dilute the numbers, making it seem like inflation is dropping while prices on daily necessities continue to spike. "
7:55 am
Good Morning!
NDX futures completed its decline at 14745.80, then rose to a morning high of 14847.50, but has since eased back.  It may continue its bounce toward 15000.0 this morning as it completes a correction before resuming its decline.  The swings may be fast and wide, but the trend is down.  The technical indicators are now bearish.  Short term support/resistance (not shown in the daily chart) declined beneath the 50-day Moving Average last Friday in a bearish cross.  The decline will steepen, with a potential short-term panic low by mid-week.  However, the decline may extend another week beyond.
Today's op-ex shows Maximum investor Pain at 14825.00.  Long gamma begins at 14850.00, shile short gamma starts at 14800.00.
ZeroHedge confirms, "NASDAQ's bearish cross
The 21 day has now crossed the 50 day moving average. NASDAQ futures putting in the biggest down candle in a long time and it looks like we have a new short term trend channel to watch."
SPX futures completed their decline at 4370.00, then bounced toward 4400.00 – 4410.00, where short-term resistance lies.  It is noteworthy that the SPX short-term resistance made its bearish cross yesterday, as the SPX peaked at the 50-day.  The Cycles Model suggests a short-term (panic) low by mid-week.  However, other panic lows may follow for another week after.
Today's op-ex shows Max Pain at 4400.00, a highly contested strike with 8, 113 calls and 7,902 calls.  Long gamma starts at 4420.00 while short gamma erupts at 4390.00.  SPX must stay above 4400.00 to have any equilibrium.
ZeroHedge reports, "Futures are slightly higher ahead of today's Jackson Hole main event, with tech flat following yesterday's violent Nvidia "sell the news" dump even as yields ticked modestly higher again. At 8:00 am, S&P futures were higher by 0.3% on the day, trading just around 4,400 and paring a portion of Thursday's session losses while Nasdaq 100 futures are flat after the index sank more than 2% yesterday. Europe's Stoxx 50 rises 0.6%, extending its first weekly advance in four as commodity shares led gains as oil and iron ore prices climbed; Asian equities slumped Friday, paring their first weekly gain since July, as Chinese stocks slid and technology shares were sold off. Quality is leading, Growth is lagging; Cyclicals flat vs. Defensives."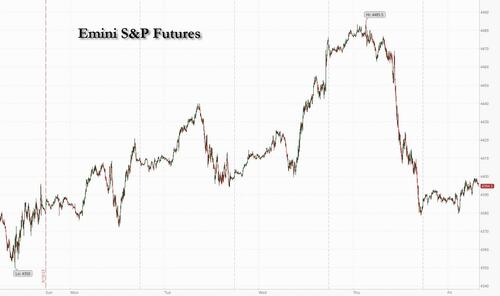 VIX futures edged higher to 17.22 last night before easing back.  A rally above the mid-Cycle and trendline resistance at 18.24 is likely today.  The Cycles Model suggests the VIX may rally to mid-October in the current Master Cycle.
Next Wednesday's op-ex sows Max Pain at 17.00.  There is a solitary strike of short gamma at 16.00, while long gamma begins at 18.00 and may range to 37.00.
TNX appears to be consolidating, waiting for the pronouncement from Jackson Hole.  There is some hope that Powell may lower interest rates, or at least not raise them.  The current Fed Funds Rate is 5.33%.  A study shows that the Fed has been consistently behind market rates since 1949.
ZeroHedge remarks, "In a declining nominal growth environment, where cash yields 135 basis points per quarter, the outcome of a tightening versus easing policy is an important factor that makes a difference to cross-asset return expectations.
Most analysts anticipate that at Jackson Hole central bankers will reiterate a "job not done" message, indicating the need for an extended period of tighter monetary policy. This implies the intention to raise further short-term real interest rates (even by being on hold as inflation slows further), despite a noticeable reduction in inflationary pressures and poor PMI readings and maintain those until a clearer evidence of building labor market slack. This is what we call here the Volcker scenario – a decisive win against inflation, whatever it takes. (55-70% market implied probability)"
USD futures are steady this morning, awaiting Jackson Hole.  The Cycles Model shows increased trending strength this weekend and more so until mid-week.  There may be a breakout above the Cycle Top at 105.32.
Crude Oil futures rose above Intermediate Term resistance at 79.26 after testing it intraday and completing its Master Cycle.  Should that be the case, crude may rise to 82.00.  The danger is that the correction may take crude lower.  I have no trading thoughts on crude at this time, other than the trend may be down from the Cycle Top currently at 84.32.