9:38 am
BKX continues its bounce from yesterday's low.  There is no particular target for this bounce, as it may remain weak.  It may resume its decline shortly with a potential Master Cycle low in the first week of September.
ZeroHedge observes, "In March, Silicon Valley Bank collapsed, plunging its parent company SVB Financial Group into bankruptcy a week later.
While many expected a wave of bank failures to follow, much of this has since been averted – but cracks have begun to emerge with Moody's recent downgrading of 10 small and mid-sized banks.
Across the wider corporate landscape, bankruptcies have begun to tick higher. Overstretched balance sheets coupled with 11 interest rate hikes since last year have added to mounting challenges for companies across many sectors."
 (Reuters) – Shares of several U.S. banks fell on Tuesday, the day after ratings agency S&P Global followed Moody's in cutting its credit ratings on some regional lenders with high commercial real estate (CRE) exposure.
S&P's action will make borrowing more costly for a banking sector aiming to recover from a crisis earlier this year, when three regional lenders failed, prompting broader industry turmoil.
8:00 am
Good Morning!
SPX futures rose to 4473.90, overshooting their target of the 50-day Moving Average at 4453.38.  They have since eased down to the 50-day.  Should it remain beneath it, there is a strong likelihood of a reversal this morning.  However, a reluctance to decline may improve the chances of a probe toward Intermediate resistance at 4489.15 in the next 24 hours.
Today's op-ex shows Max Pain for options investors at 4425.00.  Long gamma may start at 4450.00, while short gamma may begin at 4400.00.
ZeroHedge reports, "US equity futures and global markets rallied after NVDA's blowout earnings, which sent the stock to a new record high above $500, gave fresh impetus to the artificial intelligence hype that's boosting tech stocks this year. As of 7:30am ET contracts on the Nasdaq 100 rose 1.2%, while S&P 500 eminis gained 0.6%. Semiconductor firms gained in Europe, while tech also outperformed in Asia. The Bloomberg Dollar Spot Index rallied from its lows of the day, pressuring all G10 currencies, with the yen undoing all its gains in the past 24 hours. Bond yields are flat-to-lower with the 10Y yield at 4.21%, below the 4.25% support level. Global bonds also rallying in the wake of weaker than expected PMI data. Commodities are higher with Ags continuing to lead; gold advanced for a fourth day, set for its longest winning streak since mid-July. Brent crude climbed for the first time this week, while Bitcoin rose. Today's macro data focus includes durable goods/cap goods orders, jobless claims, KC Fed, and one Fed speaker. As we prep for Jackson Hole comments, the question is: do we receive another hawkish surprise which sends stocks tumbling anew?"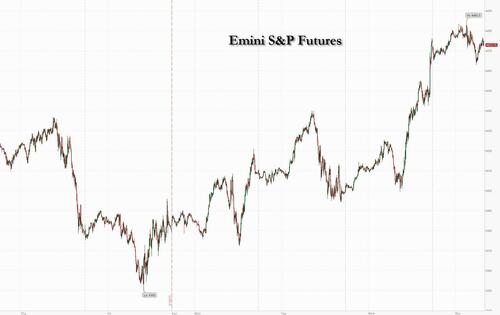 VIX futures made a new retracement low, declining to 15.48 this morning.  A probable support may be the 50-day Moving Average at 14.64.  the hourly Cycle may be due to end this afternoon, so we may see a reversal based on rising concern about the contents of the Jackson Hole presser.
10-year Treasury Note futures declined to a low of 41.75, then found support at the Cycle Top at 41.78.  TNX is at the correction stage for the next week and may consolidate between the Cycle Top and the high.
USD futures are consolidating inside Friday's trading range and above the trendline.  USD is gaining strength, especially over the coming weekend and into next week, where there may be a Master Cycle peak.  The Cycle Top at 105.35 provides the next probable target.
WTIC futures are consolidating within yesterday's trading range.  However, it may resume it decline through the end of this week to a Master Cycle low near the 50-day Moving Average and mid-Cycle Support at 75.79.
Gold futures are consolidating within yesterday's trading range.  Should it decline beneath the mis-cycle support at 1926.80, it may resume its decline through mid-September to a Master Cycle low.  A likely target may be between the Cycle Bottom at 1782.12 and straight line support at 1810.00.