8:15 am
Good Morning!
NDX futures may be coming off its 17.2-month long Cycle this morning, as Friday marked the precise timing for a high.  There may be another attempt to probe higher, but the probability of new highs may be waning quickly.  The Cycles Model suggests that there may be a two-month decline starting imminently.  A panic may develop at any time as Waves [3] are the most powerful of declines.
Today's options expiration shows 13200.00 to be highly populated by both puts and calls.  Long gamma begins at 13250.00 and is populated to 13500.00.  Short gamma starts at 13125.00 and has conviction down to 13025.00.
ZeroHedge remarks, "Regular readers know that among Wall Street's strategists, the one whose opinion we value the most, is that of Citi's Matt King of "Are the Brokers Broken" fame , who – unlike so many of his peers – feels no pressure to publish every day, or every week… or every month for that matter having long ago cemented his reputation among the annals of Wall Street financial analysis, but merely whenever he has something important to say. Like now."
SPX futures probed to a weekend high of 4175.80, but have settled back to the flat line this morning.  Today is day 258 in the Master Cycle for the blue chips.  Both SPX and NDX are about to begin a 2-month decline that is likely to take out the October low.
In today's op-ex, 4150.00 marks the Max Pain zone.  Long gamma begins at 4160.00 and strengthens at 4185.00,  while short gamma starts at 4140.00 and remains strong to 4000.00.  ZeroDTE options have the ability to really upset this apple cart.
ZeroHedge reports, "US stock futures were flat to start the busy new week in subdued trading with much of the world close for May 1 celebrations, as investors assessed the government-backstopped intervention which saw JPMorgan Chase acquire First Republic Bank ahead of this week's Federal Reserve rates decision. Contracts on the S&P 500 were unchanged at 4,187 after the underlying benchmark gained sharply on Friday, rising 0.8% on the back of another painful gamma squeeze. The dollar dropped, alongside Treasuries which edged lower after a muted session in Asia. There was no trading in much of Europe to observe the May 1 holiday, with markets also shut in Asian centers like Hong Kong, Singapore and mainland China."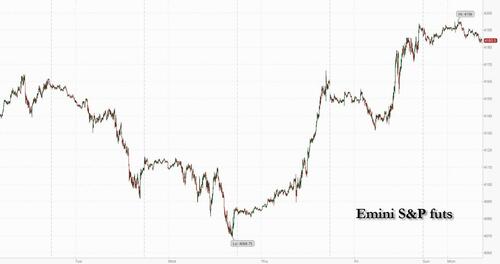 VIX also extended its Master Cycle in a massive throw-under to Friday, thanks to 0DTE option trading.  This morning's VIX futures show a bounce off the low in what is likely to be the reversal.  The Cycles Model suggests a rally to mid-June.
Wednesday's op-ex shows Max Pain at 17.00.  Short gamma is non-existent, while long gamma extends from 20.00 to 33.00.
ZeroHedge observes, "VIX has got seasonality too
The VIX seasonality has actually worked pretty well this year. VIX rose until mid March (and we got the March spike). It reversed and has since then imploded. Let's see if we continue to follow the seasonality pattern going forward…"
TNX lingers beneath the 200-day Moving Average at 35.42.  However, that may change this week, as a double dose of strength may force a breakout by the end of the week.