3:16 pm
GKX finally completed an 8.6-month Cycle in the form of an expanded flat correction.  Earlier this week I warned that it may have been targeting the trend channel at 424.00.  Today's move was sufficient to fulfill that target.  Be prepared for a potential rally to the end of June.
2:52 pm
It seems that 0DTE options players have pulled the rug out from under the VIX for another day.  However, this move may be suicidal for those who wish to jump on that "trend" for any longer.
ZeroHedge remarks, "The last few weeks have been 'easy street' for options traders – selling puts has been extraordinarily and very smoothly profitable… until this week when, as Nomura's Charlie McElligott notes picking up the pennies in front of the steamroller always ends the same way – like Taleb's "life of a Thanksgiving turkey"…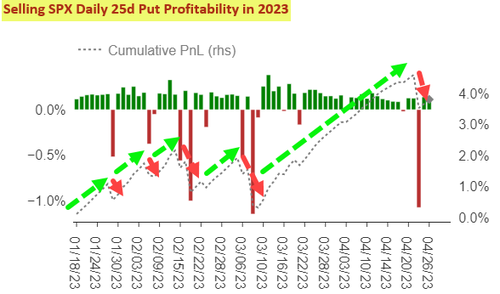 The question is – will that pain-trade be enough to stall the exuberance vol-selling crowd that has been enabling the equity market's gains amid growing stagflationary threats?"
2:43 pm
The SPX did not make a new high, as February 2 was the Pivotal day in the Cycles.  Recall that February 2 terminated a 12.9-month Cycle in the Blue Chips.  Today, however, completed a 17.2-month Cycle in the NDX at a new high, as mentioned earlier this week.  Both SPX and NDX are due for a serious decline through the month of June.  Prepare for a panic decline starting now.
:30 am
Good Morning!
NDX futures have pulled back to 13101.50 this morning after yesterday's ramp higher.  There may be a final probe higher, as high as 13460.00 before the reversal.  This may draw in the last of the FOMO crowd before the reversal.  Bear in mind that the actual reversal may happen over the weekend, so it would be appropriate to exit longs and establish shorts as the target is approached.  Today is day 255 of the Master Cycle and an ideal time for NDX to make a reversal.
Today's options expiration shows Maximum Pain for investors at 12990 with puts holding an edge beneath that, but little short gamma.  Long gamma starts at 13000.00 and runs strong to 13500.00 at 100 point intervals.  This suggests large money at work.
ZeroHedge notes, "Panic call buying – QQQ edition
The upside panic in a pic. With implied vols at rather low levels, just use those options to play direction, and/or get some long gamma onboard and hedge the deltas. These moves are huge, and gamma is cheap. Long gamma is always a good way to "regain" confidence and trade the market from the "right" side, in case the last moves have confused you.
Source: Spotgamma/Hiro
The concentrated NDX bull
The NDX vs NDXE (NDX equal weight) ratio is surging today again. The move in 2023 is "impressive"!"
SPX futures pulled back to Short-term support (not shown) at 4116.00, lingering near Max Pain.  There is a possibility of a probe higher, moving the current Master Cycle high to today.  If so, the turn may begin mid-afternoon and gain momentum over the weekend.  As it currently stands, the retracement may already be complete, suggesting an morning reversal in SPX.  This is a difficult turning point.
Today's op-ex shoes Max Pain at 4115.00.  Long gamma runs from 4125.00 to 4250.00.  Short gamma runs from 4110.00 to 3850.00.
ZeroHedge reports, "A rally in US tech stocks was set to reverse on Friday as investors punted on a surprisingly downbeat comment by Amazon about the rapid slowdown in AWS sales growth in April, as well as the prospect of more interest-rate hikes, elevated inflation, signs of slowing economic growth and so on. Contracts on the Nasdaq 100 were down 0.3% by 730 a.m. ET after the underlying index soared 2.8% in its best day since Feb. 2 on Thursday following upbeat results this week from a slate of technology heavyweights. S&P 500 futures were also down 0.3% following the benchmark index's sharpest gain since January. Treasuries bounced, while gold prices edged lower. Oil prices were also set to end the week lower. The dollar, meanwhile, rose while bitcoin was flat."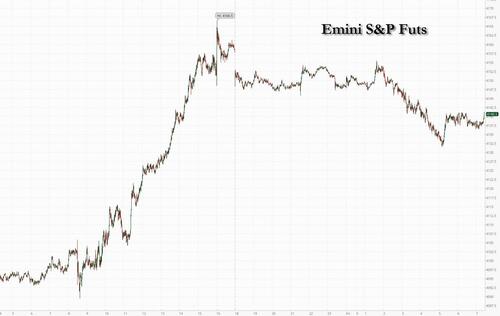 VIX futures are bouncing within yesterday's trading range. It is still in the accumulation stage with a small chance of making a deeper low.  The buy signal is confirmed at the 50-day Moving Average at 20.17.  The Cycles Model suggests a burst of strength may ensue over the weekend.  Something is cooking under the surface that may be revealed soon.
TNX is pulling back after an attempt at the 200-day Moving Average at 35.39 yesterday.  The Cycles Model suggests that TNX will also have a burst of strength over the weekend, suggesting a breakout above the resistance zone may occur next week.  TNX may appear weak as long as it is beneath the 200-day Moving Average, but that may quickly change.
ZeroHedge reports, "After an average 2Y, and a stellar (if slightly tailing) 5Y auction, moments ago the Treasury held its final coupon auction of the week when it sold $35BN in 7 Year paper in a sale that was solid if forgettable.
The auction stopped at a high yield of 3.563%, below the 3.626% last month and the lowest since January; extending the recent trend, the auction tailed the 3.550% When Issued by 1.3bps. This was the third consecutive tailing 7Y auction and 6 of the past 7.
The Bid to cover of 2.415 was a slight improvement to last month's 2.394 if below the 2.465 six-auction average."