9:40 am
BKX is making new lows lest than a week after making its Master Cycle low. This is unusual, but may be anticipated in a slingshot move (lower).  We may see another test of the Lip of the Cup with Handle formation as mixed earnings results are announced.  However, the new Master Cycle may run through the end of June before breaking higher.  This is a proxy for market liquidity and a good indicator of what may be coming over the next two months.
ZeroHedge reports, "irst quarter earnings season has officially started with JPM reporting Q1 results which were somewhat mixed (top-line beat, EPS miss) thanks to strong trading offset by weaker than expected IB revenues. The company's net interest income outlook was also raised for full year 2022 to $53BN from $50BN, and just to make sure that investors were happy, the bank announced a new $30BN share buyback, which perhaps was meant to cover up the fact that JPM reported an unexpected $524 million loss "driven by funding spread widening" as well as "credit valuation adjustments relating to increases in commodities exposures and markdowns of derivatives receivables from Russia-associated counterparties."
Starting at the top, JPM reported total adjusted revenue of $31.59 billion, above the exp. of $31.44BN resulting in EPS of $2.63, just missing the 2.73 consensus estimate, the lowest earnings since Q2 2020."
8:25 am
Good Morning!
NDX futures rose overnight to 14092.30 in as weak retracement.  Normally, we would see a retracement ot the 50-day Moving Average at 14329.62.  The weakness appears profound, possibly due to the short gamma effect.
ZeroHedge observes, "Last weekend, when looking at the latest JPMorgan Prime Brokerage data, we noted that the "pain trade" remains higher as unlike retail, hedge funds have been selling every rally aggressively with the largest US bank seeing "net selling in 8 of the past 9 days," during which stocks have staged a torrid rally.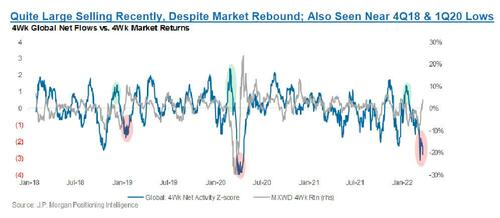 At the same time, we also observed that the bulk of the recent market meltup has been on the back of a massive short squeeze and covering of puts (creating a delta and gamma squeeze) which makes it especially difficult to predict what happens next as most if not all of the recent market meltup has been due to technicals and positioning, not fundamentals.
Still, we said that the simple conclusion is that that "either hedge funds will reverse their selling soon and jump on board the retail buying bandwagon (at which point it will again be time to short), or retail will run out of buying power amid the hedge fund-to-retail "distribution", and stocks will tumble once again."
SPX futures rose to 4432.10 in the overnight session, then gave it all back in the premarket, declining back beneath 4400.00.  The Maginot Line for today's options expiration is 4400.00.  While calls are marginally higher over 4400.00, puts prevail in volume beneath 4390.00.  The dealers and hedge funds supporting liquidity for this market are walking a very fine line…
ZeroHedge reports, "US index futures bounced, with Nasdaq 100 contracts halting a three-day drop, as investor attention turned to the start of corporate earnings season, which BofA dubbed the "Last big beat for a while" amid concerns over high inflation and slowing growth. Contracts on the Nasdaq 100 were up 0.4% as of 630 a.m. in New York, signaling a pause in the rout that wiped $1.6 trillion from the market value of technology behemoths in just over a week. S&P 500 futures and Dow futures gained 0.4%, with Asian stocks also rising even as Europe's Stoxx 600 Index dropped; the selloff in U.S. Treasuries also eased with the 10Y yield flat at 2.72% while the US Dollar resumed its advance and the yen fell to a 20-year low as the growing gap between rising U.S. bond yields and perpetually low ones in Japan continued to pressure the currency. Oil rose after Russia vowed to continue the war in Ukraine and China partially eased Covid curbs. Bitcoin continued to trade on either side of $40K."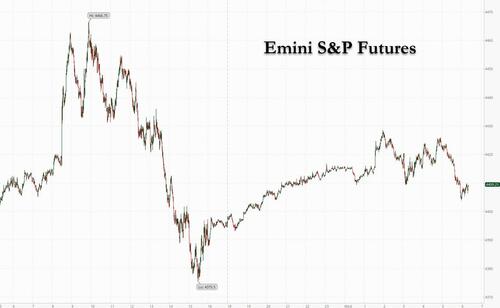 VIX futures dipped to 23.13 late yesterday before  moving back to 24.14 this morning.  Should VIX not emerge above the 50-day Moving Average at 25.64 we may see an effort to suppress it back down to the mid-Cycle support at 21.21 to calm the equities market prior to the Easter weekend.  While the Cycles Model is unclear about direction over the next two days, the picture changes dramatically next week.
The NYSE Hi-Lo Index closed at -168.00 yesterday, clearly showing internal weakness.
TNX is consolidating in place, although that may soon change, as trending strength may prevail through the next week.  One reason for investors reluctance to sell stocks is that the "normal" rotation from stocks to bonds may be worse than simply staying in stocks, at least thus far.  It almost appears that there is a buyers' strike in the 10-year Notes.
ZeroHedge reports, "Far uglier than yesterday's 3Y auction, in fact far uglier than any 10Y auction in the past 5 years, moments ago the Treasury sold $34 billion in 10Y paper in a reopening auction at a high yield of 2.720%, 80bps above last month's 1.92%, and a whopping 3bps tail to the 2.69% When Issued – the biggest tail on our record which goes back to 2016 – as buyers balked at purchasing the benchmark paper with yields trading near session lows following the "not as bad as expected" CPI print.
The bid to cover was also a disappointing 2.43, the lowest of 2022 and well below the 2.50 six-auction average.
The internals were likewise ugly, with Indirects taking down just 64.3%, the lowest since July 2021 and with Directs awarded 18.7% (the most since last July), meant Dealers were left with 18.0%, just modestly above the recent average of 16.7%.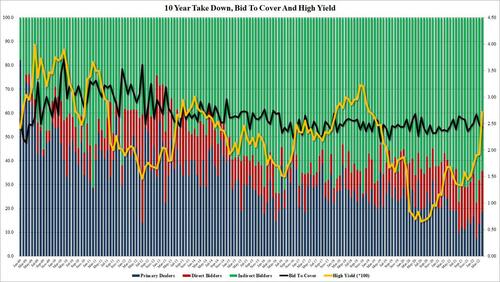 USD futures have hit a new high at 100.51 this morning, as the final surge to the Master Cycle high winds up by the end of the week.
Crude oil is forging higher, to 102.42 this morning.  It appears to have made its Master Cycle low on Monday, day 255, in a flat correction..  The reversal closed above the 50-day Moving Average yesterday at 99.72, creating a buy signal.  Although there is no immediate pattern of strength, the new Master Cycle may run until the end of June.