8:00 am
Good Morning!
NDX futures attempted to assault the 50-day Moving Average at 14325.05, but failed, pulling back beneath Intermediate-term support/resistance at 14242.77.  While still oversold, the inability to overcome that double resistance may condemn the NDX to a continued oversold decline that may intensify into a panic.  The unfilled gaps give us a clue as to the profound weakness of the NDX.  Attempting to buy the dip here may be sheer suicide.
SPX futures, while still above critical support, also show similar signs of weakness.  Thus far they have managed to stay above the 50-day Moving Average at 4426.50, but once beneath that level, may spin out as well.
Today's a.m. expiring options must settle near 4450.00 for Maximum Pain.  The majority of today's options expire in the morning.  The p.m. options show Max Pain at 4430.00, but are considerably lighter, most likely in deference to Passover and Good Friday.
ZeroHedge reports, "US index were flat on Thursday, reversing earlier gains sparked by hopes of imminent easing in China, as investors turned their attention to the ECB which is set to maintain its speedier withdrawal of stimulus, data on retail sales and unemployment claims, and a barrage of earnings from Goldman Sachs, Morgan Stanley, Citigroup and Wells Fargo, and all of this happening as $2.1 trillion in options are set to expire (since tomorrow is a holiday).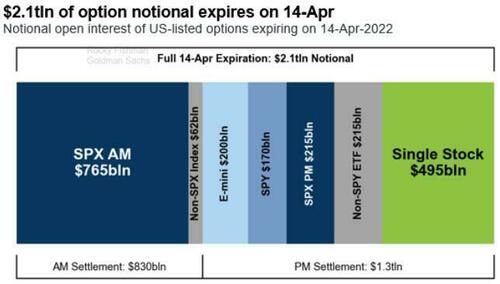 At 7;00am ET, S&P futures were unchanged at 4440, Nasdaq futures were down 0.1% and Europe's Stoxx 600 rose 0.2%. Asian stocks rose after China again indicated looser monetary policy is on the way. Treasuries extended gains as investors dialed back aggressive bets on Federal Reserve interest-rate hikes. The yen bounced from a two-decade low against the dollar. The greenback slipped after snapping its longest winning streak since 2020. Oil fell. Twitter shares soared after Elon Musk offered to buy the whole company for $54.20."
VIX futures remain flat above the mid-Cycle support at 21.23.  Today's Cycles Model shows little trending strength, but it may return over the next two weeks, leading into a probable Master Cycle high by the end of April.
YahooFinance restates, " (Bloomberg) — Strap in for spikes in the S&P 500 index's so-called "fear gauge" now that the Federal Reserve has flipped from being a friend to something more akin to a foe to markets as it tightens monetary policy.
That's in essence the view from strategists at Bank of America Corp. for the Cboe Volatility Index, a gauge of implied equity swings for the S&P 500.
"High and persistent inflation is turning the Fed from a suppressor of vol and source of returns to a source of vol and suppressor of returns," BofA strategists including Nitin Saksena and Riddhi Prasad wrote in a note. They added this kind of backdrop "skews our outlook for equities negatively."
The NYSE Hi-Lo Index made a probable Master Cycle high of only 58.00 on Tuesday, day 257.  A lower high in this indicator is not a good sign.
TNX may be finishing a shallow retracement as the Cycles Model suggests a return of the rally with strength early next week.  In addition, it may be due for a Master Cycle high by the end of next week.
ZeroHedge reports, "Ahead of today's last-for-the-week coupon auction, we asked if following yesterday's unexpectedly ugly 10Y reopening which tailed more than 3bps following a 12bps intraday rally, we would see another chunky tail thanks to today's repeat rally.
Then, just a few moments later we got the answer, and while not quite as "chunky" as yesterday's 10Y, we did get another tail in the 30Y: with the auction stopping at a high yield of 2.815%, the highest since May 2019 and 44bps higher than last month, this was a 0.9bps tail vs the 2.806% When Issued. And while the auction was certainly uglier compared to last month's 2.4bps stop through, it was nowhere near as bad as February's disaster when as a reminder the 30Y tailed by a record 10.6bps during the initial market shock following the Fed's furious repricing of rate hike expectations.
The bid to cover of 2.30 was below average, and sliding from 2.458 last month it was also below the six-auction average of 2.32%."
USD futures appear to be consolidating in range this morning after making a probable Master Cycle high on day 257.  The "Top is In" at the point that USD declines beneath the Cycle Top support at 99.37.
ZeroHedge remarks, "Ever since Zoltan Pozsar started echoing Zero Hedge circa 2010, and in note after feverishly-drafted note, the former NY Fed repo guru has been writing about a coming monetary revolution in which commodity-backed currencies such as the yuan become dominant and gradually displace the world's reserve currency – the US Dollar – which slowly fades into irrelevancy in a world where commodities are the fulcrum asset and where paper wealth is increasingly meaningless, there have been three reactions: i) those who have no idea what Zoltan is writing about (that would be about 98%), ii) those who agree wholeheartedly and believe that the USD should be dethroned as a reserve currency yesterday, and iii) those who are just a little bit "displeased" with all the attention the strategist (who has correctly called every major crisis and turning point in markets in the past decade) is getting and are starting to lash out at his stream of consciousness.
Rabobank's Michael Every, himself a geopolitical status quo skeptic yet clearly misaligned with Zoltan as to what happens next (and in reality a believer that the broken system we have now will be the broken system we have for a long, long time to come), is in group three, and following a handful of "subtweet" shots across the Zoltan bow (which have barely registered in the financial media, especially Bloomberg, which Every continuously mocks yet reads religiously) the Rabobank strategist has (bravely) penned the closest thing to a Pozsar rebuttal we have seen."
Crude oil may be consolidating between the 50-day Moving Average at 100.05 and Intermediate-term resistance at 104.82, going no higher than 104.16 thus far.  Should it go higher, it still has overhead resistance at the Cycle Top at 108.06.  Today is day 258 of the existing Master Cycle.  Should WTIC stall at or beneath the Cycle Top, we may see prices go lower.