9:40 am
GKX appears to have had its Master Cycle low on Tuesday at 527.64 on day 263.  I had allowed for a deeper low as Wave C is equal to Wave A at 515.00.  However, corrections are modest in the strong Primary Wave [3].  The Cycles Model suggests the minimum target for the new Master Cycle may be 818.00 by the end of April.  1200.00 may be achievable by the end of the year.
ZeroHedge remarks, "Fertilizer prices are at record highs following Russia's invasion of Ukraine puts massive pressure on American farmers to transition to crops that need less fertilizer.
A Bloomberg survey found that farmers will plant 2 million more acres of soybeans and about 2 million fewer of corn. That's because soybeans require very little fertilizer versus corn.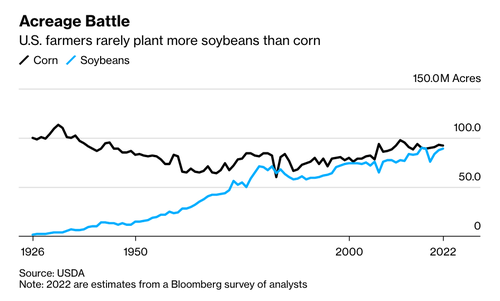 Fertilizer isn't the only problem.  ZeroHedge reports, "An outbreak of the deadly strain of bird flu is quickly spreading across the U.S. The risk to humans is low, but bird flu could wreak havoc in the nation's poultry industry ahead of Easter.
The United States Department of Agriculture's (USDA) Animal and Plant Health Inspection Service (APHIS) announced on Wednesday that highly pathogenic avian influenza (HPAI) was detected in five new states.
A non-commercial, mixed-species backyard flock (non-poultry) in Berkshire County, Massachusetts;
A non-commercial, mixed-species backyard flock (non-poultry) in Johnson County, Wyoming;
A commercial poultry flock in Johnston County, North Carolina;
A non-commercial, backyard chicken flock (non-poultry) in Franklin County, Ohio;
And a backyard chicken flock (poultry) in Kidder County, North Dakota.
According to Bloomberg, USDA data shows the bird flu has been found in 23 states in flocks totaling about 17 million birds up and down Mid-Atlantic and Northeast and across the Midwest.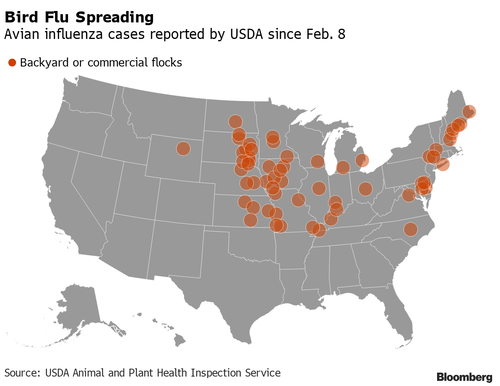 Overseas, the situation is worse.  ZeroHedge observes, "The National Farmers' Union has warned the UK is sleepwalking into a food security crisis. Soaring energy and fertilizer costs have led to an unprecedented situation where growers' margins have collapsed, forcing many to halt growing operations.
Reuters says because of the inclement weather in the UK. Farmers grow cumbers, plant peppers, aubergines, and tomatoes in vast greenhouses. Greenhouses use natural gas for heat, but after last year's surge in gas prices exacerbated by Russia's invasion of Ukraine last month, the crops have become uneconomical to produce. "
8:00 am
Good Morning!
SPX futures have bounced to an overnight high of 4560.40 before easing back.  The overnight bounce constitutes a 28% retracement, should that be the extent of it.  We will know more at the open.
Today's expiring options show that puts dominate at 4550.00 and below, while calls become more numerous at 4570.00 and above with Max Pain at 4560.00.  It remains to be seen whether the dealers and hedge funds can maintain a sideways market today.
ZeroHedge reports, " Following yesterday's furious quarter-end puke, which saw the S&P tumble 50 points in the last hour of trading as a massive $10 billion Market on Close sell imbalance sparked a liquidation frenzy, U.S. index futures started off the new quarter on the right foot, rising as investors weighed a drop in oil prices sparked by Biden's unprecedented pre-midterm election draining of the petroleum reserve, ongoing developments in the Ukraine war and tightening monetary policy ahead of ISM and payrolls data. S&P500 and Nasdaq 100 futures gained around 0.5% before March payrolls figures later on Friday, after U.S. stocks ended their worst quarter since the start of the pandemic. Europe's Stoxx 600 gained after its worst quarter since the pandemic bear market. Oil reversed an earlier decline as euro-area inflation accelerated to another all-time high and Russia's Gazprom PJSC started telling clients how to pay for gas in rubles. Treasury yields rose and the dollar was steady as traders await the jobs report, which unless it is a total disaster, will strengthen the case for a 50bps rate hike in May. U.S. data on Friday include nonfarm payroll and ISM data while no major company is expected to report earnings."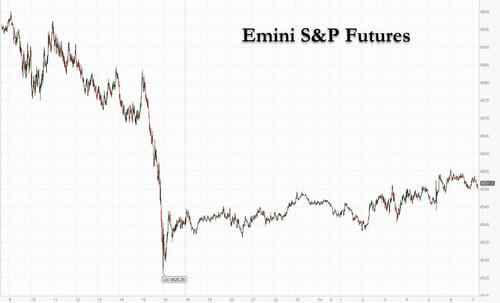 VIX futures eased back to a morning low of 20.10, within yesterday's trading range.  A rally above the mid-Cycle resistance at 21.05 produces a buy signal.  As I have mentioned over the past week, this is a good time to accumulate share of VIX derivatives.
Yahoo!Finance gives a reason for higher VIX prices, "The U.S. ETF market has an inverse volatility fund trading once again, more than four years after "Volmageddon" wiped out $2 billion in assets tied to the strategy.
TNX bounced up to 24.41 this morning as it continues its corrective pattern.  Trending strength may not return until options expiration week.  However, the correction may extend to the upper trading channel trendline.
ZeroHedge reports, "As brutal as the bond-market backdrop has been, losses in Treasuries may abate in the second quarter even as the Federal Reserve takes aim at quelling inflation that is running at a breakneck pace.
The odds of a repeat of the first-quarter selloff are approximately 1-in-30,000…
The Bloomberg Treasury Index incurred a loss of 5.91% since the start of the year through Tuesday, the worst in data going back nearly 50 years.
That represented a 2.5 standard-deviation move to the left — in itself an extreme probability in a normal distribution of returns that is confirmed by running the Kolmogorov-Smirnov test.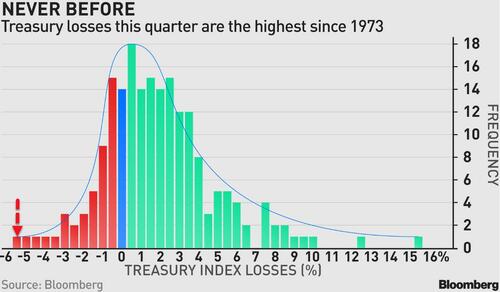 Fundamentals also suggest that losses may moderate.
ZeroHedge adds, "Shortly before the close on Thursday, the closely-watched 2s10s yield curve, better known as the recession harbinger, inverted again for the second time in three days, and this time it will likely fail to bounce as the US slides ever closer to its recession D-Day."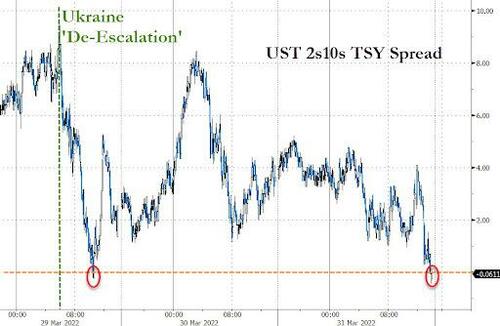 USD futures rallied to an overnight high of 98.66.  USD may have given us a Master Cycle low on March 30 (Wave [iv]).  A double dose of strength may elevate USD to 100.00 by mid April in the new Master Cycle.
Crude Oil futures tested the 50-day Moving Average (97.68) by declining to 97.81 this morning.  The Cycles Model shows today as a day of trending strength, which may mean a further decline, as the trend may have turned down.  The next Master Cycle turn is approaching by mid-April.  A normal correction would terminate near the mid-Cycle support, where Wave C seeks equality with Wave A.  However, there are indications of trending strength, suggesting a panic decline as low as the Cycle Bottom support at 65.16.