7:00 am
Good Morning!
I am getting an early start because I am spending time this morning with three granddaughters, all under the age of 5.  Yikes!  I am "re-using" charts from yesterday afternoon, since StockCharts appears to be down.  Perhaps it is due to the mass coronal ejection that is hitting us this morning.  Our location is having a strong wind storm that is rattling the house and is due to bring in snow by the end of the day.
SPX futures retraced above the trendline overnight, hitting 4620.00 before giving up all of its gains.  It is currently in the red beneath the trendline and may be going lower.  Tomorrow's op-ex shows Max Pain near 4550.00 with positive gamma at 4650.00 and short gamma beneath 4520.00.
The Cycles Model suggests a repeat performance for Wave (3) in time.  The decline into the Master Cycle low is scheduled to take 51 days, just as the prior decline did.  However, that is where the similarity ends.  Wave (3)s can never be the smallest Waves.  In the 2008 decline [SuperCycle Wave (a)], Waves threes were consistently 1.5 times the sized of Wave ones.   SuperCycle Wave (c) should be a multiple of SuperCycle Wave (a).  By all indications, Wave (3) may be triple the size of Wave (1).  The Cup with Handle target of 2542.00 agrees, in this case.
ZeroHedge reports, "US equity futures were muted and flat on the last trading day of the month and quarter, fading a modest overnight gain as the underlying index headed for its first quarterly decline in two years on worries about surging inflation, hawkish monetary policy and an economic slowdown. Contracts on the S&P 500 were down 0.1% at 730 a.m. ET while Dow futures were little changed and Nasdaq 100 futures rose 0.2%, while European stocks fell, heading for the first quarterly decline since 2020. Asian equities retreated on lackluster Chinese PMI data and regulatory concerns. Treasuries held gains with the 10Y yield dropping to 2.31% (from 2.50% earlier this week when the 2s10s inverted) and the dollar ticked up against almost all G-10 peers. Fed watchers will be focused on the PCE deflator, which may have sped up in February."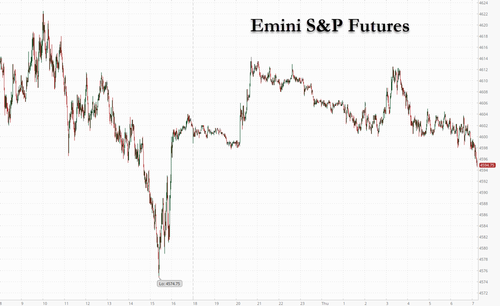 VIX futures have been climbing steadily all night and are currently at 20.27.  Should the decline in SPX get underway we may see a sharp reaction from the VIX.  The first buy signal comes above the mid-Cycle resistance at 21.03, but you may wish to accumulate shares (ETFs or options) before that event.  The Cycles Model shows the new Master Cycle in the VIX peaking at the end of April.
TNX futures have declined to a low of 23.11 this morning, keeping in stride with a possible retracement to the Cycle Top at 21.89.  Why that level?  Wave threes often "walk" along the Cycle Top, once they have emerge above that support, due to the strength of that phase in the Cycle.  There may be a decline to the Intermediate-term support at 20.70, but I would lay odds that the Cycle Top will hold.
ZeroHedge observes, "Rates – big levels coming up
Consensus about yields spiking further is strong. In our thematic email, Ready for the rates reversal?, we pointed out some facts that the move higher in rates had the potential to reverse/take a pause. Since then rates have come down and are approaching rather big levels. Things could get "dynamic" should we see yields move slightly lower as we risk taking out rather big supports.
US 10 year – is that a reversal in the making?
Quick short term levels for the mighty US 10 year. First support for yields coming in around the 2.3% level. Note that the 21 day moving average is still way lower. Next big support is down at 2.05% where the 50 day comes in. Resistance is the recent high in the 2.5/2.55% area."