1:45 pm
SPX has made a 52% retracement and may  turn down at any time.  Investors may short the SPX beneath 4500.00.
ZeroHedge advises, "We have perhaps seen the end of the recent meltup as Nomura warns markets are suffering from some "macro fatigue"…
…and BofA confirmed in a trading desk note this morning that "our model's S&P 500 short could be fully covered…" adding that "we are in the late-stages of a short-cover-rally as the implied vol spike in heavily-shorted names has started to fade…"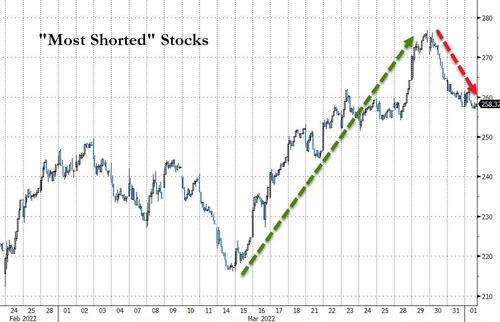 10:07 am
The GSCI Ag Index appears to be holding at Intermediate-term support at 537.40 and may be about to resume its rally higher.  The next Master Cycle (high) may come at the end of April, giving it plenty of time and space to rally.  While no specific target is evident, the technical landscape suggests highs between 800.00 and 1000.00.
ZeroHedge observes, "Just days after Germany reported the highest inflation in generation (with February headline CPI soaring at a 7.6% annual pace and blowing away all expectations), giving locals a distinctly unpleasant deja vu feeling even before the  Russian invasion of Ukraine broke what few supply chains remained and sent prices even higher into the stratosphere…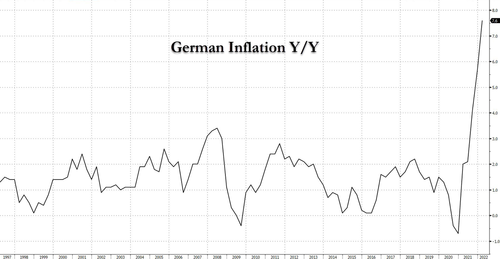 … on Monday, Germany will take one step toward a return of the dreaded Weimar hyperinflation, when according to the German Retail Association (HDE), consumers should prepare for another wave of price hikes for everyday goods and groceries with Reuters reporting that prices at German retail chains will explode between 20 and 50%:
9:45 am
BKX is due for a Master Cycle low as early as today as it hits the Lip of the Cup with Handle formation.  It may mean a retest of the mid-Cycle resistance and trendline at 132.37.  There appears to be trending strength at the end of the week.  However, BKX is in a downtrend, suggesting the decline may resume very quickly in a potential phase-shift to a panic decline.  This juncture is very hard to define, so forgive my speculation if I am wrong.
ZeroHedge comments, "While his friend and fellow Democrat Larry Fink used his latest annual letter to cheer for an accelerating transition to ESG while simultaneously warning about the fallout from "de-globalization" spurred by Russia's incursion into Ukraine, JPMorgan CEO Jamie Dimon warned Monday in his own annual letter to investors that the US economy faces "unprecedented" risks from the confluence of COVID pandemic, high inflation and, of course, the situation in Ukraine.
"They present completely different circumstances than what we've experienced in the past – and their confluence may dramatically increase the risks ahead," Dimon said."
7:45 am
Good Morning!
NDX futures rose to a weekend high of 14936.70, but has since eased back from the high.  In today's options expiration, QQQ (Friday's close: 361.85) prices beneath 360.00 favor puts, while short gamma may start as high as 355.00.  Calls dominate above 362.00, but call volume is thin, making it difficult to judge where positive gamma begins.  In all, QQQ/NDX are testing short gamma again.  This morning shares got a boost when Musk took a 9.2% stake in Twitter.
ZeroHedge reports, "After suffering tremendous losses in January and February, March was a very confusing month for hedge funds: as JPMorgan's Prime Brokerage writes in its monthly note, the start of March was characterized by one of the largest de-grossing episodes among Equity L/S funds in N. America, along with quite significant net selling globally (especially in APAC), and resulted in some marquee names such as Tiger Global suffering massive losses.
So as markets closed out the month and quarter with a very sharp rebound in equities, most funds were again caught by surprise, while few are willing to embrace the recent move higher in risk as a persisting trend."
SPX futures also got a boost, rising to 4556.70 before subsiding.  In today's expiring options, Max Pain is at 4545.00.  SPX options turn negative at 4535.00 and short gamma resumes at 4500.00.  This confirms the next level of intensity in the decline beneath mid-Cycle support at 4501.42.  While options become positive above 4560.00, positive gamma doesn't kick in until 4600.00.
Should SPX decline beneath mid-Cycle support, the trend becomes short.  The Cycles Model indicates increasing trending strength this week.
ZeroHedge reports, "US futures rose along with stocks in Europe and Asia, as corporate news took some of the focus off developments in the Ukraine war, where peace talks are expected to resume on Monday. Nasdaq 100 futures led gains among other gauges, climbing as much as 0.4% with S&P futures up 0.2%, while equities also rose in Europe. Twitter soared as much as 29% in premarket trading after Elon Musk took a 9.2% passive stake in the company. Tesla shares also rose after the automaker posted record first-quarter deliveries despite supply chain and logistical constraints, taking other electric-vehicle stocks higher as well.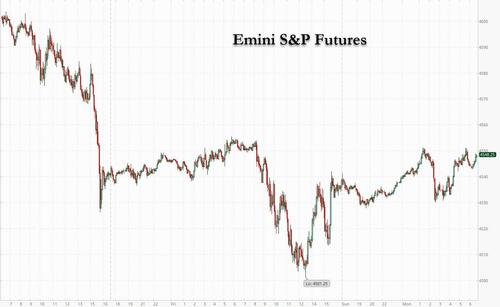 VIX futures got a boost to a high of 20.74 over the weekend.  However, it remains beneath mid-Cycle resistance at 21.07.  Wednesday's expiring options show Max Pain at 21.00, which explains the hesitancy to rise above mid-Cycle resistance.  Short gamma begins at 20.00, while long gamma begins at 25.00.  Should VIX rise above its mid-Cycle resistance, it may experience trending strength during monthly options expiration and in the final week of April.
NYSE Hi-Lo Index made its Master Cycle extended (272 days) high on Wednesday at 149.00.  The Hi-Lo issues a sell signal with a close beneath 0.00, with confirmation beneath mid-Cycle support at -59.33.  The Cycles Model suggests an upcoming Master Cycle low in about three weeks.  However, it may linger near the low through the end of the month.
TNX opened at the lower end of Friday's trading range.  It may test the Cycle Top at 22.31 this week before a return of trending strength next week.  The Cycles Model suggests a Master Cycle high may be made the week after options expiration.
USD futures are rising out of their Master Cycle low last week to challenge the Cycle Top resistance at 98.96 today.  The Cycles Model anticipates a very short Master Cycle ending on or near April options expiration.  The intended target may be 100.00, or slightly higher.