9:50 am
SPX gapped down this morning to begin Wave (3) or (C).  The Head & Shoulders formation shows the minimum decline, which may be underway through the first week of March.  Friday's options expiation shows the Max Pain zone near 4525.00.  Gamma turns short below 4500.00.   The 100-day Moving Average is at 4569.77.  The SPX is on a sell signal beneath that level.
ZeroHedge exclaims, "Facebook – or Meta now that it's in the witness protection program – is making record after dismal record this morning after its catastrophic earnings and guidance last night: not only is the company's 22% drop the biggest in its history…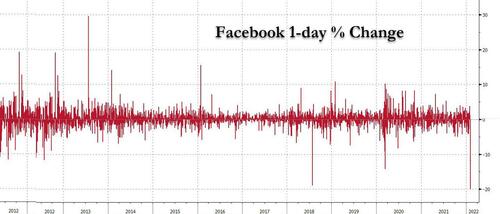 … but according to Bloomberg, the one-day crash ranks as the worst in stock-market history: the Facebook crash has erased some $195 billion of its market cap. That would make it the biggest collapse in market value for any U.S. company.
9:45 am
VIX rallied above the 50-day Moving Average at 22.35 and is on a buy signal.  Yesterday's warning of an extreme dose of strength was prophetic.
7:00 am
NDX futures have declined beneath the 200-day Moving Average at 15028.29, creating a Cyclical sell signal.  Coming up  (or down?) is a Wave (3) or (C).  Both are destructive in their intensity.  The Cycles Model suggests the decline may last through the first week of March.
I am on my way to an early appointment.  I may be back after 9:00.