1:55 pm
SPX is approaching its 50% retracement value at 4623.00.  Expiring options favor calls over 4500.00.  Options are sort beneath 4450.00.  This may be a "sell the rally" event today if it cannot hold above 4500.00..
ZeroHedge comments, "As we detailed last night, yesterday's BoE and ECB did not disappoint still-surging global 'Hawks', who continue steering future policy-rate pricing into levels which Nomura's Charlie McElligott notes just a week ago would have been perceived as an impossibility and into "overshoot" territory, as it pertains to lif-off progressions which would jolt financial conditions "tighter" (ECB implieds in particular, where they now price the deposit rate to rise to zero by YE)… but, when mkt expectations are provided so explicitly, with such vigor, and inflation is over-target, with (energy) commodity prices still surging – these CBs will simply have to comply with what the market is giving them at this juncture."
8:00 am
Good Morning!
SPX futures bounced to an overnight high of 4536.20, a 50% retracement, before easing back down to a flat profile.  The market awaits the monthly BLS jobs survey at 8:30 am.
As for today's options expiration, gamma is positive above 4500.00.  While options favor puts at the current level, gamma goes  short below 4450.00 and seriously so beneath 4400.00.
ZeroHedge reports, "We warned last night that the surge in futures following the huge bounce in Amazon stock wouldn't last (simply because a closer read of the company's earnings left a lot to be desired) and sure enough, in the overnight (extremely illiquid) session, 500 futures erased gains of as much as 1.3% to trade 0.1% lower, or 10 points, to 4,460 as European stocks extend their decline as inflation and monetary tightening outweighed earnings optimism.  Meanwhile, Nasdaq 100 futures pared much of their gains, trading just 0.5% higher after earlier rising more than 2%, one day after the index had the worst day since September 2020. The VIX increased for a third day Friday, hovering just below 26.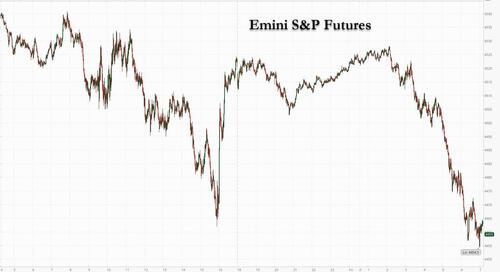 VIX futures rose to an overnight high at 26.12, just beneath Cycle Top resistance.  Breaking that resistance allows a further probe to the neckline.   Normally the Head & Shoulders formation offers the potential target for a Wave three, as well.
The Wednesday, February 9 options favor calls at 25.00 and above, while gamma goes long at 30.00.
8:40 am
NDX futures declined into new lows after the BLS report after rising as high at 14837.30 in the overnight session, a 50% retracement.  Gamma is short for NDX/QQQ and appears to be getting shorter.  Margin calls may also be on the agenda at 2:30 as banks call in their loans on a sinking market.
ZeroHedge observes, "All the exuberant AMZN-driven gains overnight in US equity futures have evaporated after the much-better-than-expected payrolls print sparked 'good news is bad news' selling pressure this morning…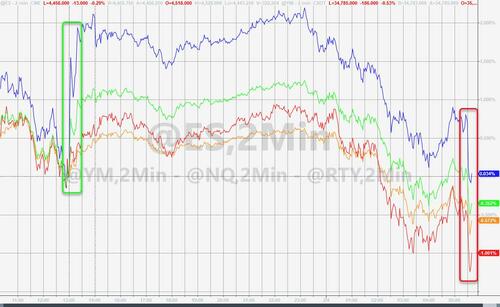 And with the last big hurdle ahead of Fed hikes now lifted, bond yields are also spiking…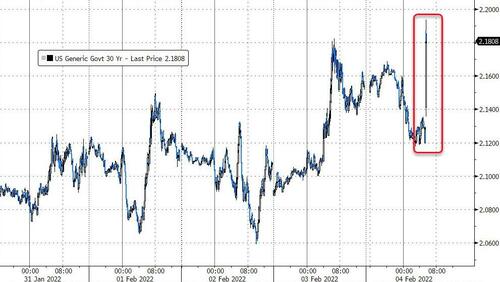 8:51 am
TNX broke out above previous highs as its trending strength rises.  The Cycles Model calls for three more weeks of rally to the next Master Cycle pivot.  The Cup with Handle formation has been activated and may prove to be the target for this phase of the Cycle.
ZeroHedge observes, "So much for all those hoping that January payrolls would be a huge miss (due to Omicron or not) and perhaps slow the Fed's rate hike intentions: moments ago the BLS unleashed a two-for-one shock when it unveiled that not only did January payrolls print at a huge 467K, almost four times higher than the 125K expected (and as a reminder, Goldman expected -250K)…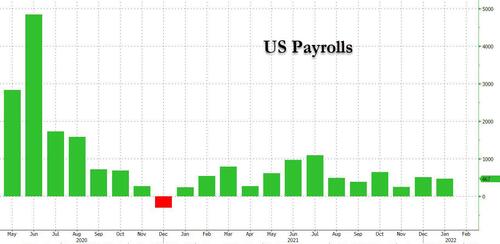 … but the BLS also revised December payrolls from 199K to 510K. And there's more: as part of the BLS's annual revisions, November was revised from 249K to 647K. This means that the previous two months revisions were 709K higher! A quick look at the historical adjustments shows that covid may have never happened with every month rising on average about 500K!"
USD futures bounced to 95.64 this morning.  A Master Cycle low appears to be imminent (early next week).  That suggests the USD may resume its rally through mid-March.