11:45 am
NDX has declined beneath mid-Cycle resistance at 15131.52 and the 200-day Moving Average at 15027.90, issuing a sell signal.  QQQ is at 365.03 where options turn neutral.  Today's expiring puts dominate beneath 364.00 and gamma turns short beneath 360.00.  This appears to be the tipping point of a probable panic Cycle.
ZeroHedge notes, "Everything 'was' awesome…
But now it appears things are going just a litte bit pear-shaped (and no obvious headline driven or technical catalyst yet).
US Equity indices are rapidly erasing the overnight exuberance, with even Nasdaq's Alphabet-driven spike fading fast. Small Caps are deep in the red and Dow is back to unchanged…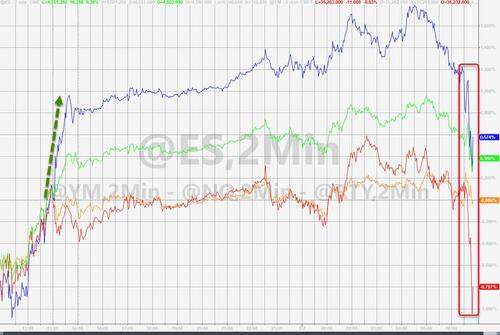 Notably The S&P and The Dow (far left and far right respectively) are clinging to their 100DMAs…
10:05 am
The GSCI Ag Index may have reached its Master Cycle high today at day 266.  The retracement may not last/may extend beyond today's high due to a surge of strength due next week.  Things are getting out of hand with food prices and the next Master Cycle (high) is not due to mid-March.
ZeroHedge reports, "An uncontrolled fire burns at a North Carolina fertilizer plant early Wednesday as there is still a risk of an explosion, forcing thousands of people to evacuate their homes in surrounding communities, according to local news WXII-TV.
Winston Weaver Co.'s Winston-Salem plant caught fire Monday night and continues to burn days later. The plant produces ammonium nitrate and has more than 500 tons of potentially explosive chemicals in storage.
"There has been no improvement on scene, conditions have not improved," a spokesperson for the city of Winston-Salem said during a press briefing at 0430 ET. "The potential for an explosion is still there."
This follows a prior ZeroHedge article, "The information that I am about to share with you is extremely alarming, but I have always endeavored to never sugarcoat things for my readers.  Right now, there are shortages of certain items in grocery stores across the United States, and food supplies have gotten very tight all over the globe.  I have repeatedly warned that this is just the beginning, but I didn't realize how dire things have already gotten until I received an email from a farming insider that I have corresponded with over the years.  I asked him if I could publicly share some of the information that he was sharing with me, and he said that would be okay as long as I kept his name out of it.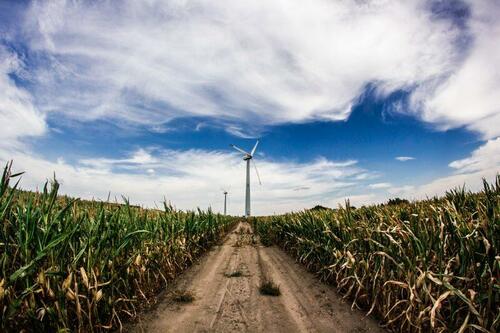 According to this farming insider, dramatically increased costs for fertilizer will make it impossible for many farmers to profitably plant corn this year.  The following is an excerpt from an email that he recently sent me…
"Things for 2022 are interesting (and scary). Input costs for things like fertilizer, liquid nitrogen and seeds are like triple and quadruple the old prices. It will not be profitable to plant this year. Let me repeat, the economics will NOT work. Our plan, is to drop about 700 acres of corn off and convert to soybeans (they use less fertilizer, and we also have chicken manure from that operation). Guess what? We are not the only ones with those plans. Already there is a shortage of soybean seeds, so we will see how that will work out. The way I see it, there will be a major grain shortage later in the year, especially with corn. I mean, we are small with that. What about these people in the midwest who have like 10,000 acres of corn? This will not be good."
8:30 am
Good Morning!
SPX futures rose in the overnight session to 4588.20, nearing the 61.8% retracement value at 4590.00 and achieving Wave Equality between Waves [i] and [v] of Wave C at 4578.00.  Wave C may achieve 125% the value of Wave A, as well.  The Cycles Model calls for a Trading Cycle high today with 30 days to the next Master Cycle low.
Today's expiring options may be driving this rally, forcing the dealers and hedge funds to buy high, chased by the positive gamma above 4540.00.  However, gamma turns short at 4480.00, leaving a narrow window within which they must close, or risk a bloodbath.
ZeroHedge reports, "US equity futures and global stocks from Europe to Asia were headed for the biggest four-day rally since November 2020, supercharged by blockbuster earnings AMD and Google, which hit an all time high overnight after rising 9%. As of 745am, Emini S&P futures traded at session highs, up 40 points or 0.9%…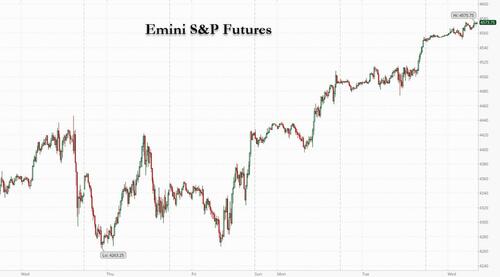 … while Nasdaq futures were up roughly double, some 252 point to 15,247 or 1.7% higher…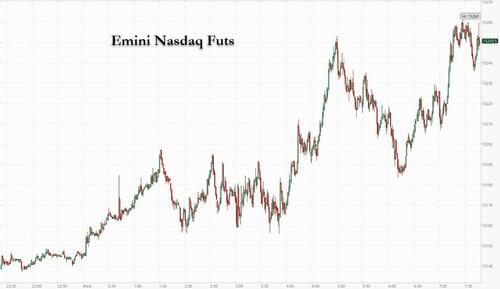 … and the Dow was roughly flat. Oil fluctuated around a seven-year high as OPEC+ agreed on just a 400Kb/d increase in output, as expected to discuss increased supplies. Treasury yields, the dollar and Bitcoin were marginally lower.
VIX futures made a low of 21.19 this morning, but may be bouncing back.  Short gamma starts at 21.00 for today's expiring options.  Max Pain is at 24.00, but gamma turns positive at 25.00.  The Cycles Model calls for a Trading Cycle low today, with (upward) trending strength immediately returning.
NDX futures rose to 15277.00 before retreating beneath 15200.00.  Wave [v] of C = Wave [i] of C at 15190.00.   Mid-Cycle resistance is at 15122.73.  A decline beneath that level triggers a sell signal.
In today's options expiration, gamma turns negative beneath 15000.00.  In the QQQ (price: 365.52) options, gamma turns positive at 368.00 and goes short at 360.00.  Max Pain level is indeterminate.
ZeroHedge remarks, "The anatomy of short gamma
The past correction and the following squeeze has killed short gamma players. In case you missed our explanation of gamma see here. When sudden volatility kicks in, short gamma traders have to delta hedge the books as their deltas tend to rise quickly (and hit risk limits many times). One thing they don't do is sit back and relax. When the market started puking, their long deltas exploded as they became more and more long deltas. The sudden mini rips were painful as well, as they needed to buy back sold deltas. You have to understand that short gamma traders are not "allowed" to speculate when it comes to deltas, these must be mechanically hedged. Add to it the remarking of the short options implied vols, and you understand the huge p/l pain. The chart below is the most probable hedging behavior among the aggregate short gamma dealers in NASDAQ. You understand why they have been magnifying the moves…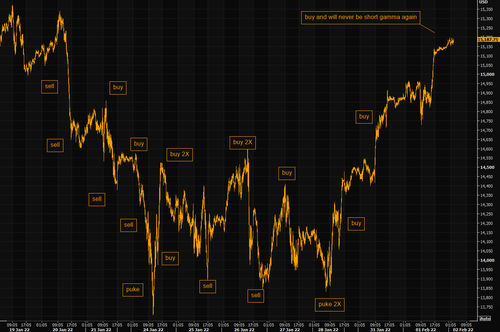 TNX tested its Cycle Top resistance at 18.12 this morning, then pulled back.  The Cycles Model calls for a new surge of strength by the end of the week, with three weeks to go to a new Master cycle high.
Zerohedge reports, "Just in time for the Fed's taper and upcoming QT, which will reduce demand for US paper for the foreseeable future, in its quarterly refunding statement the Treasury cut the notional size of long-term debt as government spending slows now that Biden's Build Back Better plan is dead.
Specifically, in its refunding statement, the U.S. Treasury announced refunding debt sales next week totaling $110BN, down from $120BN in February and, as previously noted, plans to reduce nominal coupon auction sizes across all maturities for the second straight quarter, while increasing the April 5-year TIPS auction size to $20BN. The Treasury will refund approximately $54.8 billion of privately-held Treasury notes and bonds maturing on February 15, 2022.  This issuance will raise new cash of approximately $55.2 billion.