8:15 am
Good Morning!
SPX futures are approaching 4800.00 again after hitting 4808.93 on Thursday.
During the Christmas Break I had a chance to refine the Model and ultimate outcome.  It appears that the SPX formed a Triangle that allowed it to progress sideways for the months of November and December.  I had interpreted the lack of Master Cycle terminals to mean "no new highs."  Mea Culpa.  However, a Triangle formation brings back clarity to the Model.  It precedes the final move, which may be a zig-zag that reaches as high as 5000.00.  The current Master Cycle ends on the last week of January.  This may be interpreted as the final high, unless an unexpected event triggers the reversal sooner.  The reversal window opens next week.
ZeroHedge reports, "If 2021 ended with a whimper, then 2022 is starting off with a bang, as futures on all major U.S. equity indexes rise on the first trading day of the year amid light volumes with markets including the U.K., Japan China, Australia and New Zealand closed for holidays. Europe's Stoxx 600 rose 0.6%. In Hong Kong, property shares dropped and China Evergrande Group halted trading without an explanation. The dollar rose, as did bond yields and bitcoin, while oil erased earlier gains.  At 745am, emini S&P futures traded 29 points, or 0.61% higher, and rising as high as 4,790, just inches away from all time highs of 4,799.75; Dow futs were 172 points or 0.48% higher and the Nasdaq was also in the green by 29 points or 0.6%."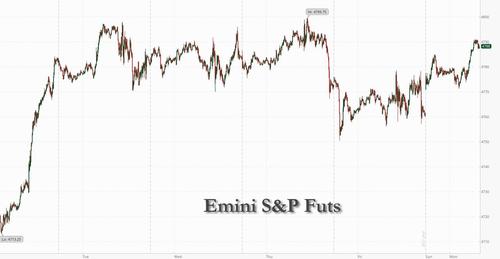 VIX futures rose to 17.66 over the weekend.  We may see the VIX rising, even as the SPX makes new all-time highs.
ZeroHedge observes, "Believe it or not – the VIX guy just called us again
We didn't expect the VIX guy to call us only a month after his latest call. Recall what we wrote on Nov 30 (here): "We have been waiting for the panic call from our VIX guy. Earlier today he called us and we haven't heard him in such a panic mode in a long time. His latest logic is based around the vaccine news from Moderna, the recent VIX spike "can't you see the stress bro?" and that people had a great year and will sell etc. His main idea was to buy VIX here. Needless to say we are starting to sell volatility here. One way to play it is via put spreads in VIX. After all, volatility is mean reverting and our VIX guy has continued holding the perfect 100% inverse track record. Will he nail it again?"
TNX launched higher from the 50-day Moving Average at 15.25, confirming its buy signal.  This new probe ma last up to 7 weeks with strength growing, especially during the next two weeks.  The next target may be the March 2021 high at 17.65.
USD futures are higher this morning after having completed a Master Cycle low on Friday which completes a flat correction and allows it to advance to new highs.  The new Master Cycle is set to continue its trend to the second week of February.
Crude oil appears to have been deflected at the 50-day Moving Average at 76.48.  This may propel WTI to decline toward its Broadening Wedge target by the end of January, its next Master Cycle pivot.