4:00 pm
The Christmas rally may be over.  None of the indices made new all-time highs today, despite the all-out effort to do so.  Next week is likely to be profit-taking.  I regret to say I will be absent from the blog all of the week.  See you after the New Year!
ZeroHedge comments, "After Sen. Manchin stole the jam out of the progressives' donut over the weekend, sending stocks slumping, it appears investors have BTFD ahead of the Santa Claus rally…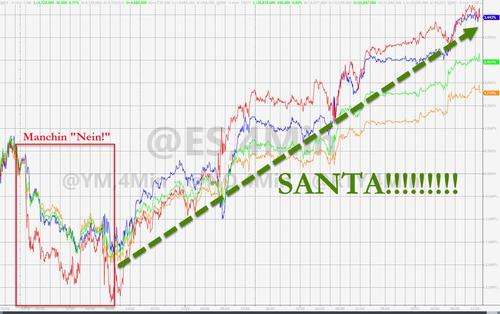 Let's hope they are not disappointed…"
8:20 am
Good Morning!
SPX futures are over 4700.00, but it may not last.  This rally has stumped me until last night's analysis.  This can only be a Wave (2) correction lasting since December 6.  Thus we have 8.6 market days of an impulsive decline to December 3 and, should the market turn in the first hour of today, a 12.9-day correction.  In the past two weeks I had alluded to the (near) precision of the Cycles in a trending market.  We may now see the precision of the Cycles return.  The reason for the longer-than-usual correction may be due to seasonal factors.  That is why I labelled the chart, "Is this our Christmas Rally?"
ZeroHedge remarks, "If you had gone to bed on Thanksgiving after eating a little too much tryptophan and only woken up today, roughly one month later, you would have completely avoided a rollercoaster move in global markets, and much of the omicron panic, with the S&P now trading precisely where it was the night before scattered reports of Omicron in South Africa sparked a global selloff. As of 730am, e-mini S&P futures were trading at exactly 4,700, up 14 points or 0.3% – and once again less than 1% from all time highs – on rising hopes the omicron variant won't impact global growth even as officials remain cautious about its spread, after studies showed it's less severe than other strains; Dow Jones futures also rose 0.3% while Nasdaq 100 futures were 0.2% higher. US Treasury yields rose, the 10Y trading at 1.475%, while the USD index traded flat. The  pound rose as traders stepped up bets on a Bank of England rate hike. Soaring European natural gas prices plunged more than 20% as this year's rally attracted a flotilla of U.S. cargoes, helping offset lower flows from Russia."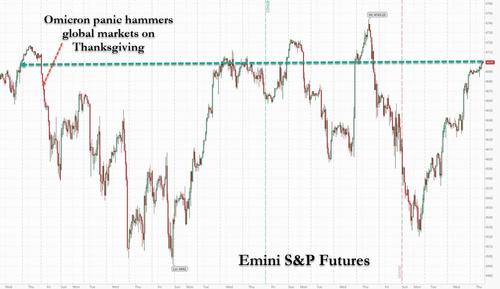 VIX futures made a morning low at 18.43 and may have already made the turn.  I am eating crow, since the longer-term Cycles Model suggested no new all-time highs would be made after the December 3 Master Cycle low.  That is still a correct statement.  However, the VIX Cycles Model anticipated a reversal in the Master Cycle this week or early next, so I anticipated a new high in the VIX..  Well, here it is.   Today is day 255 in the Master Cycle and may give us the turn we are looking for, but not from a new high.
The NYSE Hi-Lo Index closed at a neutral 3.00 yesterday, which is surprising, considering a 47 point gain for the day.  It appears that what new money found its way into the market probably went to the few mega-cap generals and not into the broader index.  In fact, we saw selling in the index funds for the first time last week.
NDX futures made a n ew high at 16227.80 this morning.  Should that be the top of the bounce from the low, it would have retraced 57% of its decline.  The mid-Cycle line at 16158.00 may act as a resistance to the corrective rally.  The NDX Hi-Lo Index closed at -79.00 yesterday, suggesting that short-covering is running out of fuel.
TNX is rising from its 100-day Moving Average at 14.50 and may resume its rally shortly.  Yesterday's day of strength vaulted TNX above its 100-day and now comes the grind upward through the next levels of resistances.  There may be a few surprises here in the next couple of weeks.
ZeroHedge points out, "The growth is Americans' personal spending was expected to decelerate in November, as income growth also slowed. Analysts narrated October's surprise spending gain as being driven by pull-forward on supply-chain availability fears. Analysts nailed it for once with both income and spending coming in as expected (+0.4% MoM and +0.6% MoM respectively)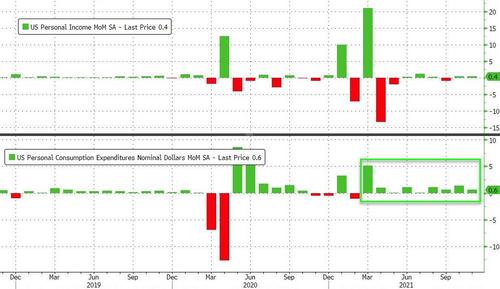 Source: Bloomberg
Wage growth for private and government workers slowed dramatically last month…"
USD futures rose to 96.26 on a positive note, but did not break above yesterday's trading range.  It may have begun its final three weeks of rally to mid-January in a tandem walk with the TNX moving higher, as well.