3:45 pm  A website outage occurred shortly after this was posted.
6:00 pm, TNX futures dropped to 15.20 before bouncing to 15.50 this evening, possibly completing its Wave [ii] correction.  This prepares it for the burst of strength tomorrow and the follow-through that may bring it to a new high by the monthly options week in November.   Nothing like a short-squeeze to find money for the 5-year treasury auction.
ZeroHedge observes, "Similar to yesterday's stellar 2Y auction, which many were worried would see a drop in demand only to be silenced by the burst in demand due to a furious scramble for physical paper on the back of a record front-end short (which we previewed earlier in the week), so a quick look at just how special the 5Y TSY had become ahead of today's $61BN 5Y auction hinted that we would see another blockbuster sale.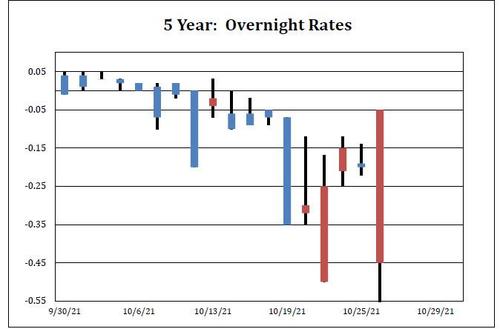 That's precisely what happened moments ago when the Treasury announced that demand for today's 5Y auction was absolutely off the charts.
The high yield of 1.157%, while well above last month's 0.99% and the highest since Jan 2020, stopped through the When Issued 1.182% by a whopping 2.5bps, which is the biggest stop through since we started compiling the data in 2015. It may be the biggest stop through in history."
7:50 am
Good Morning!
SPX futures are hovering within 10 points of 4575.00, the Max Pain level for today's expiring options.    Cycle Top support/resistance is at 4577.00 as the Master Cycle begins day 271.00 of an aging rally.  The Wave structure appears complete
ZeroHedge reports, "One day after US equity futures hit an all time high, rising to a record 4,590, risk sentiment has reversed and overnight index futures fluctuated and stocks in Europe retreated from a near-record on Wednesday after a flare up in U.S.-China tensions, signs of further regulatory crackdowns from Beijing, a decline in commodity prices, renewed concerns about economic growth and a rise in short-dated U.S. Treasury yields doused the equity market rally on Wednesday. At 7:45 a.m. ET, Dow e-minis were up 27 points, or 0.07%, S&P 500 e-minis were down 2.50 points, or -0.06%, and Nasdaq 100 e-minis were down 15.5 points, or 0.09%. Bonds and the dollar gained and bitcoin stumbled."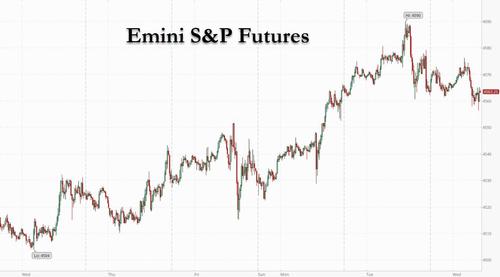 NDX futures stumbled to a low of 15520.10 this morning on China woes.  QQQ (close: 379.12) futures are currently near 378.00 with Max Pain at 381.00.  At 380.00 there is open interest in puts at 14,602 while open interest in calls are at 5,629.
ZeroHedge mentions, "Risks, A Few, But Then Again, Too Few To Mention…
Markets will probably never go down again in our life-time. Stocks have of course reached a permanently high plateau. You know the drill…However, at fresh all-time-highs it is always prudent to re-visit the "risks" to the market. Please see a quick run-down of what the consensus risks to the equity bull are right now.
COVID Comes Back
Seems pretty clear that COVID "is coming back" again in some form over the next few weeks. Questions is, to what magnitude and will there be new restrictions? UK was early in the Delta wave. Now the number of UK Covid-19 hospital patients is highest since early March. And new restrictions are being discussed."
VIX futures are consolidating inside yesterday's trading range.  The decline to Friday's low appears complete.  The current Cycles Model suggests further consolidation, but strength reappearing with a vengeance next week.
Businessinsider proclaims, "
The stock market could still have more upside ahead if Wall Street's fear gauge falls below a key technical level.
If the VIX undercuts 15, Katie Stockton of Fairlead Strategies expects a continued low-volatility environment for stocks, according to a Monday note.
The volatility index fell half a percent to the 15.34 level on Monday.
---
The stock market's record-setting year could continue into year-end if Wall Street's fear gauge falls below a key technical support level, Fairlead Strategies founder Katie Stockton said in a Monday note.
The CBOE Volatility index, known as the VIX, helps gauge the level of fear among investors and recently traded at 15.29 Monday morning."
TNX slipped lower, increasing the probability of a low near 15.07, its Wave (a) low.  Yesterday's 2-year auction turned out favoring the bulls.  However, the trend is up, and the current Master Cycle is due to end during the week of November 15.  The Cycles Model also suggests a dramatic increase in trending strength starting tomorrow.  Perhaps a failed 5-year or 7-year note auction (due at the end of the month) may set off a reversal higher.
ZeroHedge observes, "Amid growing concerns that today's 2Y auction could be a disaster as a result of the recent push wider in short-dated yields, yesterday we noted that demand to borrow 2022-2024 maturities spiked since last week, while investor demand to get hold of cash securities to be short either outright or against futures has made specified collaterals more expensive, and the decline in those financing rates has trickled into the general collateral market.

In other words, everyone wanted to be short bonds but few had actual physical locate to short against.
Which brings us into today's 2Y auction when the tenor was trading super special in repo, suggesting there would be major squeeze come the auction. That's precisely what happened because contrary to fears of a disappointing auction, demand for 2Y paper was absolutely stellar (if for all the wrong reasons)."