3:46 pm
SPX appears to have completed its retracement (Wave 2).  Time to sell.  The retracement was comparatively weak, lesss than the 50% expected at 4490.52.  This market is going down.
7:30 am
Good Morning!
SPX futures are lower this morning after doing a double tap on the trendline yesterday.  Today may be a down day, as it appears that despite the panic rally from the low, the index is breathing fumes.  As the decline hasn't quited taken hold this morning, there may be another attempt at the trendline that may fail.  The trendline and the 50% Fibonacci retracement are at 4490.78.  The ensuing decline may challenge the 50-day Moving Average at 4425.00.
Tomorrow's Quad-Witching Options expiration shows calls are marginally higher at 4500.00 and above, while puts gain the upper hand at 4400.00 and below.  This may allow a wide-ranging day that would affect volatility and allow a possible failure beneath 4400.00.
ZeroHedge reports, "US equity futures slid, fading Wednesday's torried one-day rally, as investors awaited data on jobless claims and retail sales which are expected to show another decline as US consumers retrench.  European markets were solidly in the green while Asian stocks fell after the ongoing debt crisis at Evergrande – which halted all bond trades for the day – and China's latest push to rein in private industries hurt sentiment. The dollar gained as Treasuries dipped while Bitcoin was little changed as gold and oil fell. S&P 500 E-minis were down 8.75 points, or 0.19% at 730 am ET, Dow E-minis were down 14 points, or 0.04%, while Nasdaq 100 E-minis were down 34.25 points, or 0.22%."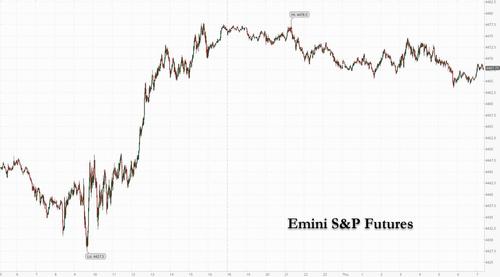 The NYSE Hi-Lo Index closed at 26 out of over 3300 listings.  New highs show active participation while new lows indicate liquidation.
ZeroHedge reports, "The last time retail participation in the market dried up, was back in May when three months after retail investors took the stock market by storm sparking a series of historic short squeezes in meme stonks such as GME and AMC, the money from various stimmies dried up and retail enthusiasm for stocks suddenly faded.
We discussed this on May 9 when we said "Retail Participation In Stock Trading Has Collapsed", and pointed to the plunge in call option volumes, which had emerged as the preferred investment vehicle for millions of GenZ and Millennial investors.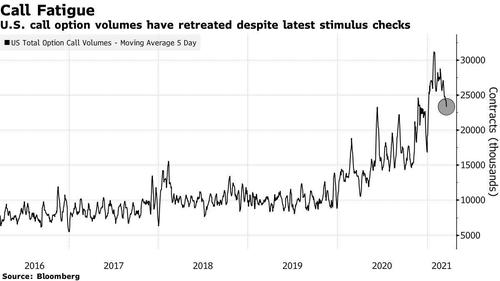 Perhaps coincidentally, our warning that day marked the top for the market for the next few weeks, with the S&P sliding some 200 points in just the next four days.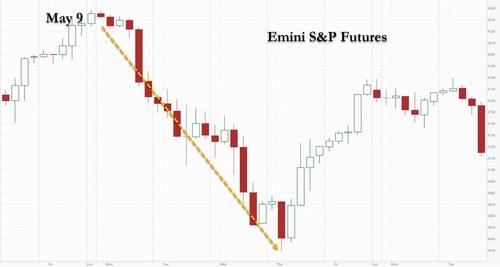 We bring this up because at a time when retail investors have become instrumental in propping up the market and buying each and every dip, this time around retail enthusiasm is once again fading.
VIX futures rose off their low, reaching a morning high at 19.09.  The correction appears to be complete, with a near 61.8% retracement.
NDX futures declined to 15444.70 after closing very near Short-term support at 15500.09.  The trendline is near 15350.00 this morning, which confirms the sell signal.  The NDX Hi-Lo Index closed at -15.00, adding yet another confirmation to the mix.  The final sell signal confirmation comes beneath the 50-day Moving Average at 15102.29.  Tne NDX may come under the influence of the tech-heavy Shanghai Composite Index.
While the NDX options don't reveal a lot of information due to the large size, the QQQs (Price:378.05) reveal overwhelming open interest in puts at 378.00 and below, while open interest in calls dominate at 379.00 and higher.  IT may only take a wobble of a decline from yesterday's close to set off a self-reinforcing decline in QQQs/NDX.
The Shanghai Composite Index tumbled to a new daily low as liquidity is withdrawn from the market.  While Evergrande is no a tech company, techs have had their share of troubles as well.   This may force the NDX into a tailspin that it may not recover from.
ZeroHedge reports, "Earlier today we pointed out that in what can (obviously) only be a remarkable coincidence, China's largest, and most systematically important real estate developer, China Evergrande (and its $300+ billion in debt), collapsed on the 13th anniversary of Lehman's bankruptcy filing, when Beijing told Evergrande's creditor banks that the insolvent company, which recently hired Houlihan Lokey as bankruptcy advisor, would not pay interest on its debt next week, nor would it repay principal, in effect blessing the coming default.
And yet there was some trace of hope, because as Forte Securities trader Keith Temperton said "The Asian banks will get hit hard if there's a default, but then there will be a 10-year recovery process. The market's getting a hang of it. The way they've managed the news flow seems quite clever. They haven't let a swathe of bad news at once" giving investors and creditors some hope that the money could still miraculously reappear."
TNX soared above the 50-day Moving Average at 12.92 this morning and on a buy signal.  This may be confirmation that the August 4 low at 11.29 could be the terminus for Wave 5 of (C) of [4] as well as the Master Cycle low.  Note that I pointed out that particularly strong trends may have shorter Cycles and possible corrective truncations, or both.
Gold futures plumetted to 1758.75 this morning on liquidity issues.  The Retail sales report didn't help.  The Cycles Model suggests may last until next mid-week, declining in strength.  It appears that the Head & Shoulder neckline may be broken.