12:38 pm
SPY may be on the verge of a gamma meltdown as there are 17,000 more put contracs than calls at 446.00.  At 445.00 there are 33,500 more puts than calls.  At 444.00 there are 28,000 more puts than calls.  SPY has already tested the 50-day Moving Average at 441.37.  Once beneath it, there may be no stopping the decline.
QQQ is in a similar position ar 374.50.  Puts begin accumulating at 378.00 and lower.
12:05 pm
SPX declined impulsively to the 50-day Moving Average at 431.95 and bounced.  The 38.2% Fib retracement is at 4453.85 while the 50% Fib retracement is at 4459.98.  A quikk bounce to one of these levels may ensue before a resumption of the decline.  Tere is a high probability that the retracement may not make either of these targets.  A decline beneath 4433.99 tells us SPX is in failure mode.
ZeroHedge observes, "That's the message from the options market as ~30% of SPX gamma will expire at 9:30AM ET (and 60% of SPY, 35% of QQQ, and a very large set of stock options expiring on the close).
SpotGamma warns that 4500SPX/450SPY is still the biggest overhead level, with another heavy concentration of gamma at the 4475 area (and 4450 is the Put Wall)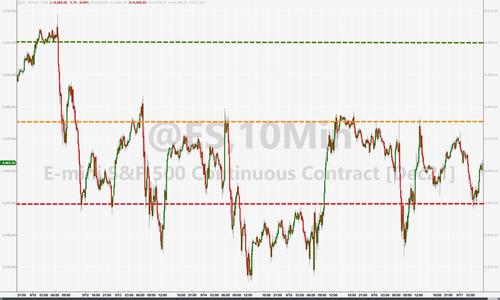 The visual below on this expiration is well framed by this gamma table wherein light grey depicts the gamma expiring today.
As you can see the "board" will be reset for next week, just ahead of the 9/22 FOMC."
8:00 am
Good Morning!
SPX futures are lower, having reached a low of 4458.20.  This is likely to be the Max Pain zone for SPX options due to the fact that puts have a slight edge over calls at 4460.00 and below.  SPY (close: 447.17) otions are also in the Max Pain zone.  However, open interest in 446.00 put contractss are 25,500 more than calls.  Moreover, 445.00 put contracts are 33,000 more than calls.  You get the picture.
ZeroHedge reports, "Quad-witching opex Friday has arrived, bringing with it the usual drama of gigantic gamma expiration, including $1.5trillion of SPX index,
$310bln of options on ES futs, $220bln of SPY options, $610bln of other index…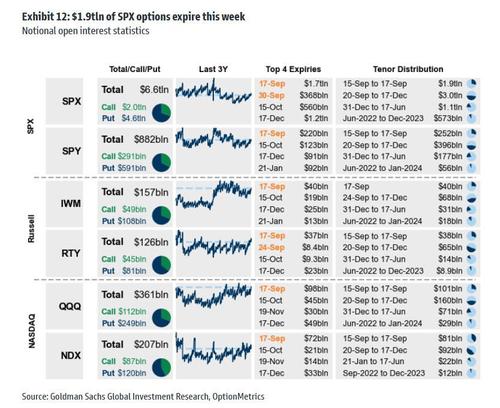 … a surge in market volumes, spike in volatility and now expected rebound in risk assetsWith over a third of market gamma set to expire today – specifically some 35% of SPX, 50% SPY, and 35% of QQQ gamma according to SpotGamma – brace for a bump ride as the absolutely gargantuan S&P pin at 4,500 is about to get much smaller, drastically reducing the market's downside buffer."
VIX futures ranged up to 19.60 this morning as tensions rise going into Quad Witching day.  Should SPY decline bebeath 445.00 we may see the VIX spike to the neckline at 24.50.  While today's trending strength is neutral, next week appears to be another story.  We may see a breakout above the neckline by Wednesday, at the latest.
The NYSE Hi-Lo closed at 45.00, admittedly higher than Wednesday's close, but in the danger zone nonetheless.  Trending strength (in the decline) is building with a possible Master Cycle low by mid-Week.  That may be followed by another Master Cycle low in mid-October.
TNX is rising into its Master Cycle (high) next week.  Thus far the behavior is stunted, since the minimal Wave (A) of [5] should reach 14.00.  Either my analysis is wrong (go figure!) or something dramatic is about to happen in the next few days.
Gold futures declined to 1752.05 this morning.  GLD options are hovering just above 163.00 with over 9,000 net put contracts.  Should that level be breached today, GLD may go into a tailspin as it anticipates a Master Cycle low by the end of next week.
The GSCI Ag Index rallied above its 50-day Moving Average at 410.15 and may challenge its Intermediate-term resistance at 414.60 in the next few days.  The Cycles Model says that GKX has clear sailing higher through mid-December.  The minimal target may be near 600.00, but could go considerably higher.  The secular uptrend may last another 5 years or longer.