4:00 pm
SPX gave us a probable sell signal, pending results which may not come in until Monday morning.  Most analysts are expecting a 10% decline.  However, we have 43 calendar days (30 market days) of decline as opposed to 22 market days in the March 2020 decline.  The initial target is the 2020 low.  Good luck and good trading!
ZeroHedge observes, "The S&P just suffered its worst week since mid-June…Small Caps were the biggest losers this week. Nasdaq was the least bad horse in the glue factory…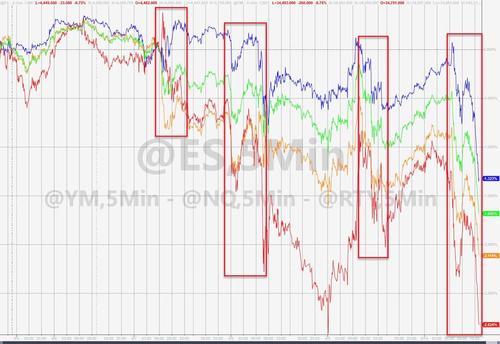 …threatening to make September the first loss-making month since January…"
1:10 pm
I adjusted the Ending Diagonal trendline down to 4460.00, which is also the location of the Intermediate-Tern support to serve as the trigger for a sell signal.  While the VIX remains elevated, the Hi-Lo Index is still rich (105.00).  Admittedly the first major group of put contracts is at 447.00 in the SPY, equivalent to 4470.00-4475.00 in the SPX.  However, the panic button may not be pushed until larger losses are made, so 4460.00 is likely where the dealers begin to panic.
Monday is when the dealers unwind their (mostly long) hedges, so it may still be wise to have an aggressive short position, even if the market stabilizes.
10:45 am
Still not geting charts.  SPY (448.20) is at the Max Pain level.  However, at 447.00, puts put contracs out number calls 25310 to 2537.  The slippery slope starts here.
ZeroHedge observes, "Equity markets were higher overnight heading into the cash open… but that's over now…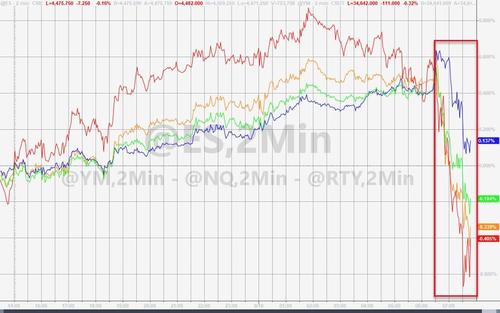 Bonds are also being sold, yields bouncing higher off payrolls low…"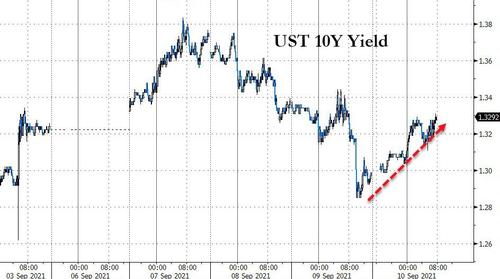 7:50 am
Good Morning!
I am unable to load charts on to word press this morning.  It appears that SPX futures have completed their retracement to 4514.00, just shy of the 61.8% Fib retracement and may start the decline at the open, if not sooner.  Today's options espiration is a minefield with puts dominating calls at 4500 and below.  Keep that in mind.   The Trendline at 4475.00 carries the sell signal.
ZeroHedge reports, "Global stocks rose and S&P futures rebounded from a freak selling episode late on Thursday after news that Joe Biden and Chinese leader Xi Jinping held a phone call, prompting speculation of detente between the two superpowers. Additionally, investor concerns eased about central bank stimulus (after the ECB launched a non-taper taper) and China's regulatory crackdown. At 7:15am ET, S&P futures were up 0.4% or 19.50 points to just above 4,500; Dow futures were up 0.52% and Nasdaq futures were up  0.43%. The 10-year Treasury yield rose 3bps to 1.320%, oil was back over $69 a barrel and gold gained."