7:45 am
Good Morning!
I am dealing with a sprained wrist in a cast, which may explain possible typos in the text.
The September 2 high at 4545.85 on Day 267 remains the high for this Master Cycle.
SPX futures have weakened overnight, dropping to a low of 4487.30.  Friday's options expiration shows an open interest in calls at 5052 while the open interest in puts is at 8549 at 4500.00.  The gap grows  larger as you go down the strikes beneath that level, especially starting at 4485.00.  The slippery slope begins there.
ZeroHedge repors, "US index futures fell along with European stocks amid jitters that the ECB could taper its asset purchases today as well as growing concerns over the slowing economic recovery while China's ongoing regulatory crackdown on the tech sector weighed on sentiment. Nasdaq 100 and S&P 500 futures were each down 0.2%, but off worst levels, hinting at further losses after the underlying indexes dropped on Wednesday. Europe's equity benchmark headed for a five-week low, while 10Y Treasury yields dropped along with the dollar. The dollar dropped, the euro snapped three days of losses and European bond yields steadied ahead of a European Central Bank policy announcement in which investors will be looking for information about bond buying plans for the fourth quarter. Treasuries advanced."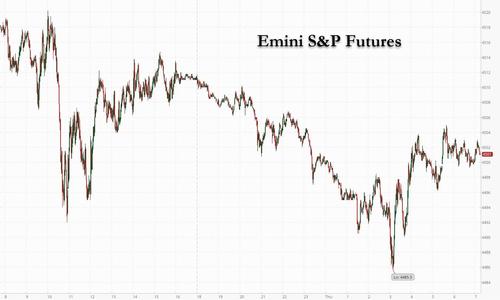 INDU futures dropped to 34792.10, beneath its 50-day Moving Average at 34998.29.  Note that the high of  35510.70 was made on August 30.  Wave 5 of (5) appears to be truncated.  The probability of a new high lessens the longer the Dow stays beneath its 50-day.  Friday's options expiration is also day 275 in the Master Cycle, should the attempt be made.  Cycles lasing that long are a rarity, so that option grows dimmer as the day progresses.
NDX futures declined to 15547.00 in the early morning session.  Cycle Top support is at 15574.77.  A breach of that level after being above it for a week is an aggressive sell.  The all-time high of 15701.40 was made on Tuesday, Spetember 7.
ZeroHedge comments, "A seesawing overnight session, and stocks within a point or two of record highs, hides the fact that market internals continue to weaken.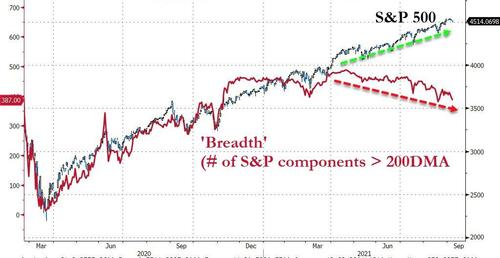 As RealInvestmentAdvice.com warns, Bob Farrell's rule #5 states:
"The public buys the most at the top and least at the bottom."
The graph below from Longview Economics speaks volumes for where the equity markets are in the investment cycle based on Bob's logic.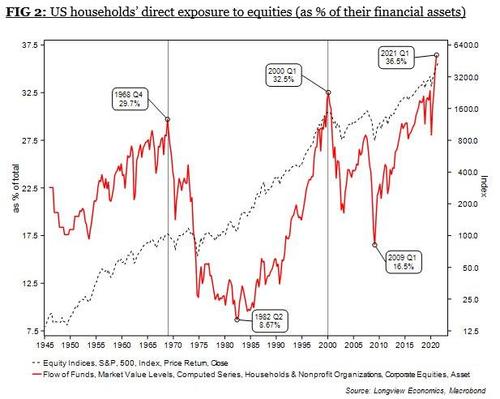 VIX futures made a new high at 19.54 before settling down, still above yesterday's close.  It is on a buy signal, but SPX is not yet confirmed, as the Hi-Lo closed at 60.00 yesterday.  Today's options expiration in the VIX is telling.   At yesterday's close open interest was  167,504 puts, vs 24,261 call contracts.  Open interest in calls doesn't emerge until 22.00, where 64,667 calls dominate 42,998 puts.  Max Pain appears to be at 20.00.
TNX appears to have bounced off the 50-day Moving Averagee at 3.07, but is stalled beneath mid-Cycle resistance at 13.93.  The August 4 low at 11.29 appears to be a truncated Wave 5, but with less than two weeks to go to the Master Cycle terminus, it's a toss-up on which direction TNX will take.
ZeroHedge reports, "While there was no way today's 10Y auction could surpass last month's stunning, blowout, record 10Y auction, today's sale of $38BN in ten-year paper (down from $41BN last month) was not that much worse.
The auction priced at a remarkable 1.338% – remarkable not only because the yield was a drop from last month's already stellar 1.34%, making it the lowest 10Y yield since February's 1.155%, but because the auction stopped through the When Issued 1.352% by a whopping 1.4 bps, making this the fifth consecutive stopping through auction, the longest such stretch in recent history.
While the bid to cover of 2.59 was a modest drop from last month's blockbuster 2.65, excluding the August blowout auction it was the highest BtC since July 2020. Naturally it was far higher than the six-auction average of 2.47."
USD futures slipped beneath the 50-day Moving Average at 92.60 in the overnight session.  The options chain in UUP favors the puts by 821 to 100 open call contracts.  The Cycles Model suggests a strengthening USD up to the close of the Master cycle in two weeks.