6:30 pm
During the week of May 10 I was looking for the all-time high in the equities markets.  Sure enough, the DJIA made its all-time high that very day (day 250 of that Master Cycle).  However, 5 weeks later, the SPX and NDX were again making new highs.  The Industrials have not.  The DJIA has one more attempt to make a new all-time high in the next few days. My calculation is that it may end in failure with a top near 34800.00.  Both the Cycle Top and the top of Wave [a] may provide maximum resistance.  Nobody has mentioned this, so it's time to bring this out.
What this means is that the downtrend may already be in place.  The Fed and all the hopium-filled investors thought they can extend the rally without end.  This chart argues otherwise.  In fact, it the DJIA is poised at the top of Wave 3, it means that the other indexes reversal may be swift and strong.
8:00 am
Good Morning!
My wife and I handed off our eldest daughter to her new husband last week and, after the ceremony and celebration, heaved a sigh of relief.  The stress is gone, at least for now.
SPX futures remained flat over the  weekend, leaving open the possibility of yet another squiggle higher to match up Wave [i] with Wave [v] at 4291.00.  Another possibility is that Wave [5] equals Wave [1] X 4.25 at 4308.00.  Round number resistance at 4300.00 may also come into play.  Today is day 262 of the current Master Cycle, so the pressure for a reversal is on.
This week's options expiration shows calls dominating at 4275.00 and higher, while puts are moving up to domination 4245.00 and lower.  This is the narrowest I have seen the neutral range of only 30 points.  Equity shorts have expanded since the FOMC meeting.
ZeroHedge reports, "S&P500 futures paused at fresh all time highs in a subdued session as traders eyed central bank support and awaited the June jobs report due Friday. European stocks dipped as new travel restrictions prompted by the Covid-19 Delta strain spurred a re-think of the reflation trade. The dollar and oil posted modest gains.
Contracts on the Nasdaq 100 led gains while the S&P 500 fluctuated following the best week for the underlying gauge since February following an agreement on President Joe Biden's $1.2 trillion infrastructure spending deal (which however may prove to be a total dud) and waning concerns about a sooner-than-expected policy tightening from the Federal Reserve. At 730 a.m. ET, Dow e-minis were down 17 points, or 0.05% S&P 500 e-minis were up 3 points, or 0.08% and Nasdaq futs were up 42.50 ot 0.29% as FAAMG megacaps edged higher in premarket trading despite higher bond yields."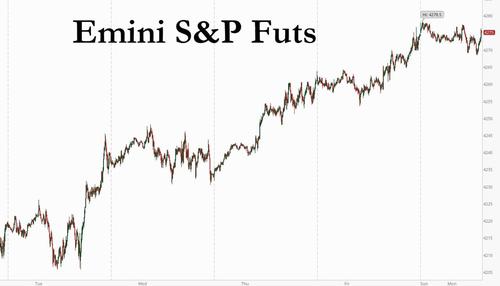 NDX futures rose to a weekend high of 14388.75, testing the June 24 high.  It may require yet another probe higher to meet or exceed 14431.00 to meet its target where Wave [v] equals Wave [i].  This weeks open interest in call options dominate at 14300.00 and higher, while put options outnumber calls at 14260.00 and lower, leaving the NDX in a positive range, but subject to bearish pressure beneath the trendline at 14250.00.
VIX futures are rising to a weekend high of 16.37, suggesting a rally out of last week's Master Cycle low may be imminent.  The 50-day Moving Average at 18.24 marks the buy signal.
This morning TNX rose to 15.12 while futures rose to 15.34, challenging the 50-day Moving Average at 15.12.  A rally above that level gives a buy signal.
USD futures rose to 92.02, indicating that the next move higher may be underway.  The next two weeks appear to have considerable strength of momentum behind them.