4:00 pm
Suspenseful, isn't it?
3:00 pm
As the final hour approaches, will we see buyers step up to the plate…or sellers?  The indices bounced back to the short-term trendlines, but have not exceeded them.   Further selling here may turn into a rout, especially if the decline resumes the pace it made on the first decline – nearly 56 points in about 20 minutes!
2:20 pm
NDX has also crossed its short-term trendline.  Further confirmation lies at Short-term support at 13687.87.  While the bears still aren't out of the woods, sunlight is shining through the thicket.  For those with an abundance of caution, the 50-day Moving Average is at 13320.00.
ZeroHedge remarks, "In a recent note from SocGen's Andrew Lapthorne, the cross-asset strategist summarizes the ongoing market insanity delightfully, saying that "there is an increasingly large number of weird and wonderful signs of market excess, from surging crypto currencies started as a joke to a single New Jersey Deli trading at $100m market cap."
To be sure, it's not just the record liquidity that has pushed the Goldman index of financial conditions to record easy levels…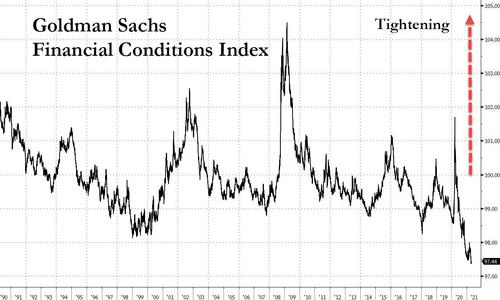 … there is also a lot of good news, with the economic narrative improving and vaccination programs accelerating worldwide, with most now hoping that the worst of the pandemic is behind us. At the same time, global profit expectations are being revised upwards and earnings growth is forecast to jump by a third in 2021.
Given this almost euphoric market backdrop, Lapthorne correctly notes that "anything bearish is met with groans."
ZeroHedge passes this info along, "With stocks tumbling following the report that Joe Biden is considering a proposal that would double the capital gains tax, as investors dump in hopes of locking in existing cap gains rates – an exercise in futility if Biden and the socialists in Congress decide to make such a tax change retroactive to all of 2021 – Bloomberg quickly polled several Wall Street traders who focused on the policy's implications for investing, and concluded that while it was too soon to panic, prospects of a higher levy on stock profits could spark near-term selling as investors look to skirt a higher rate."
1:20 pm
SPX appears to be breaking down through the trendline at 4145.00.  Further confirmation of the reversal occurs at 4100.00, where Short-term support may be broken.   VIX is picking up, now back above the trendline at 18.30.   The SPX appears to be at a near-total loss of liquidity, as it is gapping down.
NDX breaks is short-term trendline at 13800.00, while Short-term support lies at 13677.71.  Take appropriate action.
ZeroHedge tells us, "The reality of the Biden administration's 'soak the rich' plan is finally hitting markets as the details of his new capital gains tax plan are hitting…
As Bloomberg reports, President Joe Biden will propose almost doubling the capital gains tax rate for wealthy individuals to 39.6%, which, coupled with an existing surtax on investment income, means that federal tax rates for investors could be as high as 43.4%, according to people familiar with the proposal."
8:30 am
Good Morning!
SPX futures are flat this morning, suggesting the type of correction it may be (either a flat or a triangle).  It closed above the Cycle Top support at 4161.00, indicating a probable continued rally in Wave (v) of 5.  Speculators seem to be chasing whatever seems to be moving, so this is a confusing time.
ZeroHedge observes, "U.S. index futures traded flat on Thursday morning, rebounding from some early weakness ahead of today's ECB meeting, as investors assessed earnings from companies, including Southwest Airlines and AT&T, while awaiting weekly jobless claims data for clues on the pace of recovery in the U.S. labor market. Treasury yields steadied near a five-week low.
At 7:30 a.m. ET, Dow e-minis were down 15 points, or 0.04%, S&P 500 e-minis were down 5 points, or 0.11%, and Nasdaq 100 e-minis were down 22 points, or 0.16%."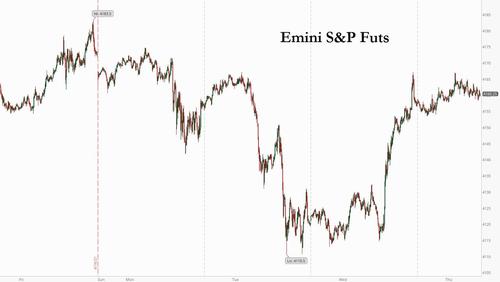 ZeroHedge maintains, "Earlier today we showed that hedge fund leverage – both gross and net – has hit record highs according to Goldman's Prime Brokerage.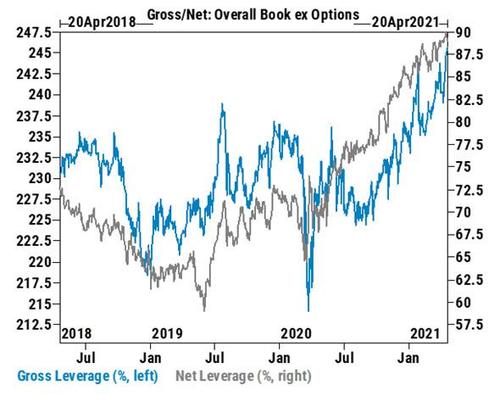 It's not just hedge funds. As Deutsche Bank's Jim Reid writes in his "Chart of the day" note from this morning, with European equity markets seeing their worst day of the year yesterday and the US market suffering saw noticeable declines across the board "it's worth being aware that US discretionary equity positioning is now at a record high according to our Equity strategists."
NDX futures rose in the early morning, but have come down a bit since then.  A decline beneath yesterday's low may put an end to the rally.
NorthmanTrader observes, "Has the bubble already popped and we haven't realized it yet? I recognize it could be considered a ludicrous question to even ask considering indices just made new all time highs last Friday and we're barely down 2% on $SPX.
And frankly I don't know the answer myself here, but in context of the peak liquidity question I am submitting some data points that suggest that the speculative part of the bubble may have already popped back in February/March."
Despite the rally in the NDX yesterday, the internals have been awful in the NDX Hi-Lo Index.  As mentioned yesterday, smart money may have been using the rally to reduce their exposure to the NDX.  This is a good indicator of that move.
VIX futures have been consolidating between 17.02 and 17.37 this morning.  It made a 65% retracement of its first rise from the Master Cycle low.  The next rally above the trendline at 18.30 will likely continue above the 50-day Moving Average.
Today is day 259 of the Master Cycle for TNX.  I have indicated that it may have bottomed on April 15 (day 252), but the corrective pattern does not appear complete.  Short-term trend intensity appears to peak tomorrow, so we may see a lower bottom then.
ZeroHedge reports, "After eight consecutive auctions which saw the yield on the recently reintroduced 20Y Treasury rise, moments ago we got the latest 20Y bond auction (in the form of the 19-year 10-month reopening of CUSIP SW9), which saw the first sequential decline in the auction yield, and with a high yield of 2.144%, the April 20Y auction not only was below the March 2.29% high, but also stopped through the When Issued by 0.9bps.
The Bid to Cover was less exciting, dropping from 2.51 to 2.42, which still was above the six-auction average; the internals were mixed, with Indirects taking down 58.7%, down from 61.4% last month and below the recent average of 59.7. But while Indirects were muted, Directs jumped to 20.2%, the highest since the 20Y auction was reintroduced last May. That meant that Dealers were left with just 21.1% which in turn was the lowest since the reintroduction of the 20Y auction."
USD futures have eased down to an overnight low of 91.00.  The Master Cycle low appears to be in on Tuesday (day 263).  The USD may strengthen as investors increasingly pile into cash.
ZeroHedge reports, "According to a new E-Trade survey shared exclusively with CNBC, wealthy investors with at least a million dollars in investable assets are becoming less bullish on stocks in early April than they were at the start of 2021. The survey also revealed the number of respondents who went to cash nearly doubled. 
Overall sentiment among millionaire investors slipped as respondents who say they are bearish jumped six percentage points, from 36% to 42%.
The survey was conducted from April 1-12 when main US equity markets powered to new highs.
One surprising find in the survey was the number of respondents who went into cash more than doubled from 7% to 16%.
Still, the majority (58%) of these wealthy investors remain bullish.
The survey findings reveal some insight into the world of retail who have been on a stock and option frenzy since the beginning of the virus pandemic, which began right around the time the Federal Reserve pumped financial markets with trillions of dollars and the federal government unleashed helicopter money and gave tens of millions of folks stimulus checks, where some took the free money and gambled in the stock market casino.
Wealthy investors, some of whom fear a pullback in stocks, are protecting gains by going into cash. Simultaneously, the number of institutional desks warning about market turbulence is increasing. "
Shares in the NIkkei 225 Index bounced overnight after declining more than 5% since early April.  It is on a sell signal and today's bounce may offer positioning to sell longs/short Japanese stocks.  Did the BOJ blink?
ZeroHedge comments, "Something happened on Tuesday that hasn't happened since 2016: Japan's Topix index (which is widely viewed as more representative of Japanese equities than the Nikkei) tumbled by 1.2% in the morning session…. and the BOJ did not intervene.
Why is this notable? Because – in a world where everyone is now completely used to Plunge Protection Teams and central bank bailouts as if it is a perfectly expected event –  this was the first time since at least 2016 that the Bank of Japan did not make an ETF purchase after the Topix fell more than 1% in the morning session."