3:45 pm
SPX made a nominal new high at 4194.17.  The rally appears to be complete.
NDX did not make a new high and its retracement appears complete.
INDU did not make a new high and it's retracement also appears complete.
The VIX and Hi-Lo are not positioned for a signal.  Could the top be in?  Have a good weekend!
1:00 pm
The Triangle formation appears to have been nullified.  Wave [v] seems to be underway.  If so, the Wave structure tells us that the end may come near the Cycle Top (currently at 4226.58) , or as high as 4300.00 in a monster throw-over of the Ending Diagonal.
A most interesting alternative is that the top may already be in, assuming SPX remains beneath the current high.  A decline beneath Short-term support at 4111.57 tells us the confusion may be over.  This rally is already overbought and ripe for a turn.
9:00 am
The GSCI Ag Index continues its climb as cold weather and drought take their toll on food production.  Today is day 261 in the Master Cycle.  While not in the "stretched" category yet, it may continue for another week or so to complete the Wave pattern.  It has already exceeded my initial target of 427.00, so I do not have another nearby target to end the Master Cycle.  I plan to report later today on any new developments in this very important index.
ZeroHedge observes, "Earlier this month, French farmers fought mother nature in their attempt to prevent frost from wiping out their crops. It appears their attempts have failed as the damage is extensive and could wipe out nearly a third of French wine output for the year.
In early April, French farmers scrambled to light-controlled fires across their vineyards to stave off frost. Euronews document these efforts in a series of stunning photographs.
A farmer burns a bale of straw in his vineyard to protect grapevines from frost. This picture was taken on April 7 at the heart of the Vouvray vineyard in Touraine, France.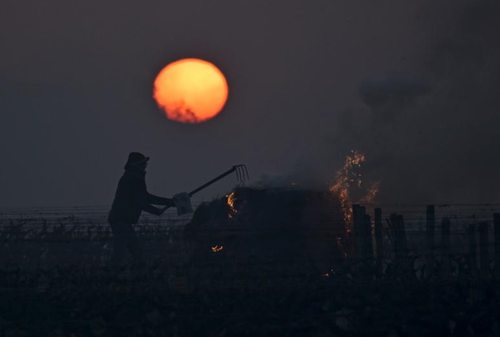 Winegrowers from the Domaine Daniel Etienne Defaix vineyard in Chablis lit fires across their fields. "
7:50 am
Good Morning!
Well, the suspense may be nearly over.  SPX futures rose this morning, adding confirmation to the notion that stocks may go higher in this Wave 5.  Should the Triangle formation be correct, we may see SPX rise to the upper Triangle trendline at 4170.00-4175.00 (Wave (d) today.  Subsequently, Wave (e) falls to 4125.00.  The final surge in Wave [v] may reach the Cycle Top, currently at 4220.75.  Cyclical strength appears to peak near the end of  April.
ZeroHedge reports, "US equity futures rebounded Friday following Thursday's 1% selloff as investors digested a proposal for higher capital gains taxes and realized that i) it is nothing new compared to previous media reports and ii) the most likely outcome is a compromise tax rate (Goldman expects a final number no higher than 28%).  Still, both the S&P 500 and Dow are on course for weekly declines, after four straight weeks of gains. At 730 a.m. ET, Dow e-minis were up 38 points, or 0.11%, S&P 500 e-minis were up 9 points, or 0.22%, and Nasdaq 100 e-minis were up 18.5 points, or 0.14%."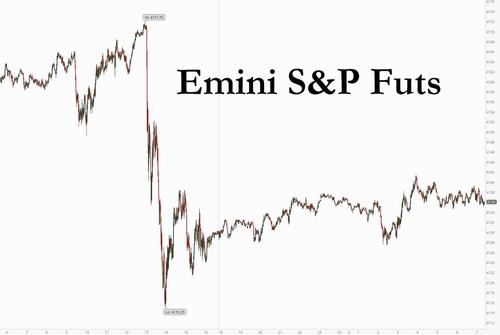 VIX futures are hovering near the trendline at 18.25.  The EW pattern appears to be complete to the downside.  The VIX has historically been an advance indicator.  We often see the VIX rising alongside the SPX in Wave 5, so that is my expectation at this time.
TNX is testing the 50-day Moving Average at 15.35 this morning.  The Master Cycle low may be put in today, should TNX fall to 15.29 or lower.  Today is day 260 in the Master Cycle, so the timeliness is appropriate.  Stochastics appear to agree.
ZeroHedge opines, "10 year Treasury rates peaked at the end of March at 1.74% after having risen from low of just 0.56% back in the summer of 2020. Now, the rate stands at 1.57% even as economic data continues to come in smoking hot and policy remains incredibly accommodative. In times like this, we have to ask ourselves whether this is a correction within a longer-term uptrend in rates or if we're currently witnessing peak rates for the cycle. The question is of vital importance to asset allocators of all stripes since a falling/rising rate environment informs equity factor performance ranging from growth/value to small/large to domestic/foreign. Our read of the data suggests we may yet have more to go on the downside for rates, but that this is a correction within a longer-term uptrend."
USD futures declined to 90.94 as it corrects the initial rally off the Master Cycle low.   The strength of the new trend may pick up next week, but USD appears to hover near the lows for now.
You may be wondering where the idea of a triangle may have come from.  Since Asian stock markets often lead Europe and the US, this might be a harbinger of what may come in the next few (market) days.  The Nikkei 225 Index may have completed its triangle on Wednesday with a Master Cycle low.  It should now be ready for its final blast higher.  While Wave (3) has ridden the Cycle Top higher, Wave (5) may only barely touch it before a reversal.   The Nikkei may have only three weeks left in its final (stimulus induced) probe to the Cycle Top.
ZeroHedge reports, "Update (0750ET): As expected, PM Suga has officially declared the new state of emergency, apologizing to those impacted while offering some reassurances of a 5 trillion yen contingency fund ($46.4 billion) to soften the financial repercussions for individuals. 500 billion yen ($4.6 billion) will also be set aside to support Japanese firms, he said.
JAPAN PM SUGA DECLARES VIRUS EMERGENCY IN TOKYO AND 3 AREAS
JAPAN PM SUGA APOLOGISES FOR DECLARING STATE OF EMERGENCY AGAIN
JAPAN'S PM SUGA: 500 BILLION YEN WILL BE SET ASIDE TO SUPPORT COMPANIES.
The declaration – officially announced by Suga Friday night in Tokyo – was earlier endorsed by a panel of experts advising the Japanese government on COVID-19. Both the governors of Tokyo and Osaka requested the emergency status."
* * *