4:30 pm
The panic bid in the last half hour set back the bearish view…at least until after options expiation.  The reason why is that Wave iii cannot be the smallest Wave.  By default, we may have just ended Wave iii at 275 points.  Wave i was 260 points.  What comes next is a pullback that may go as low as 4000.00 early next week…then a final blast into options expiration.  My guess is that this rally may end near 4250.00.
ZeroHedge remarks, "Including last Friday's shortened day (during which futures were open around the payrolls print), Nasdaq has soared and Small Caps disappointed (especially notable given the spike in Small Caps on the jobs print). We must say we enjoyed the farcical ramp in the last few minutes of the day that sent ..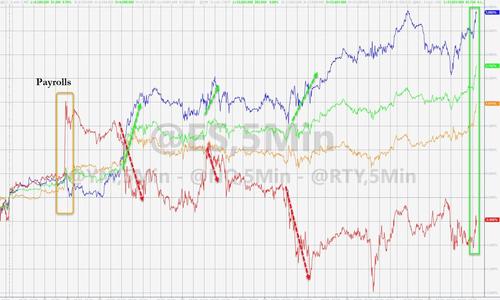 11:42 am
VIX made its Master Cycle low on day 241 of its current Master Cycle by making a low of 16.20, nearly matching the low made on February 21, 2020 at 16.19.  This extreme low is likely to be matched by an extreme high in May, according to the Cycles Model.
ZeroHedge remarks, "On the heels of yesterday's warning that the VIX term structure was signaling potential trouble ahead, Bloomberg reports one trader place a huge bet yesterday that today's calm will give way to a storm soon.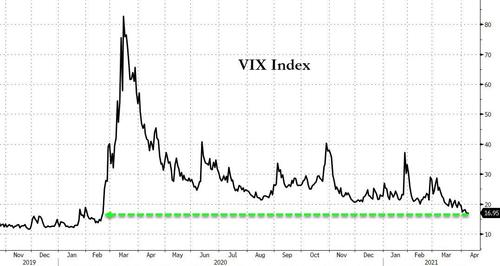 Source: Bloomberg
As we detailed yesterday, while spot VIX languishes complacently at pre-pandemic lows, Bloomberg notes, the middle part of the VIX curve that shows expectations for late summer and early fall tells a different story.
The spread between the VIX Index and implied 30-day volatility four months from now stands near the highest level since 2012."
11:34 am
SPX is creeping up its Cycle Top support at 4094.84 this morning.  A dip beneath it may signal the tank is bone dry.  Things may be downhill from there.  The Daily Cycle Top support is very near the 2-hour.  An aggressive short position may be warranted beneath that level.
7:30 am
Good Morning!
SPX futures peaked at 8:45 pm (20.45 hours) at 4102.38.  This may have met the 5th Wave requirement for completion of this rally.  However, a secondary (lower) high in the futures may provoke yet another probe higher in the cash index.  The maximum level for Wave (v) is 4114.00, assuming the Wave structure is correct.  Today is day 282 in the value indexes, while the China/NDX indices are at day 266.  China (Shanghai Composite) may have already peaked on Wednesday.
NDX futures peaked at 13839 at 8:45 pm.  It has since gone negative, bolstering the idea that the peak may have been made yesterday.  We'll know more at the open.
ZeroHedge remarks, "ech was hated only two weeks ago and everybody saw further downside. Fast forward 2-3 weeks, and the same guys are now telling us how great tech is.
Regular readers of TME know our latest logic on FAANGMs, which has basically driven the latest tech melt up (see here and here).
The long big tech logic played out well, but we are reaching the first big NASDAQ resistance levels here. This is not the time to get greedy, so it is time booking profits and possibly roll some call spreads higher in case NASDAQ has more short term legs. For the long stock people, we would look at replacement strategies here, basically switching from long stock to upside calls in case you think there is more upside in tech from here, but you make sure to monetize the recent melt up."
VIX futures declined to 16.92 last night and appears to be hovering there this morning.  This may be giving us mixed signals as to the directionality of the markets this morning.
I'll be absent for an hour or so, but may return near the open.