3:30 pm
Will 4098.19 be the top?  The last half hour of the market day may bring in the sellers.  The two hour Cycle top acts like an Ending Diagonal trendline and is at 4085.58.  Aggressive shorts may be considered should SPX decline beneath that level.
1:15 pm
It appears that SPX may be going to 4000.00 after all.  Wave v of (v) of [v] of 5 is subdividing even more than I had anticipated.  It has one more lurch higher, then the decline begins.  Virtually no one is anticipating a turn this soon and the degree to which it may collapse.  I'll be out for a while, but may come back before the close.
Best wishes!
11:04 am
The Daily Cycle Top resistance is at 4095.00.  It may be the final stop for this rally. while 4100.00 is looking less probable.  The car is running on empty, so it is hard to tell if the final bit of fumes takes it higher or not.
7:30 am
SPX futures reached a new all-time high of 4092.62 before easing down.  Should SPX rise to the trendline, it may reach 4100.00 or higher in the last Wave to completion.  Today is day 268 in the NDX/China Master Cycle, still in the normal range, while the SPX Master Cycle is in day 282.
ZeroHedge reports, "European stocks hit a new record highs on Thursday, buoyed by optimism in Britain over easing lockdown restrictions, while the benign outlook on US interest rates revealed in the latest FOMC Minutes where the Fed indicated it will maintain its commitment to supportive policy, helped push S&P futures to new all time highs after the cash index closed at a record on Wednesday. Treasury yields dropped, the dollar slipped and crude oil fell as the pandemic worsened in key regions just as OPEC+ prepares to add supply over the coming months.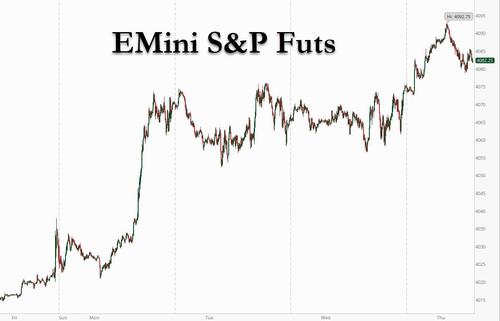 At 7:30 a.m. EDT, Dow E-minis were flat, S&P 500 stock futures up 13.75 points or 0.34% and Nasdaq 100 E-minis were up 122 points, or 0.89%. The S&P 500 and the Dow ended a choppy session near record highs on Wednesday, while the tech-heavy Nasdaq is still more than 3% below its February all-time high."
The Shanghai Composite Index has pulled away from its Intermediate-term support at 3482.66 and is currently retesting that support.  It may be on an aggressive sell signal, provided it closes beneath that support/resistance line.
NDX futures rose to 13743.12 in a final probe to its Wave (2) high.  The Wave structure does not support a new all-time high as long as the china impulse is over.  The NDS may follow the turn in China by a day or two.  Liquidity is being drained as another highly levered hedge fund blows up.
ZeroHedge observes, "In the aftermath of the Archegos blow up, the biggest nightmare on Wall Street – where there is never just one cockroach – is that (many) more Archegos-style, highly levered "family office" blow ups are waiting just around the corner.
Well, in a transaction after the close that is sure to spark much heated controversy tonight and tomorrow morning, Bloomberg announced that JPMorgan was offering a 9 million block of Academy Sports and Outdoors (ASO) stock. Since this is virtually identical to what happened two Fridays ago when similar public BWICs by Goldman and other banks proceeded to unwind the Archegos portfolio, the immediate question on everyone's lips is whether a second highly levered family office has blown up.
There are more similarities: the block offered by JPM is massive: the 9MM shares represents almost a quarter of ASO's float and roughly 10% of ASO's total outstanding shares."
VIX futures declined to a low of 16.91, testing but not exceeding yesterday's low at 16.87 thus far.  VIX is also responding to  the China/Tech impulse.  A rally above the trendline at 18.50 will put us on high alert for an aggressive buy signal.  Above the 50-day at 22.72 puts the VIX on a confirmed buy signal and a probable sell signal for the SPX/NDX.
TNX appears to have bounced off the Cycle Top support at 16.52 yesterday and may be on its way to its target near 19.71.
ZeroHedge comments, "On the rates front, the market tightened significantly after the FOMC statement but has recently eased back as hopes for Biden's stimulus malarkey faded a bit…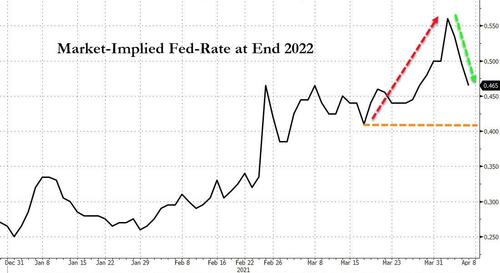 Source: Bloomberg
With all eyes on the latest FOMC Minutes for any signs of The Fed walking back any of its unprecedentedly easy policies, we note that Federal Reserve Bank of Dallas President Robert Kaplan warned today that "I do worry about excesses and imbalances," adding that "failing to communicate Fed exit could stoke risk-taking," adding that The Fed "should withdraw some accommodation once the pandemic is over."
While USD futures are lower than yesterday's close, there is evidence of a possible reversal off the mid-Cycle support at 92.24.  The current Master Cycle appears to be targeting its cycle Top at 95.26 by the close of options expiration.
The S&P Ag Index is on an aggressive buy signal while testing   mid-Cycle resistance at 388.06.  Once above it, and especially above the 50-day at 390.79 the signal becomes confirmed.  This is a very shallow Wave [2] with only a 23.8% retracement, testifying to the strength of this trend.  The next target appears to be over 600.00.  With China suffering a major food crisis and a drought of major proportions in the Southwest, food prices may skyrocket.  My family just pooled together to buy a half of a beef.
ZeroHedge reveals, "Scientists have begun using the term "megadrought" to describe the multi-year drought that has been plaguing the western half of the country, and now we are being told that it looks like 2021 will be the worst year of this "megadrought" so far by a wide margin.  That is extremely troubling news, because major water reservoirs have already dropped to dangerously low levels, some farmers have been told that they will not be allowed to use any water at all this year, and the dust storms in the western U.S. are becoming so large that they can actually be seen from space.  This is a major national crisis, and it is only going to get worse.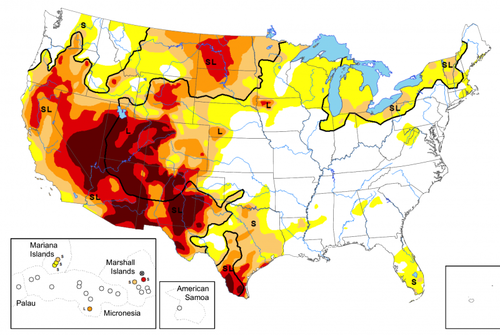 As you can see from the latest U.S. Drought Monitor map, nearly the entire western half of the nation is experiencing some level of drought at this moment.
But even more alarming is the fact that much of that territory is currently in one of the three most serious levels of drought…
A year ago, about 4% of the West was in a severe drought. Now, about 58% of the West is classified as being in a severe, extreme or exceptional drought."
ArmstrongEconomics reports, "People are unaware of the agenda with food and why Bill Gates has become the largest holder of farmland in the United States. There is a whole new agenda unfolding, and, of course, mainstream media has been bought off. Farmers in France and Croatia are standing up to EU policies. Farmers in France have even brought in tractors to combat the police. The goal appears to be to end traditional farming and ranching as we have known it. Europe is 100% under the control of the World Economic Forum and now has a new seed law that CRIMINALIZES traditional seed saving. They are using drones and satellites now to monitor all fishing in real-time.
Croatians are deeply concerned about the EU Ag Census, which takes total inventory of all food production — farms, animals, bees, anything — because it was only 1945 when Yugoslavia LAST conducted such a census prior to seizing control of all farms, transforming it into a state-run collectivized industry. The government then ordered all farmers off their land. The patterns are the same, which is reminiscent of the communist total takeover."