1:23 pm
The tension may have eased with the TNX today after a mediocre auction.  At least no sparks were flying.  The current Master Cycle ends on options expiration.  We may see a test of the 50-day Moving Average at 14.54 b then.
ZeroHedge reports, "Shortly after today's first bond auction, the $58BN in 3Y notes which saw brisk demand at 1130am ET this morning, moment ago the US Treasury held the second coupon sale for the day when it sold $38 billion in a closely watch 9-year 10-month reopening.
This auction was less enticing to buyers, stopping at a yield of 1.680%, which was the highest since January 2020 and also tailed the When Issued 1.678% by 0.2bps.
The bid-to-cover of 2.36 was in line with recent auctions, which have averaged 2.39 in the past 5 months, if the lowest since December.
The internals were a little better, with Indirects taking down 59.6% of the auction, up from 56.8% and in line with the recent average of 60.0%. And with Directs taking down 16.2%, or the lowest since December as well, Dealers were left holding 24.2%, almost exactly on top of the recent average.
Overall, a mediocre, forgettable auction, however good enough to avoid a market puke, and certainly nowhere close to the devastation unleashed by the catastrophic, infamous 7Y auction at the end of February which started the March bond market turmoil."
8:30 am
Good Morning!
Its funny how just a few points can make a big difference in the outlook of the Waves and Cycles.   SPX futures have faded this morning, but no significant moves yet. I cleaned up the chart to reflect more accurately what may be transpiring.  Minute Wave [iv] appears to be imminent.  Looking ahead, trending strength appears to peak at the end of this week, just in time for options expiration.   That suggests just a few days of weakness leading up to the final push higher.
ZeroHedge reports, "Global stock markets and US equity index futures dipped modestly with shares in Europe and Asia as traders weighed inflation risks, an uneven global recovery and the latest upbeat economic outlook from Washington. After sprinting to close at an all time high on optimism that vaccination programs and the easing of lockdowns to combat COVID-19 would bode well for an economic rebound, S&P 500 futures were cautious to start the new week as investors waited to see whether U.S. earnings would justify sky-high valuations, while a rally in bonds could be tested by what should be strong readings for U.S. inflation and another round of blockbuster retail sales this week.
MSCI's All Country World Index was down 0.25% after the start of European trading, off Friday's record high. The gauge's price-to-earnings ratio is at its highest level since early 2010. At 07:30 a.m. ET, Dow E-minis were down 43 points, or 0.13%, S&P 500 E-minis were down 5 points, or 0.13% and Nasdaq 100 E-minis were down 38 points, or 0.27%.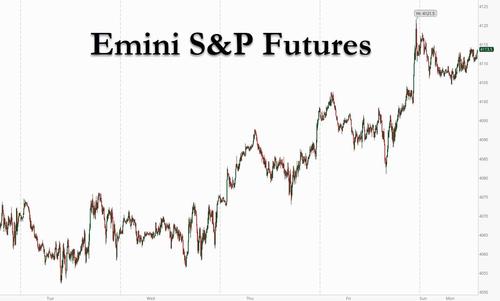 VIX futures rose to a morning high of 17.52.  A move above 18.50 will cross above the trendline.  A good start.  VIX may be back to its role as a leading indicator as VIX may now rise as stocks are rising.
ZeroHedge asks, "Will the real consensus number please stand up?
Perhaps the most important question for equities in the coming weeks is what the "real consensus" is into Q1 numbers.
DataTrek: "The Street is looking for 24.5 percent S&P 500 earnings growth in Q1 2021 versus Q1 2020, but the market likely has its eyes set on something closer to 30-35 percent growth. Heres why:
Wall Street analysts have consistently guessed way too low in terms of corporate earnings since their trough in Q2 2020. The average quarterly beat since the pandemic lows has been 13 points"
Deutsche Bank is onto the same theme. Binky Chadha writes: "the consensus is for a modest 1.5% qoq sa growth, down from +27.1% in Q3; and +8.6% in Q4. From a top-down perspective, we note that this 1.5% growth in earnings is about the GDP growth expected by DBs economists in Q1, and looks too low considering a typical multiplier of 4x"."
TNX rose above its Cycle Top support at 16.73, but slipped back beneath it.  With the current Master Cycle due to end in the next week or so, it is possible that it may end at a low (Wave 4).  This opens the possibility of TNX testing the 50-day Moving Average at 14.54 as a prelude to Wave 5.
USD futures slipped beneath mid-Cycle support at 92.19, suggesting a new Master Cycle low by mid-May.  A new high reaching the Cycle top has been relegates to an alternate status.  There is no sell signal until ASD crosses beneath the 50-day Moving Average at 91.44.