9:55 am
The futures data feed was turned off at 9:14:48 am.  The cash market data feed has not been turned on due to Good Friday.  The 10-Year Treasury yield futures continues to rise to 17.23 at this time.
I would not be surprised to see the market open lower on Monday.
8:20 am
SPX futures reached an all-time high of 4037.62 (at 8:50 am) this morning as we wait for the March payroll report.
ZeroHedge reports, "While US cash markets are closed for Good Friday today, S&P futures continued their Thursday ramp higher, and after rising above 4,000 for the first time yesterday were last trading at 4,022, up 0.3%, ahead of the March payrolls data (preview here) expected to show the biggest increase in jobs in five months (and potentially much more). While cash bonds are open, most other markets were also closed for Good Friday.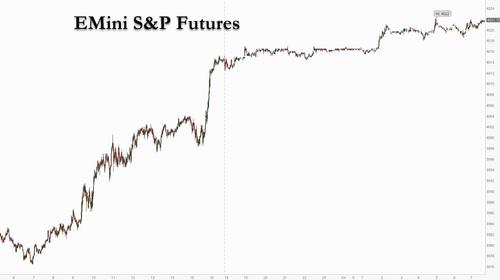 As previewed yesterday, if it is a big outlier, the jobs report will likely roil the bond market as trading volumes will be extreme thin during today's holiday-shortened session and all trades will be focused in rates as Treasuries will be the only asset open (until noon) while the New York Stock Exchange is closed today."
VIX futures data feed has not been activated this morning.  The gap from   February 21, 2020 closes  completely at 17.08.  The daily Cycle Bottom is at 16.94.  The EW structure allows that both targets may be hit.  At the same time, the Master Cycle is stretched beyond the normal range of 241-258-275 days at 293 days!
TNX futures have risen to 16.98 after the jobs report.  The data feed to StockCharts apparently has not been turned on.
ZeroHedge reports, "It wasn't quite the whisper number of 1 million jobs, but it was close: moments ago the BLS reported ago that in March the US added a total of 916K jobs, smashing expectations of 660K, nearly triple the original February print of 379K and was the strongest payrolls report since last August.
Talk about being stretched!  SPX is in a throw-over position above the 1987 trendline and met the 2.618 Fibonacci Wave Relationship this morning.  Mission accomplished.
Here's another Wave relationship that explains why the DJIA has not reached a new high this morning.  It already accomplished this feat on March 29.