8:20 am
Good Morning!
SPX futures rose to an all-time high of 4033.88 this morning, just ticks shy of the long-term target of 4034.00 (see the Friday report).  Today is day 280 of the Master Cycle and the fruit is rotting on the tree.
ZeroHedge reports, "S&P futures surged and most Asian stocks climbed (Europe remains closed for Easter holiday) as investors digested Friday's unexpectedly strong jobs report which showed the strongest jobs growth in seven months and could mark the beginning of the best annual economic growth in nearly four decades. Bond yields rose modestly after Friday's spike, while the dollar and gold were both unchanged.
At 730am, Dow E-minis were up 226 points, or 0.68%, S&P 500 E-minis were up 23 points, or 0.57% and Nasdaq 100 E-minis were up 59.75 points, or 0.45%."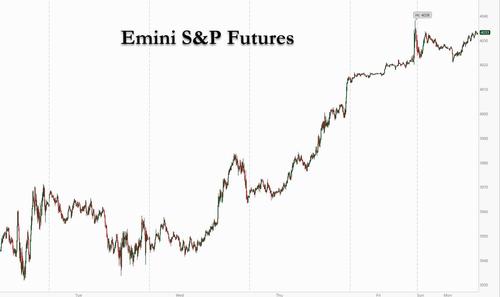 The Industrials made their (all-time) high at 33259.00 on March 19 thus far.  This morning the DJIA futures high was 33292.50, so it is possible that the all-time high may be this morning.  Wave [5] equals Wave [1] times Pi at 33255.82.  Perhaps this morning both time and target will be confirmed.
RealInvestmentAdvice comments, "n retail investing, do the "blind lead the blind?" Such was a question I asked recently about young investors who are "Long Confidence And Short Experience." However, a recent survey by MagnifyMoney dug much deeper into the subject.
Our previous article's gist is that throughout history, markets have a way of separating investors from their money. Such is the reason every great investor in history has one rule in common: "Don't lose money." The reason, of course, is that if you lose your capital, you are "out of the game."
As I noted, the market's current speculative behavior is not uncommon throughout history.
"Bubbles are characterized by extreme predictions, tend to dominate conversations and induce people to leave their jobs. The warnings of bubble skeptics get invariably met with scorn and derision." – William Bernstein
Today, more individuals are searching "google" for how to "trade stocks" than at any point in history. (If data was available back to 1999, I am sure it would be similar.)"
VIX made its Master cycle low on April 1 at 17.29.  This morning VIX futures rose as high at 18.14 before pulling back.  In other words, VIX is not confirming the new highs in the SPX and DJIA.
TNX rose this morning, threatening a new breakout.  There is much debate regarding which level the TNX will affect the equities market.  The Cycles Model suggests that TNX may keep rising through options expiration.  The target appears to be 19.71, which may appear to be a threat to equities.