8:00 am
Good Morning!
SPX futures advanced to a high of 3984.12 this morning, equivalent to 3996.00 cash.   On a sub-minute scale, Wave (v) needed one more probe higher to complete the pattern.   4000.00, anyone?  Today is day 276 in the current Master Cycle and it is ripe for a turn.
ZeroHedge reports, "Now that the quarter-end rebalance malarkey is behind us, it's full steam ahead into the new quarter and S&P futures hit a new all time high overnight rising as high as 3,984 before stabilizing up 0.3%, breaching Wednesday's best levels as signs of faster job creation in the US fueled optimism about the global recovery (although all that will change tomorrow if the NFP whisper of 1.8MM jobs is remotely accurate). Oil climbed above $60 per barrel before a meeting of OPEC+ on extending production cuts.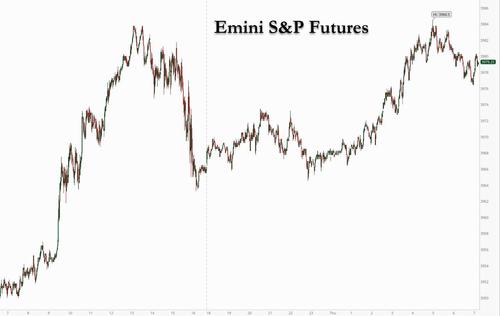 At 7:30 a.m. ET, Dow E-minis were up 12 points, or 0.04%, S&P 500 E-minis were up 12 points, or 0.30%. Nasdaq futures rose as much as 1.1%, as "high flying" FAAMG stocks added between 0.6% and 1.1% after underperforming last month on concerns over elevated valuations."
VIX futures made a new low at 17.97 this morning.  It appears to be filling the gap left on February 21, 2020when the VIX rocketed higher at the open.  Depending on how it is measured, the gap closes between 17.08 and 18.21.  The Cycle Bottom support is at 17.06, so it is feasible that it may touch bottom before a reversal.  However, the uncommonly long Master Cycle is building pressure for a reversal.
NDX futures probed to 13242.00 in what appears to be the final completion of the EW pattern.  This completes nearly a month long sideways consolidation.  Apparently the NDX has become a bargain again as investors sell value and rotate back into tech stocks.
ZeroHedge proclaims, "Despite some of its questionable holdings, which we outlined days ago, the ARK Invest Space Exploration ETF saw more than $294 million of shares change hands during its debut on Tuesday. Bloomberg's Eric Balchunas reported:"
TNX has pulled back under 17.00 in a Trading Cycle low that may last until early next week.  UST shows Cyclical strength through Tuesday, so the underlying supports may be tested.  However, TNX appears to have another four weeks to its Master Cycle high.
USD futures appear to be consolidating inside yesterday's trading range.  Two weeks remain in the current Master Cycle and its target appears to be either the Cycle Top resistance at 95.59 or the Broadening wedge trendline at 96.00.