7:40 am Tuesday of Holy Week
Good Morning!
DJIA futures are lower this morning after making a new all-time high at 33259.00.  This morning the INDU futures slid back beneath 33000.00.  Today is day 274 of the current Master Cycle, a very stretched Cycle.  However, it may stretch another day to preserved the gains made in the past quarter.  Usually, 275 days (258 + 17.2 days) is the upper limit of the normal range of the Master Cycle.  There appears to be a final probe left before the reversal.
NDX futures slid to a morning low of 12839.62.  It is hovering above the Lip of the Cup with Handle formation at 12700.00.  A decline beneath that formation denotes the final breakdown that ushers in the bear market.  This is the opposite of the DJIA, as money rotates out of the NDX and into the DJIA.  Confidence is being lost as the NDX is very close to having a negative quarter for the first time since a year ago.
ZeroHedge remarks, "
When analyzing the markets, it is important to differentiate between one's longer-term and shorter-term outlook. Our longer-term outlook, spelled out in detail in our newest Wellington Letter issue, is focused primarily on the government's record-breaking efforts to stimulate the economy, flooding the financial system with easy money and credit.
While this may be enough to stave off a major crash for some time, it may not be enough to sustain the market's vastly overextended bull run of the past several months. Increasingly, in the short-term, we see important signs of exhaustion that could lead to a painful correction."
SPX is caught in between, with the SPX futures hanging on, but showing signs of exhaustion.  Another probe higher and it may have made yet another all-time high and completed its Elliott Wave pattern.  The question is, can it last another day and make that new high?  Critical support lies at the mid-Cycle/Intermediate-term support at 3902.96.  A double trendline and gamma neutrality lies at 3850.  Beneath that the trap door opens.
ZeroHedge reports, "US index future slumped on Tuesday as traders continued to fret over fallout from the implosion of Archegos (especially after Morgan Stanley said it was not done selling residual blocks) and as Treasury yields soared to the highest since Jan 2020.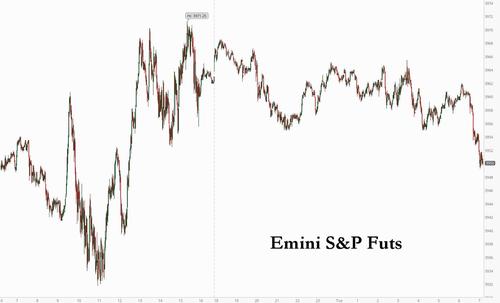 Emini S&P futures were down 13 points or -0.3% to 3,946, with ViacomCBS shares rising 2.6% premarket; Discovery Inc. and the American Depositary Receipts of Chinese companies linked to the Archegos block trades also posted gains. Tesla fell after a report Xiaomi Corp. plans to invest $15 billion to make electric cars. Industrial stocks and banks such as JPMorgan, Morgan Stanley and Boeing added between 0.9% and 1.4%. American Airlines rose 1.2% after an upgrade from Jefferies. The carrier expects to put most of its fleet back in service in the second quarter on signs of a travel rebound."
VIX futures are consolidating at the high end of yesterday's trading range.
YahooFinance brings us, "(Bloomberg) — The Cboe Volatility Index may have just wiped out the pandemic-induced doom and gloom, but Munich money managers Daniel Danon and Tobias Knecht are fretting over the warning signs still flashing across the stock market's underbelly.
The recent decline in the Wall Street fear gauge to pre-virus levels belies the "tension beneath the calm" within the volatility landscape, according to the traders at Assenagon GmbH with 27 billion euros ($32 billion) under management.
"The price for protection against sharp downside moves, sharp correlated moves or for just outright volatility exposure is high," Danon and Knecht, who specialize in such derivatives strategies, wrote in an email."
TNX has broken out while TNX futures have made an overnight high at 17.76.  The Cycles Model implies that there may be another three weeks of rally, ending at April options expiration.  TNX may have completed a" running correction" Wave 4.  While TNX may still pull back to its Cycle Top or one of the lower supports, the target for this move may very well be near 20.00.  The next chart resistance level is the November 4. 2019 high at 19.71.
ZeroHedge reports, "Gold and bonds are getting dumped amid the ongoing fallout from the Archegos debacle, and the dollar is bid, as it appears a broad-based demand for liquidity is trumping any quarter-end rebalancing flows that may have been expected. At the same time, bitcoin has been stable and acted as a source of stability.
Rather unexpectedly, Treasuries are being sold into quarter-end, with 10Y yields back above 1.75%…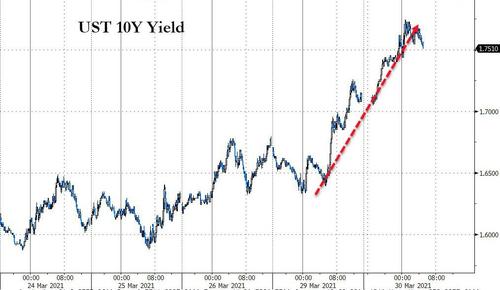 Source: Bloomberg
Gold futures are back below $1700 as the sell first, think second plan for liquidity appears to be in play.."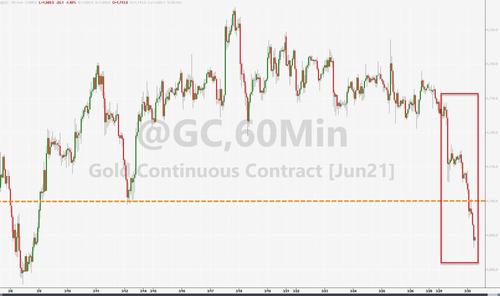 Gold futures made a morning low of 1678.80 as it also has three weeks to its Master Cycle low, which may be devastating for the gold bugs.  The reason is that it is now testing the combination Broadening Wedge and Head & Shoulders formations.  These two formations foretell the probable depth of Wave (3) of [3].
There are two possible "ultimate bottoms" to this decline.  The first is the 61.8% Fibonacci retracement of the entire rally from August 1999 to August 2020 at 954.55.  The second is the Cycle Wave IV low at 681.00.