7:30 am
Good Morning!
NDX futures  plunged to 12807.62 in the early morning hours, then was ramped back to 12972.75 at 7:00 am.  There is blood in the water and the sharks are circling.  Prime brokers are badly wounded and would not venture in these waters.  That tells us the normal sources of market liquidity may disappear.   Despite the intervention of the Fed (could it have been anyone else?), the overnight structure is very bearish.
ZeroHedge reports, "Update (615am ET): Just around the time Nomura closed down 16.3%, its biggest drop on record after warning it faces around $2 billion in prime brokerage losses (see below) tied to a single US client – the now infamous Archegos tiger cub hedge fund – Swiss banking giant, Credit Suisse, was also swept up in the Archegos vortex after the Swiss bank said it faces a potentially "highly significant" loss from a U.S. hedge fund client defaulting on margin calls, sending the Swiss bank's share plunging as much as 16%, the most since March last year and wiping out all 2021 gains.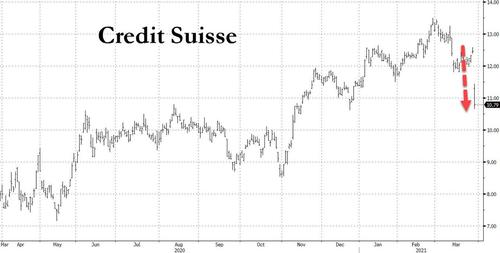 While the actual loss number was not defined, estimates pegged it in the $2-3 billion ballpark, and one commentator said that "Credit Suisse $CS lost its entire year profit because it is out-smart by Goldman aka the Sharks on the street and by a One Day."
SPX futures plunged to 3929.12 in the early morning hours before being ramped back up to 3963.12 at 6:30 am.  However, it does not appear to be holding.  While there is still a possibility of making a new all-time high, the Cycles Model and Elliott Wave structures do not support it.  Last Friday's end-of-day ramp may have been an effort to mitigate the blow that would come over the weekend.
ZeroHedge observes, "After initially dipping as much as -0.7% during the early Asian session on fears that the Archegos margin call crisis which has already cost billions in losses at Nomura and Credit Suisse's prime brokerage units could spread, futures have stabilized and at last check the Emini was down -0.3% to 3,952 after its remarkable late Friday surge which pushed the S&P just shy of an all time high, while quarter-end is expected to be in focus this week, favoring buying of Treasuries although it is debatable how stocks will trade today.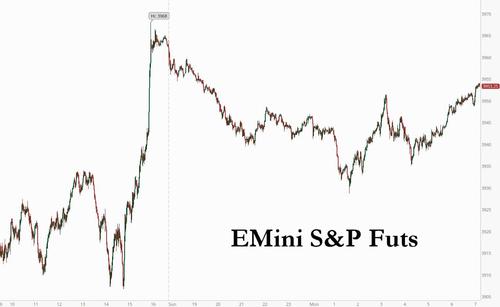 At the same time, Nasdaq 100 futures erased losses of as much as 1.2% to trade little changed as of 7:30am in New York following revelations that Archegos Capital Management LLC – Bill Hwang's family office – was behind a $20 billion spree of block trades on Friday, selling Chinese tech giants and U.S. media firms. And with a number of banks exposed to Archegos and losing billions, investors are on edge lookout for signs of contagion."
VIX futures rose to an overnight high of 20.90 from their Master Cycle low on Friday at 284 days.  This Cycle was stretched to an extreme and did not correspond with a new high in the SPX.  This oddity may be the result of the short-vol trade which has not entirely left the scene.  A ramp above the 50-day Moving Average may result in a short squeeze that would add fuel to the subsequent rally.
TNX appears to be pulling back from its surge on Friday.  There are some cross-currents in the Cycles.  Today may be a Trading Cycle low, followed by yet another surge in rates.  There may be a Master Cycle high in the week after options expiration in April.
USD futures appear to be consolidating above the 200-day Moving Average.  The Cycles Model calls for a probable Master Cycle high at options expiration in April.