10:36 am
BKX, our liquidity proxy, is probing near the 61.8% Fibonacci retracement level at 83.18.  It has exceeded the mid-Cycle resistance at 81.61, which may be used as a sell signal on the way lower.  The Cycles Model proposes three intense declining weeks ahead, through the first week of December.  BKX is poised to do a repeat of the march panic decline, with possibly more serious ramifications.  The trap may be about to be sprung.
ZeroHedge sounds the alarm, "Money-market funds saw inflows for the 4th straight week (since the biggest outflow since Lehman), adding $21.9BN to reach a new record high of $5.73TN…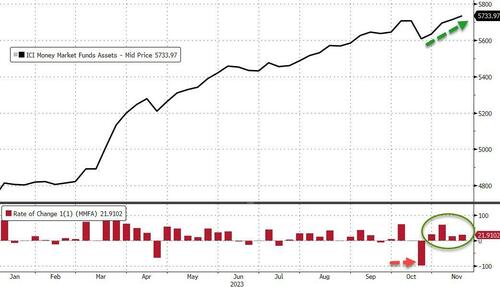 Source: Bloomberg
In a breakdown for the week to Nov. 15, government funds – which invest primarily in securities like Treasury bills, repurchase agreements and agency debt – saw assets rise to $4.68 trillion, an $18.9 billion increase.
Prime funds, which tend to invest in higher-risk assets such as commercial paper, meanwhile, saw assets climb to $932 billion, a $5.6 billion increase."
9:45 am
The Ag Index may be testing the 50-day Moving Average at 397.65 prior to launching a larger rally.  The Cycles Model suggests that GKX may rally until mid-December in this Cycle.  By then, GKX may have broken out of its downtrend.  This is a great time to accumulate shares as this may be the beginning of a multi-year rally in this index.
ZeroHedge notes, "Food is the palate's poetry, the body's fuel, and a shared language transcending cultures… when people can afford it.
As Visual Capitalist's Pallavi Rao details below, the World Health Organization found that the COVID-19 pandemic and war in Ukraine pushed 122 million more people into food insecurity between 2019 and 2022. Higher food prices, combined with increasing poverty, have resulted in rising food unaffordability, especially in certain regions of the world.
ℹ️ A person is food insecure when they lack regular access to enough safe and nutritious food for normal growth and development and an active and healthy life."
7:30 am
Good Morning!
US Tech futures are consolidating beneath the November 15 high, waiting for a directional signal.  A decline beneath 15738.00 may signal a reversal is at hand and offer an aggressive sell signal.  Beneath that is the open gap to 15535.00 where the next support may lie.  Short term support lies at 15300.00, while the 100-day Moving Aerage lies at 15130.00.  A difficult spot to be bearish.
Today's options chain (AM expiration) shows Maximum Investor Pain at 15430.00.  Long gamma may start at 15450.00 and strengthens at 15460.00, while short gamma begins at 15400.00.
ZeroHedge observes, "CTAs: Boom!
"Over the last 10 days CTAs have bought nearly $70bn of US equities… this is the largest 10d buying we have on record. Data goes back to 2016…"
Source: GS
Big cap love
One thing is sure, you are not early on this trade post the latest melt up. We have just seen the biggest inflow since Feb 2022."
SPX futures rose to a new retracement high at 4522.60.  The next level of resistance is the August high at 4541.25 for the final probe.  Today is day 249 in the current Master Cycle and monthly options expiration that may bring out the 0DTE traders.
Today's options chain (AM expiration) shows Max Pain at 4350.00.  Long gamma starts at 4400.00. In other words, there may be enough options delta to raise the SPX.  The pm expiry may be less bullish.
ZeroHedge reports, "US equity futures rose and bond yields fell as the historic squeeze that started more than two weeks ago among the systematic and hedge fund communities is still going on after this week's soft inflation and jobs data fueled conviction that aggressive tightening are finally at an end. As of 8:00am, S&P futures were 0.3% higher while Nasdaq futures rose 0.1%, both on course for a third weekly gain after Joe Biden signed the stopgap bill to extend government funding into early 2024 late last night, kicking a politically-divisive debate over federal spending into a presidential election year. Europe's Stoxx 600 index jumped 1%, on track for an almost 3% rally this week. Asian stocks declined as Alibaba Group scrapped plans to spin off and list its $11 billion cloud business, dragging Chinese shares lower. Bonds climbed, putting the US 10-year yield on course to drop more than 25 basis points this week as markets now price a full percentage point of rate cuts next year from the ECB; the dollar slumped as the yen spiked to the highest level since Oct 31. Oil is headed for a fourth weekly loss after sinking into a bear market, in part as supply exceeds expectations. "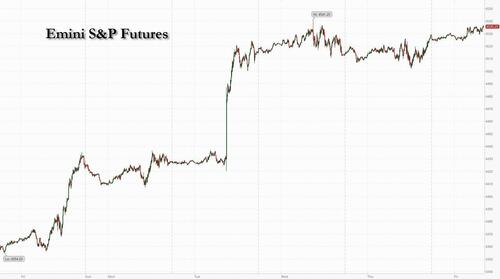 VIX futures are consolidating near the low.  Today is day 249 in the Master Cycle.  Support lies near 13.50.
Wednesday's options chain reveals no short gamma.  Options turn long at 14.00, while long gamma may begin at 18.00.
TNX probed lower this morning, with futures dipping to 43.81, to 44.04, testing the lower trendline of the trading channel.  Today is day 246 in the Master Cycle, so I cannot rule out lower probes in this Cycle.  However, Monday may show a burst of strength, indicating a possible final low and reversal, if not accomplished today.
Investing.com comments, "U.S. stocks finally stopped falling yesterday following data indicating a slowdown in job growth, which alleviated concerns about the Federal Reserve's monetary policy direction and put a halt to the recent surge in bond yields.
Still, strategists at Barclays warn that the bond market is likely to continue selling off, which will likely send stocks further lower.
"We do not see a clear catalyst to stem the bleeding," the strategists wrote in a note."
Crude oil futures consolidated in place after yesterday's massive move.  Today is day 255 in the Master Cycle, leaving only a few days of the decline left.  What follows may only be a two week correction before another decline resumes.  Crude is in a dynamic state right now.  It is often a leading indicator of both the economy and the stock market.
ZeroHedge observes, "Tons of questions on the weakness in Crude – Thoughts from our trading desk: believe the move is more of a "catch-up" to weaker physical markets as we moved past WTI options expiration yesterday & as Middle East risk premium has now come out of the market in our view.
Bigger picture:
Margins have remained weak for a while
OPEC continues to export
Spreads & DFLs have been signaling weaker fundamentals for several days now"
Brent breaking through the 200dma…approaching oversold levels (RSI 32.7)…