8:10 am
Good Morning!
NDX futures rose to 13154.60 this morning. a 45% retracement (thus far) of yesterday's decline.  We may expect a calm market before the FOMC  announcement unless more bad news develops.  There is a tendency to lean to the positive side before the 2:00 pm hour.  It appears that the Master Cycle top occurred on Monday after all.  The longer NDX Cycle took an extra day to complete.
Today';s options expiration shows Maximum Pain at 13080.00.  Long gamma appears at 13150.00 and extends to 13300.00.  Short gamma starts at 13070.00 and goes to 13030.00.
Zerohedge remarks,  "The weak stuff getting weaker
Russell looks to be falling below the lower part of the huge range. Note we have not closed this low since October last year.
Source: Refinitiv
KREdded
It is hard to find superlatives for the latest move in KRE. This is a pure panic move. Second chart shows KRE vs SPX: We don't think this gap will close, but it sure looks scary…"
SPX futures are approaching the 50% retracement level of yesterday's decline at 4138.00 this morning.  Again, the tendency is for the market to stay calm-to-positive until the FOMC announcement.  Investors are keeping their ear to the ground, anticipating further developments.  This is anticipated to be the final rate hike.  The Cycles Model does not agree.
Today's op-ex shows Max Pain at 4125.00  Long gamma starts at 4130.00 and intensifies at 4150.00.  Short gamma starts at 4120.00 and keeps going to 3900.00 (possibly lower).  This market has a very short fuse.
ZeroHedge reports, "S&P 500 futures are marginally higher on the day despite renewed pre-market weakness from US regional banks and a continued plunge in crude, which sent WTI futures lower by more than 3% on the day and below $70 per barrel on demand worries as the global economy slows. Contracts on the S&P 500 edged 0.1% higher while those on the Nasdaq 100 gained 0.2% by 7:30 a.m. ET, bouncing from yesterday's losses ahead of the Fed decision. Treasury yields are lower, as traders seek out havens, while the Bloomberg dollar index weakened as traders eye recession risks alongside a potential pause in interest rate hikes. Meanwhile, most metals, including gold, decline slightly."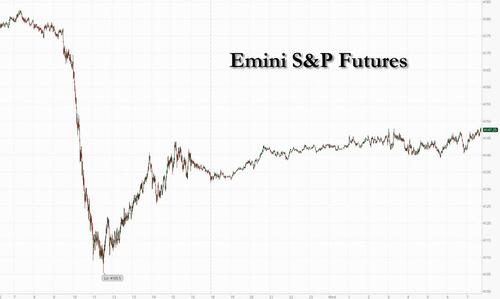 VIX futures are mildly positive after making nearly a 50% retracement of yesterday's rally.
In today's op-ex, Max Pain is at 18.00.  Short gamma is at 16.00, but nothing further beneath it.  Long gamma starts at 20.00 and extends to 35.00.
ZeroHedge observes, "The winner of the day
VIX1D up almost 100% today…
Source: Refinitiv
Depressed regionals
Hedge funds have puked regionals for a while, but GS notes LO supply has started hitting the tape as well. They also write: "Point being there is still some wood to from chop here if the HF community decides it wants to bring exposures back down to 2019 – 2020 levels."
TNX is has rolled back to the trendline at 33.90.  The question of the day, "Will it hold?"  The Cycles MOdel is neutral here, but soon to regain its vigor as trending strength returns by this weekend.
ZeroHedge notes, "The Treasury has published details of its quarterly refunding and subsequent Treasury auctions, and as previewed earlier, it kept sales of longer-term debt steady for the third straight time, in line with dealers' forecasts, while unexpectedly announcing a new program to buyback older securities, starting sometime in 2024. According to some, a buyback program is not that different from QE as it injects liquidity into the system at regular intervals."
USD futures dipped lower this morning to 101.27.   USD is lingering near the low of its 4-month trading range.  A breakout above the 50-day Moving Average may change the outlook.