8:20 am
Good Morning!
Note:  I will be absent from blogging on Wednesday and Thursday.  Friday will be my next opportunity to comment.
NDX futures have risen to 13193.30 this morning.  As mentioned yesterday, NDX has yet another probe higher to complete the current Master Cycle.  A likely target is the Cycle Top resistance at 13506.60.  Today is day 245 in the current MasterCycle.  The move above 12880.98 has performed a reset on the Wave/Cycle structure.
Today's op-ex shows Maximum Pain for options investors at 13025.00.  Calls rule above 13050 with long gamma beginning at 13100.00.  Short gamma may begin ant 12975.00.  Friday's monthly op-ex shows long gamma beginning at 13000.00 with pockets of strength running to 13500.00.  Short gamma is practically nonexistent.  It is clear that long gamma holds sway over the options market until expiration on Friday.
ZeroHedge comments, "First, some context from Goldman's Prime Brokerage: "our franchise flows have shifted to local selling of tech this week and Nasdaq is only up in two of the past ten sessions (also note that it stands exactly where it stood in … the spring of 2021)."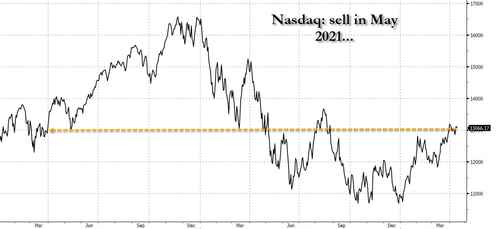 In other words, might as well have sold in May of 2021 and gone away for two years, enjoying all the hikes, golfing and trips and you'd still be right where you left off. Instead, you overtraded every market move and lost money."
SPX futures rose to 4173.00 this morning, approaching a breakout point at 4195.44, its February 2 high.  A likely target may be the Cycle Top resistance at 4270.28.  I have been asked, "Where are the violent post-2pm turnarounds coming from?"  Read the options analysis.
Today's op-ex shows Max Pain at 4145.00 with possible long gamma starting at 4150.00 with strongholds at 4200.00 and 4250.00.  Short gamma begins at 4100.00, with a stronghold at 4050.00.  Long gamma may hold sway in today's expiration.  Friday's op-ex shows calls ruling from 4050.00 and up to 4250.00.  At 4000.00 the expiring calls number 78,646.00 while the puts number 90,803.00.
ZeroHedge reports, "We have said previously on more than one occasion that the bear market rally just won't end until Wall Street's two bearish cosplayers, Marko Kolanovic and Mike Wilson, throw in the towel and turn bearish…
… and sure enough, one day after both of these broken records published their latest weekly doom and gloom performance art meant solely to get institutional and retail investors to sell to their flow desks, futures have melted up even more, with spoos now trading a 2+ month high."
VIX futures are down even further to 16.78 this morning on day 249 of the current Master Cycle.  Triangle formations are normally frustratingly long.  This particular formation takes the prize for maximum frustration.
Tomorrow's op-ex shows Max Pain at 22.00 with options deep into short gamma, possibly down to 15.00.  Long gamma begins at 24.00 and stretches to 100.0.  With only one day left to expiry, it appears that short gamma rules another day.
Zerohedge proclaims, "The VIX guy is back
We haven't heard from "our" VIX guy in a long time. He remains as the number one contrarian indicator when it comes to volatility. His latest reasoning is that we are entering a regime shift and that volatility will stay lower for much longer as "the market does not care about much". Regular readers of TME know our general logic on protection and volatility: "do not buy protection when you must, buy it when you can". We are getting very close to such a set up. Using options for directional bets (up/down) as well as protection is looking attractive. Time for a thread on volatility:
Say hello to inverse panic
SPX not even above the "magical" 4200, but VIX is in full crash mode. SPX vs the VIX 2nd month futures (inverted)."