11:40 am
SPX is now testing the 50-day Moving Average at 3843.00.  A sell signal lurks beneath that level.  While the shorts are being cautious, today's reversal may rule out the potential for a continued rally, as this morning's probe to a new high appears to be the final one.
7:38 am
Good Morning!
NDX futures are higher this morning and threaten to make a new corrective high.  Nearby resistances are the 50-day Moving Average at 11777.08 and the 100-day Moving Average at 12023.79.  The 100-day repelled the NDX at the top of Wave (B) of Wave [1] on March 29.  Should this take place, the result would be an inverted Master Cycle ending this week.  Today is day 250 of the current Master Cycle.  Bear markets have some pretty spectacular rallies within them.  However, the Broadening structure has been difficult to follow, even with the Cycles Model.
The best of analysts are stymied.  ZeroHedge comments, "Ahead of the Wednesday FOMC 2pm decision, a fourth successive 75bps rate hike has long been pretty much nailed down but the subsequent path of hikes is now up for grabs and will be the focus from this week's meeting.
As DB's Jim Reid wrote earlier today, "it feels inconceivable to us, given how spectacularly forward guidance has broken down across the global markets over the last 12 months, that Powell will try to guide too aggressively for December, especially with two payrolls (one this week) and two CPIs to come before they meet again." In light of this, DB's economists currently believe that 75bps is still likely in December, but that January could mark a downshift whilst still seeing upside risks to their terminal rate expectation of 5% given the recent inflation data and evidence that r-star has risen. Even WSJ Fed mouthpiece, Nick Timiraos, tweeted at the weekend "Consumers have a big cushion of savings. Corporations have lowered their debt-service costs. For the Fed, a more resilient private sector means that when it comes to rate rises, the peak or "terminal" policy rate may be higher than expected." To be fair in his WSJ article that went viral 10 days ago he did mention that 2023 Fed forecasts could be upgraded. However the market mostly focused on the near-term downshift possibilities."
SPX futures are making new corrective highs as it challenges the 50% retracement level at 3908.00.  The next retracement level is 61.8% at 4006.00.  Today is day 250 of the current Master Cycle.  A new high today may mark the end of this Cycle.
Today's op-ex sows  Max Pain at 3900.00, with long gamma at 3950.00.  Puts have been severely pruned back.  While the dealers want to avoid short gamma, they don't want to chase the markets (long) at this level.
ZeroHedge reports, "US equity futures started off the new month with a bang, set to surge after Monday's less than spooky declines, as investors awaited Wednesday's Fed decision (where JPM sees one outcome pushing stocks 10% higher… and another sending them crashing 8%), while sentiment got a big boost from speculation that Chinese policymakers are making preparations to gradually exit the stringent Covid Zero policy.
At 7:30am, contracts on the S&P 500 rose 1.0% while those on the Nasdaq 100 gained 1.1% on the first day of November, a month that has seen the underlying benchmarks end in the green on average for the past three decades. Dow Jones futures climbed 0.6% after the underlying gauge wrapped up its best month since 1976. Treasuries were poised for their biggest jump in a week as 10Y yields dropped to 3.94%, alongside real rates and the dollar as hawkish Fed hike wagers are trimmed ahead of this week's policy outcome; the yen, euro and cable surged."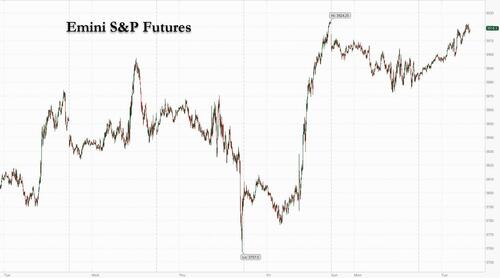 VIX  futures are challenging Friday's low on day 281 of the current Master Cycle.  This may be evidence of manipulation, as there is little conviction in this move.  Mid-Cycle support at 26.66 is the usual limit for a retracement such as this, so time is running out  for a reversal.
In tomorrow's op-ex, maximum pain for options investors is at 27.00.  Short gamma starts at 26.00.  There may be a reluctance to start a bull run at this stage of the rally, so chances are that VIX may remain neutral prior to the Fed announcement.