8:50 am
Good Morning!
SPX futures remained flat in the overnight session, but are weakening as the morning cash session is about to open.  This is quite a departure from the activity of only a week ago.  Any hopes for a quick recovery may be dashed as the SPX may have begun a potential 55-day decline.
In today's op-ex, Max Pain is at 4170.00, while long gamma starts at 4180.  Short gamma starts at 4150.00.  Today is a light session in the options.
ZeroHedge reports, "After Monday's furious selloff which sent stocks tumbling the most in two months when the yield on 10-year Treasuries breached 3%, S&P futures have stabilized overnight, and after earlier dropping as low as 4,120 – or some 200 points below last week's 200DMA resistance – have since rebounded to unchanged, if near the bottom of Monday's range as nervous traders increasingly fear Powell will unleash a Hawk-ano during his Friday Jackson Hole speech. The 10-year Treasury yield held above 3% and the Bloomberg dollar index hovered at a five-week high as the EUR briefly dropped to 0.99, a fresh 20-year low, amid exponentially increasing energy costs. Oil futures climbed another 2% amid fears OPEC+ will cut output, as the market finally grasped what we were saying back in July 8 in "Inside The Oil Market's Jekyll-And-Hyde Moment" after the Saudi Energy minister said that "The paper and physical markets have become increasingly more disconnected."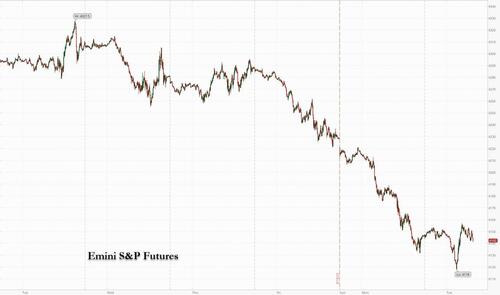 VIX futures have consolidated at the upper end of yesterday's trading range.  A breakout above the mid-Cycle resistance and 50-day Moving Average at 25.15 may be imminent.
In tomorrow's op-ex, Max Pain is near 24.00, while short gamma begins at 22.00.  Long gamma begins at 28.00.
ZeroHedge remarks, "VIX – gradually then suddenly
On Aug 10, when VIX puked below 20 and some strategists were telling us that SPX should catch up, we reminded our readers and wrote the following:
"Several strategists are pointing out the VIX vs SPX gap, but these people do not trade volatility, nor do they understand what volatility is. Volatility is mean reverting by "nature", so don't buy into the "last time VIX was here…" arguments. Time to get busy when it comes to using cheap(er) volatility in your overall strategy." Fast forward to today and the VIX has exploded to the upside and hedges are suddenly not that cheap. If you played the "follow up" logic on Aug 15 (here), where we suggested the VIX Sep 23/29 call spread, we remind you of not being "lazy" and roll those strikes (and keep part of the profit)."
TNX continues its rally on day 263 of its Master Cycle.  Be warned that, while investors pile on to the higher yields, a reversal may be imminent.   The Cycles Model suggests a rally is USTs through mid-November.
USD futures pulled back to 107.99 before bouncing.  The Cycles Model suggests that trending strength may re-emerge during the first week of September.  The rally may continue through the end of September.