8:15 am
NDX futures have completed a 61.8% Fibonacci retracement from the June 17 low.  It is at a crossroads.  Is this a Wave 2 retracement, leading to a fast and furious Wave 3 and complete the 18.5-day Cycle mentioned last week at a new low?  Or do equities go higher, through the end of the month, possibly re-testing the neckline at 13000.00?
Today's options expiration cannot tell us anything, since it is so thinly populated.  QQQ (294.61 at the close) expiring options turn short at 285.00 and short gamma may  begin at 275.00.  Long gamma starts at 295.00.    In other words, it must hold Friday's closing price or better.
SPX futures hit a morning high of 3943.60, short of the mid-Cycle resistance at 3954.38.  It has since lost its upward momentum and may open beneath the 50% retracement level at 3905.00. While I had anticipated at downturn on Friday, there is still time for a very fast 4.3-day decline beneath the Head & Shoulders target.  In addition, the Head & Shoulders formation is usually fulfilled at the completion of Wave (3).
Today's expiring options show Max Pain at 3870.00 with Calls prevailing above 3875.00.  Puts dominate beneath 3850.00 and short gamma begins at 3800.00.
ZeroHedge reports, "Following the best week for stocks in one month, global stocks extended gains on Monday on continued easing of fears for a hawkish Fed; US futures rose, with the Nasdaq 100 advancing 0.5% as by tech giants Amazon, Apple and Microsoft all rose in premarket trading. Tech shares also boosted indexes in Europe and Asia. Treasuries slipped, pushing the rate on the US 10-year note to 3.17%. Yields have retreated from June highs on growth worries, but whether that marks the end of the Treasury bear market is a live debate. The dollar fluctuated while oil and bitcoin rose."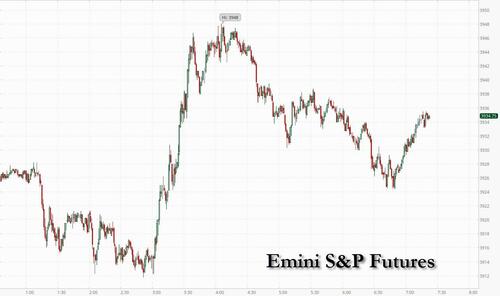 VIX futures rallied to 28.43, above the 50-day Moving Average at 28.22 and has made a potential buy signal.  In Wednesday's expiring options, Max Pain is at 29.00 and long gamma starts at 35.00.
TNX rallied this morning beneath Cycle Top resistance at 93.31.  The bounce, while appearing strong, may not last as TNX may be in decline to its mid-Cycle support in the next two weeks.
ZeroHedge explains, "If you're a ZeroHedge reader, you've seen this chart:
Fed hiking cycles end in crisis – every time. The chart also illustrates that, since the 1980s, the Fed has been unable to achieve a Fed Funds Rate (FFR) at or above the peak of the preceding tightening cycle. 
It's not a mystery why this happens: lower-for-longer rates allow for greater debt accumulation and create an ever-increasing dependency on cheap rollover costs."