2:36 pm
The equities decline continues.  The next probable support lies at 3800.00, shown in the chart.  Analysts are like deer in the headlights.  Nomura is waiting for the next shoe to drop.  Goldman finally admits "large cuts to earnings" are imminent.  Expectations are being lowered, but no one knows where this will go.  No one can fathom the size of this decline.
11:23 am
SPX has reversed at the 2-hour mid-Cycle resistance at 3949.22 and has slipped beneath Short-term support at 3885.57, giving an aggressive sell signal.  SPX may bounce, giving a better entry point for those who have taken short profits in the last week.  The decline that follows may last up to 53 calendar days (37 market days).  Wave threes typically are where the Head & Shoulders and Cup with Handle targets are completed.
10:47 am
NDX may have completed a 61.2% retracement of its June decline and reversed beneath Intermediate-=term support at 12054.29.  This has created an aggressive sell signal in NDX.  This has been a very short Cycle, only 16 days (10 down, 6 up).  It may be indicative of a Phase Shift, where the decline goes into high gear.  There are 53 calendar days left to the next Cycle Bottom, giving equities another potential 37-market day decline.
I have left the Head & Shoulders and Cup with Handle formations intact, since their targets most often come with the completion of Waves 3 and (3).
9:20 am
Good Morning!
SPX futures are higher, but did not exceed the Monday morning (futures) high.  SPX is clearly at a crossroads, with immense pressure in both directions.  The Cycles Model suggests a resolution by the end of the week.  Remember that the 50%  retracement level of the June decline is at 3905.00, which seems to exert a lot of resistance.  The next Fibonacci level is 3968.70, the 61.8% retracement
In today's expiring options, calls dominate above 3950.00, while short gamma may begin at 3900.00.  This is a dangerous place to slip, even though options are light.  A rally is needed to keep short gamma from influencing the market, since a decline may catch many off guard.
ZeroHedge reports, "US stock futures rebounded from Monday's modest losses and traded near session highs after China reduced quarantine times for inbound travelers by half – to seven days of centralized quarantine and three days of health monitoring at home –  the biggest shift yet in a Covid-19 policy that has left the world's second-largest economy isolated as it continues to try and eliminate the virus. The move, which fueled optimism about stronger economic growth and boosted appetite for both commodities and risk assets, sent S&P 500 futures and Nasdaq 100 contracts higher by 0.6% each at 7:15 a.m. in New York, setting up heavyweight technology stocks for a rebound. Mining and energy shares led gains in Europe's Stoxx 600 and an Asian equity index erased losses to climb for a fourth session. 10Y TSY yields extended their move higher rising to 3.25% or about +5bps on the session, while the dollar and bitcoin were flat, and oil and commodity-linked currencies strengthened."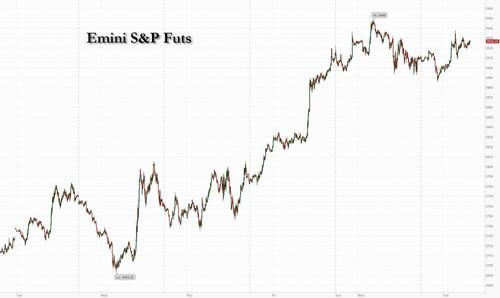 VIX futures made a new low at 26.47 thus far this morning.  It may be headed toward the trendline near 25.00.  However, today is 52 days from the next Master Cycle high, suggesting that the VIX may be near a reversal.