2:22 pm
VIX made a new Master Cycle low today on day 260 of its Master Cycle.   It may not be finished with its decline, as the mid-Cycle support at 23.29 may be the target.  This reinforces the observation that equities may be going higher.  It is likely that this decline in VIX and rally in equities may end with tomorrow's options expiration.  It still leaves 8.6 days to finish the Master Cycle in equities.  The actual crash beneath the Lip of the Cup with Handle formation in 1987 occurred in 4.3 days.
The NYSE Hi-Lo Index is at 92.00.  Not a new high, but high enough for another probe higher.
10:53 am
An alternate scenario may be playing out…
SPX may have completed a Triangle formation that could target the 50-day Moving Average at 4255.94 or the 2-hour Cycle Top at 4296.41.  This does not alter the Cup with Handle formation, but may delay the decline a few days.  No one said this would be easy.  This formation has all the earmarks of the options sellers dilemma of keeping the range "corralled" between long gamma at 4175.00 and short gamma at 4050.00.  Short gamma is what they fear the most, thus the bounce at mid-Cycle support at 4076.34.  Investors fear a decline, as well.
ZeroHedge observes, "Investors are terrified. Such is what you would assume from recent mainstream media headlines and CNBC's continuous run of "Markets In Turmoil." There are also plenty of indicators suggesting that retail investors are terrified about financial markets. For example, the net percentage of bullish responses from the American Association of Individual Investors (AAII) and the Institutional Investors index (INVI) are near previous bear market lows. Such is despite the sharp rally over the last two weeks.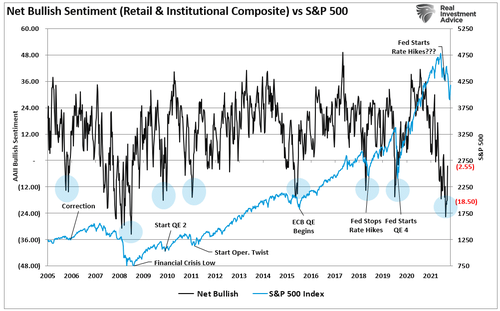 Despite hopes for a rally, the National Association of Investment Managers (NAAIM) shows the same bearishness."
8:00 am
Good Morning!
NDX futures have declined to 12442.10 this morning and are hovering near their low.  The peak in the retracement was made near the Lip of the Cup with Handle at 13000.00 and the cash market had declined beneath Intermediate term support at 12695.10, putting it on a confirmed sell signal.  Most analysts lack the technical skills to recognize the plight of the market.
While there is not an options expiration today, tomorrow's op-ex shows puts dominate beneath 12550.00 and short gamma resided beneath 12500.00.  In other words, NDX may already be in a gamma death spiral.
After having closed above the Lip of the Cup with Handle formation yesterday, SPX futures declined beneath the Lip and 4100.00, confirming the sell signal.  The Cycles Model suggests a significant bottom only two weeks away.  The Cup with Handle formation has been triggered and it is likely that the target may be met.  Some analysts have "recognized" a Head & Shoulders formation and are predicting a bottom at 3400.00.
In today's op-ex, SPX futures are positive above 4110.00, but long gamma doesn't kick in until 4175.00.  On the other hand, puts dominate beneath 4090.00 and short gamma starts at 4050.00.
ZeroHedge reports, "It was a relatively quiet session for stocks with futures trading modestly lower overnight as yields eased their Monday surge and when the biggest news was Australia's unexpected 50bps rate hike (double consensus) before all hell broke loose at 7am, when Target cut guidance for the second time in two weeks due to the infamous bullwhip effect we had warned about just a few weeks ago, sending TGT stock crashing more than 9% and encouraging the cold risk-off wind that pushed S&P futures 0.8% lower to session lows around 4,080…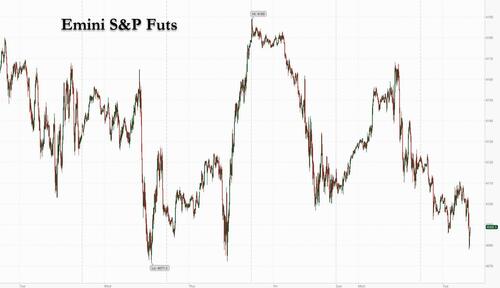 … while Nasdaq 100 futures fell 1% as Treasury yields hovered around 3.05%, their highest in nearly a month. Europe's Stoxx Europe 600 Index slipped as telecom and technology stocks weighed."
VIX futures have leaped above the 50-day Moving Average at 26.11 and may continue higher after a brief consolidation.  It is now on a buy signal that may carry it above the neckline of the Head & Shoulders formation.  The Cycles Model suggests a Master Cycle High in mid-August, suggesting the June low anticipated in equities may not be the final one.
TNX tested its Cycle Top yesterday at 30.88 and may be consolidating this morning.  It is on a buy signal (UST sell) and the Cycles Model suggests a continued rally through the first week of July.  An alternate view suggests that, should the breakout not occur, the 10-year yield may decline in that same period.
USD futures have bounced above Intermediate term resistance at 102.71, suggesting a possible further rally to Cycle Top resistance at 103.57 in the next week.  This appears that it may end in a Master Cycle high.