7:20 am
Good Morning!
I am leaving early to assist a son in a project that may take all day.  I'll do my best with the little time I have.
SPX futures declined further to 4154.70 early this morning.  It has since made a 38.2% retracement of the decline from  4299.02 to the futures low at 4154.00.    Futures have since slipped back beneath 4200.00 where short gamma prevails.  The incursions into short gamma territory  beneath 4200.00 have tested the resolve of the dealers to remain bullish.  They may be throwing in the towel.  If so, a new low near 4000.00 may be in the cards in the next 48 hours.
ZeroHedge reports, "After the worst day for stocks in a long time, which saw the Dow plunge 800 points or 2.2% and the Nasdaq tumble almost 4% to the lowest level in nearly a year, it seemed that Wednesday would be another puke fest, with Google tumbling as much as 10% afterhours after reporting mixed earnings that missed on YouTube revenues and EPS, and dragging the Nasdaq with it. However, solid results from Microsoft as well as some long overdue stability in Chinese markets helped to reveres the dour mood, and aside for a brief but sharp selloff around the time Europe opened, US equity futures have been a diagonal line up, with the Nasdaq recovering from its lowest level in nearly a year, as dip buyers returned on corporate earnings and "all out" stimulus pledges by China.  As of 7:00am ET, S&P 500 and Nasdaq 100 contracts each rose around 0.8%, 10Y yields rose 3bps to 2.77%, the dollar rose again and Brent was flattish around $105."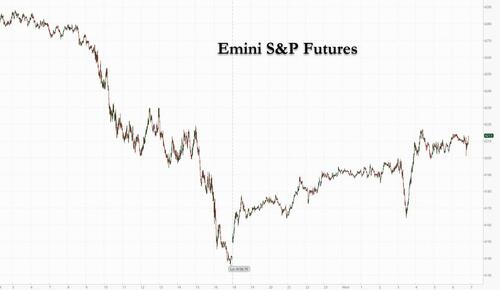 VIX futures made a low of 30.33 this morning, but appears to be resuming its climb back above its Cycle Top at 31.45.  The next target appears to be the neckline of the Head & Shoulders formation at 38.94.   Should that barrier be exceeded, the H&S target may be achieved as early as the third week of May.
TNX futures continue their decline as the correction unfolds.  The Cycles Model implies the correction may last through the month of May, so a likely target may be the 50-day Moving Average currently at 22.89.  However, the correction is very shallow thus far and a period of strength may be emerging to run TNX still higher, possibly to 30.00, in an expanded correction as early as this weekend.
USD futures made a new high at 102.83 this morning on day 271 of the Master Cycle.  The Cycle is stretched, but still within normal parameters.  It is approaching its early 2020 high at 103.96.  Should it breach that level, the next target may be the Monthly Cycle Top at 105.26.