3:50 pm
SPX continues its decline.  This is not a time to take profits yet.  The next bounce may be at the trendline at 4100.00.
7:40 am
Good Morning!
NDX futures probed lower in the overnight session, to a low of 13611.80.  The 50-day Moving Average at 14257.32 proved to be resistance at yesterday's high and now the Cycle Bottom at 13518.32 may be the next support.
Today's expiring options show two heavy concentrations of calls at 13700.00 and 13800.00.  Puts are very concentrated (short gamma) at 13500.00.  QQQ (334.15 close) expiring options are negative beneath 340.00 and short gamma starts at 335.00.
ZeroHedge notes, "NASDAQ – the cross of crosses
Time to revisit the "cross of crosses", the 100 vs 200 day moving average cross, that occurred right at the most recent NASDAQ resistance. With NASDAQ falling below the big 14k level today, this moving average cross is becoming "serious". Supports are: 13.6k and the 13.2k level.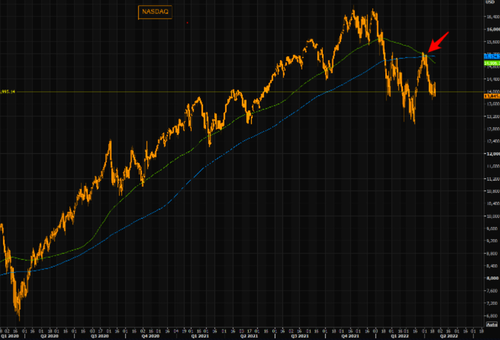 Source: Refinitiv
Tech stress refuses easing
VXN is back to recent highs, while VIX remains 2 points below those highs. Tech remains the pillar of this market…and price action is all but bullish.
SPX futures declined to 4366.10 overnight and bounced, but remained beneath 4400.00.  Max Pain is at 4420.00 and short gamma may exist beneath 4400.00.  This is not a good combination and may lead to elevated volatility today.
Zerohedge reports, "US equity futures extended their Thursday losses, and were slightly lower on Friday morning as investors fretted over the latest hawkish remarks from Jerome "Crash Stonks" Powell. Nasdaq 100 futs were down 0.1% by at 7:15a.m. EDT after the underlying gauge slumped 2% on Thursday after Powell outlined his most aggressive approach yet to taming inflation, potentially endorsing two or more half percentage-point interest-rate increases, which prompted the market to price in more than six 25bps rate hike by the end of July and 10 hikes by the end of 2022. Shorter-dated Treasury yields surged. The dollar rose to the highest level since July 2020 amid losses for the British pound with data showing the U.K.'s cost-of-living crisis is hampering consumer spending.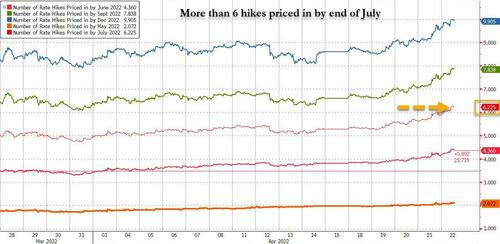 The overnight weakness pushed both S&P 500 futures lower by about 0.2% after cash closed down 1.5% Thursday, although trade was muted and range-bound.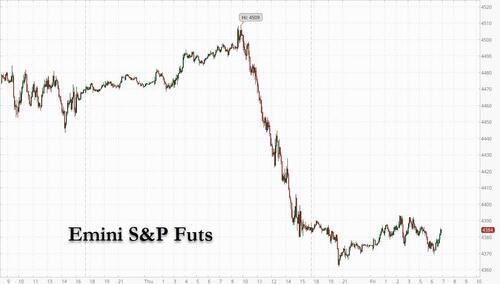 VIX futures climbed to an new high at 23.62, then pulled back to a low of 22.62.  VIX is on a buy signal and, should yesterday's low be the final low, sets up a new Master Cycle lasting up to three months.  This has the appearance of being a monster Cycle.
TNX futures hit a new Master Cycle high at 29.74, although not registered (yet) in the cash market.  Today is day 261 in the Master Cycle and there is room for further gains, possibly through the next week.  Trending strength may not be over, yet.
USD futures hit a new high at 101.10 this morning, on day 266 of the Master Cycle.  Ordinarily one would expect the USD to reverse its trend here.  However, this may be the last gasp for the USD.  In addition, the strength of the USD is still linked to the TNX.  When TNX  declines, so will the USD.
Crude oil futures declined beneath the 50-day Moving Average at 101.50 before a bounce brought it back above it.  This portends a serious loss of support that may result in a further decline.  The Cycles Model suggests a decline may go through the end of June.  In Wave relationships, Wave (C) is often equal to Wave (A), and sometimes greater than (A).  That implies a decline to the lower trendline of the Broadening Wedge at 70.00.  Should it go lower, an extended relationship may take WTIC to 50.00.
ZeroHedge observes, "A full EU ban on Russian crude oil and gas imports could have unintended economic consequences for the United States and its Western allies, U.S. Treasury Secretary Janet Yellen told reporters in Washington on Thursday. The Treasury Secretary added that such a ban could do more harm than good.
Europe does need to reduce its dependence on Russian oil and gas, Yellen said, "but we need to be careful when we think about a complete European ban on, say, oil imports."