1:40 am
The range of the SPX appears to be defined by the Lip/Neckline at 4200.00 on the bottom and Short-term resistance at 4292.88 at the top (Max Pain zone is at 4280.00).  Today's options go negative at 4250.00, so there is not a lot of wriggle room.  The Fed may be concerned about the bullishness that seems to underlie the market with massive stock buybacks, keeping the SPX buoyant.  Most speculators simply don't know what to make of our current predicament, so they have become day traders in options, trying to front-run the next move.  The turnover is nearly triple the underlying positions.   There is no need to explain the consequences of a serious breakdown.
ZeroHedge explains, " The earlier spike in US futures – following somewhat optimistic tones from Putin – have all been erased by actual events and the reality of significantly more unhappy America than expected (from UMich)…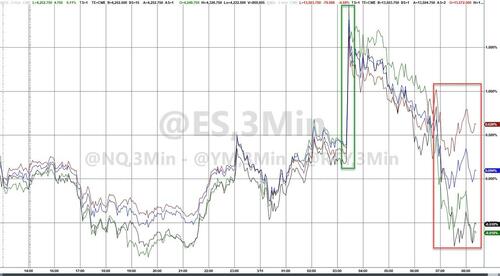 However, as Nomura's Charlie McElligott details below, there is a much stronger dynamic at play that is driving the daily roller-coaster in stocks – and may well continue through the FOMC next week (and the massive $3.3 trillion options expiration next Friday)."
8:55 am
Good Morning!
SPX futures are are testing Short-term resistance at 4296.30 this morning as dealers look for an excuse to bull up the SPX out of the put-heavy zone beneath 4275.00.  Now they must maintain this level throughout the day as options expire at the close.
ZeroHedge reports, "Here comes another rollercoaster of a day for markets.
In a rerurn of last week's (transitory) Ukraine war "ceasefire" euphoria which fizzled almost as fast as it emerged, a little after 6am ET on Friday morning, futures which had been trading rangebound for much of the overnight session, soared 60 points in seconds after Interfax reported that according Putin told his Belarusian counterpart Alexander Lukashenko that "there are certain positive developments, as far as negotiators from our side informed me" adding that "Talks are happening almost daily."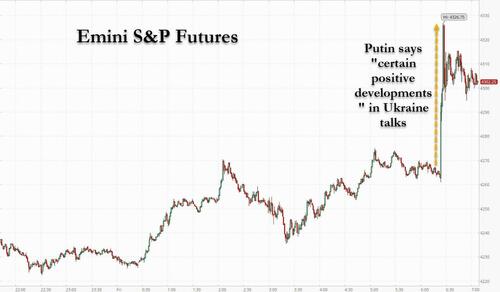 VIX futures were pushed down to a morning low of 28.84 as options play an important part of the VIX, as well.  Calls dominate the March 15 expiration at 30 and above, so todays smash-down may have been an effort to manage market sentiment and smooth out volatility.
ZeroHedge comments, "We were wondering when we would see a Jerome Kerviel-inspired prop trading blow up as a result of the recent market turmoil, and this morning we got it. According to Bloomberg, Morgan Stanley derivatives trader Hamza El Hassani, is leaving the firm after racking up tens of millions of dollars in losses following the recent burst of market volatility.
El Hassani, who traded dividends in the New York-based bank's equities division, is leaving the bank after his trading book blew up racking up losses "less than $50 million", Bloomberg reports citing people with knowledge of the matter."
TNX opened above the Cycle Top support/resistance at 19.84 and may trade above this support for the duration of Wave 3.  The current Master Cycle may continue through the week of April 18, according to the Cycles Model.