9:45 am
The Ag Index is in a correction/consolidation that may only last about two more weeks.  This may be the last chance to buy shares of a commodity that may double in the next six months.  As they say, buy the dip.
ZeroHedge reports, "A massive fire has broken out at a northern Taiwan logistics center for the 8th largest retailer in the world.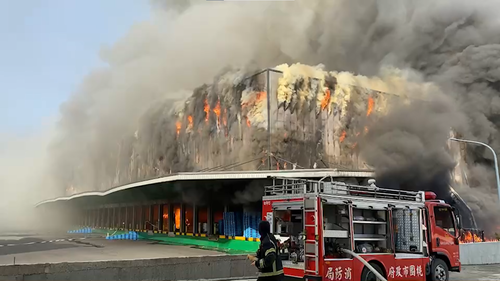 According to Taiwan News (citing CNA), officials in the northern Taiwan city of Taoyuan received a report early Monday of a massive blaze at the warehouse in the city's Yangmei District at the Carrefour Logistics Center.
73 firefighters, 23 fire trucks, 8 tanker trucks and 4 ambulances were dispatched to the scene, where according to reports, nobody has been trapped in the facility.
According to the fire department, the fire appears to have started on the first floor of the two-story structure. There are no hazardous items believed to be inside.

The entire facility is currently engulfed in flames, and smoke can be seen billowing into the sky from several kilometers away. An investigation into the cause of the fire and damage assessment are currently underway. –Taiwan News
Further, ZeroHedge observes, "Two weeks after the Russia-Ukraine crisis began, the world is quickly moving toward a food crisis that could affect millions of people. A spillover of the crisis could soon spark agricultural mayhem in the US.
The curtailment of agricultural exports from Russia and Ukraine will have dramatic knock-on effects on global food supplies. Both countries are known as the 'breadbasket of the world' and are responsible for a quarter of the international wheat trade, about a fifth of corn, and 12% of all calories traded globally. Another major problem is access to fertilizers, as Russia has banned exports of the nutrients.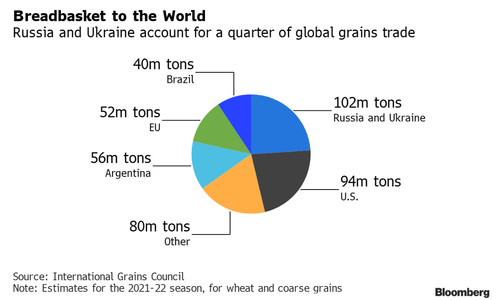 It's not whether or not there will be a food crisis. It's how big that crisis will be."
Adding insult to injury, ZeroHedge tells us, "On top of everything else, now a highly pathogenic avian influenza pandemic is ripping across the United States, and it has already resulted in the deaths of almost 2.8 million birds.  Most of the birds that have died have been chickens or turkeys.  And since this was just in the very first month of the pandemic, there is no telling how bad it could eventually become.  What will the eventual death toll look like?  Will it be in the tens of millions?  That is definitely a possibility.  And what would happen if the bird flu mutates into a version that spreads easily among humans?  We might want to start thinking about that, because that is possible too.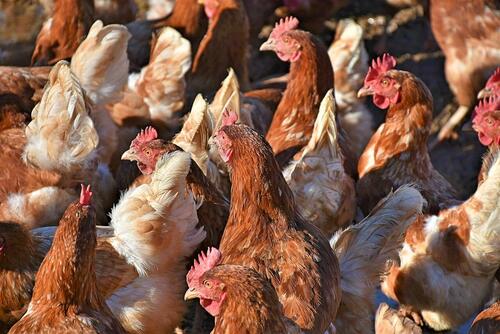 I knew that the bird flu outbreak was bad, but I didn't know that it had gotten this bad.  The following comes from a prominent farming website…
With new outbreaks in Iowa and Missouri, nearly 2.8 million birds — almost entirely chickens and turkeys — have died in one month due to highly pathogenic avian influenza (HPAI), the Agriculture Department said on Monday. The viral disease has been identified in 23 poultry farms and backyard flocks in a dozen states since February 8, when the first report of "high path" bird flu in a domestic flock was reported.
2.8 million dead birds in just one month.
Will next month be even worse?
8:45 am
Good Morning!
SPX futures rose to a weekend high of 4254.20, then declined to the flat line this morning.  Today's expiring options are negative beneath 4250.00 and gamma turns short beneath 4200.00.  SPX has closed above 4200 for the past seven weeks, but the Cycles Model says the break should be conclusive today or tomorrow.
ZeroHedge reports, "US equity futures held on to modest gains overnight as the market desperately clung on to hope that the latest ceasefire talks between Russia and Ukraine which started on Monday, may yield results (clearly forgetting how the rug was pulled from under the market on Friday in an identical setup), which initially sent stocks higher especially in Europe, despite a surge in 10Y TSY yields to 2.10%, the highest since July 2019, two days ahead of the first Fed rate hike, and a complete collapse in Chinese stocks. And while U.S. index futures were still pointing to a positive open around 8am ET this gain is fading fast, with spoos now up just 0.5% after rising 1% earlier…
… as headlines from the Kremlin suggested that a ceasefire is the last thing on Putin's mind.
*KREMLIN: RUSSIA WILL REALIZE ALL ITS PLANS IN UKRAINE OPERATION
*KREMLIN: UKRAINE OPERATION WILL BE COMPLETED ON SCHEDULE
*KREMLIN: RUSSIA DIDN'T REQUEST CHINA MILITARY AID FOR OPERATION *KREMLIN: RUSSIA HAS RESOURCES NEEDED TO COMPLETE UKRAINE ACTION
And while futures would normally be deep in the red by now, and will be shortly now that AAPL is at LOD…
APPLE FALLS TO SESSION LOW, DROPS 1.6% IN PREMARKET TRADING"
VIX futures rose to a morning high of 31.45 as it closed above its Cycle Top on Friday.  There has een an effort to keep markets in a narrow range ahead of the FOMC announcement and options expiration on Wednesday (VIX) and Friday.
ZeroHedge observes, "As Goldman's head of FX sales Tony Pasquariello said on Friday, "next week is a huge one, featuring the FOMC on Wednesday and a major derivatives expiry on Friday."
While much digital ink will be spilled in the next 48 hours dissecting the Fed's next move which will most likely be the first 25bps hike in over two years, instead we will focus on next Friday's March options expiration, which sees a massive $3.3tln of derivative notional expiring, not only right after the FOMC decision but also in the midst of a complex geopolitical situation.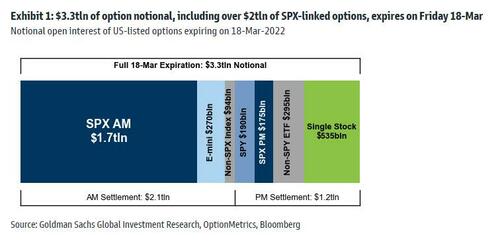 Overall, some 30% of S&P open interest expires on March 18."
TNX broke out above its February 15 high at 20.65 this morning.  The Cycles Model calls for 5 more weeks of levitation into the next Master Cycle (high).  This may be a rally with exceptional strength, as the Cup with Handle formation implies.
USD futures pulled back to 98.74 as it consolidates prior to its final push higher.  This week may gather strength as USD may actually make a throw-over above the upper trading channel trendline at 100.00.  This panic move into the USD may meet with a sudden reversal late next week, so don't be fooled.  This may be the final surge before a massive decline.
Crude oil futures have come down to 102.56 this morning as WTIC may test the upper trendline of its Broadening Wedge formation.  The Cycles Model suggests a quick decline beneath its trendline and Cycle Top at 98.73 in the next week.  This implies a sudden decline in liquidity over that same period.